'Practically All My Friends Are Immigrants'
A China-born teen gets her south Chicago neighbors to the polls, and vows to "keep working until I'm reassured that no families are going to be separated."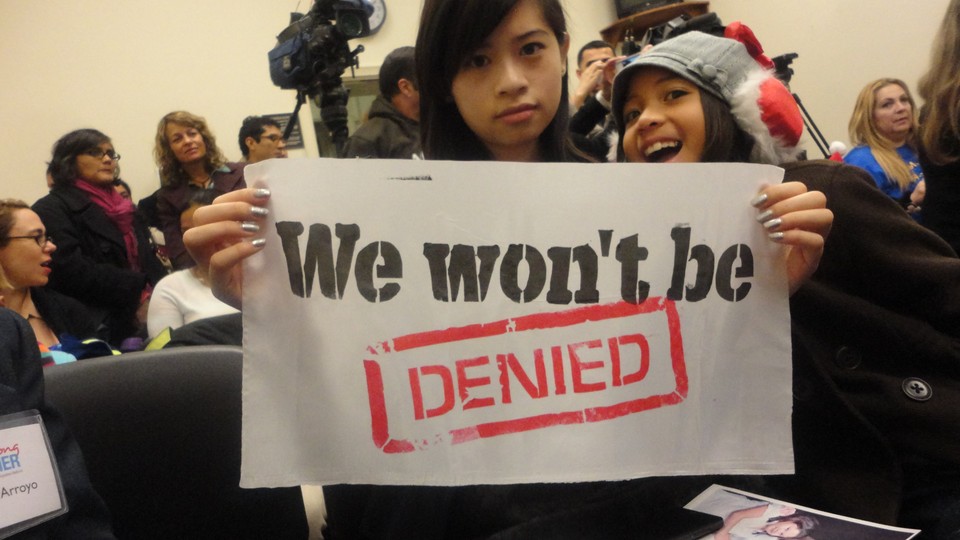 Jia Min "Carmen" Yang, 18, arrived in Chicago from China at age 7, speaking no English. She questioned her place in the United States. Eleven years later, that uncertainty has spurred Yang to become an immigrant activist, embracing the American ideal that every person can make a difference.
In December, Yang lobbied members of Congress in Washington with other advocates for immigration reform at events organized by We Belong Together. She's also involved in Mikva Challenge, a Chicago organization that gets youth involved in the political process. And she volunteers with her local community center, the Chinese American Service League.
She lives in the south side of Chicago, in Chinatown, attending Thomas Kelly Public High School in Brighton Park. At Kelly, Yang is part of a community where 96 percent of the 3,200 students within its boundaries come from low-income families and where the student body is 87 percent Hispanic, 8 percent Asian (largely Chinese), 3 percent white, and 2 percent black. She hopes to attend the University of Wisconsin (Madison) or the University of Illinois (Urbana-Champaign) to study public relations or public policy.
This interview, conducted by Jody Brannon, has been edited for length and clarity.
I am an immigrant, and emigrated when I was 7. That was 11 years ago. The immigration issue is very important to me and my whole family. Practically all my friends are immigrants. In the Asian-American culture, we tend to really rely on siblings' [sponsored] applications [to come to America]. If they take that away, we'll be separated.
During the [We Belong Together] Wish for the Holidays campaign, I made many friends and heard them give speeches. Listening to them tell their their personal stories about their families being separated breaks my heart. I was especially inspired by the little children who bravely speak out. Although they may be young, they know what's going on, and they feel the same pain as their parents who are taken away from them. Being a part of the live audience allowed me to have deeper empathy toward these youth. I connect to them and feel their pain, and it only made me more passionate about this issue. It angers me to know this is happening, and I really want to help change it.
Over the course of my high school life, I have been very involved in my community. I have dedicated over 800 hours total in attempts to benefit my community and improve the neighborhood. From my freshman year to junior year, I worked on projects such as the Get Out the Vote campaign. This project helped get more funding and resources for the community.
In the Get Out the Vote campaign, I volunteered to improve the voter-turnout rate of the community. My commitment to the campaign enabled me to become a vote captain. My job was to train the new volunteers to canvass, phone bank, and help out whenever needed. At the end of it all, we managed to have the highest number of registered voters for three years straight.
At the end of the campaign, I was presented with the "Most Amiable Vote Captain" award.
Working on these projects, I have learned that people have to be determined and cooperate together as one in order to make changes. It may take a long time to see the results and get what we deserve, however, through handwork and commitment, those things will come.
I really like working around people, and I think I'm going down the road toward community healing and social work.
There are a lot of people — 11 million in this country — who are undocumented, and 5.5 million of them are kids. Everyone here is fighting together, and this needs to happen. We'll continue to fight until it does. I'll keep working until I'm reassured that no families are going to be separated, no parents are going to be sent back — and we can go to school without fear that someone will be gone when we get home.
Justice will end all of that.
MY VIEW OF THE NEXT AMERICA
Are you part of the demographic that is the Next America follows? Are you a catalyst who fosters change for the next generation? Or do you know someone who is? The Next America welcomes first-person perspectives from activists, thought leaders and people representative of a diverse nation. Email us. And please follow us on Twitter and facebook.com/TheNextAmerica.