PayPal Billionaire, Boeing Battle Over Who Can Build a Better Space Taxi
Elon Musk thinks his company can do a better job of sending military satellites into space, and he wants Congress's help to break into the game.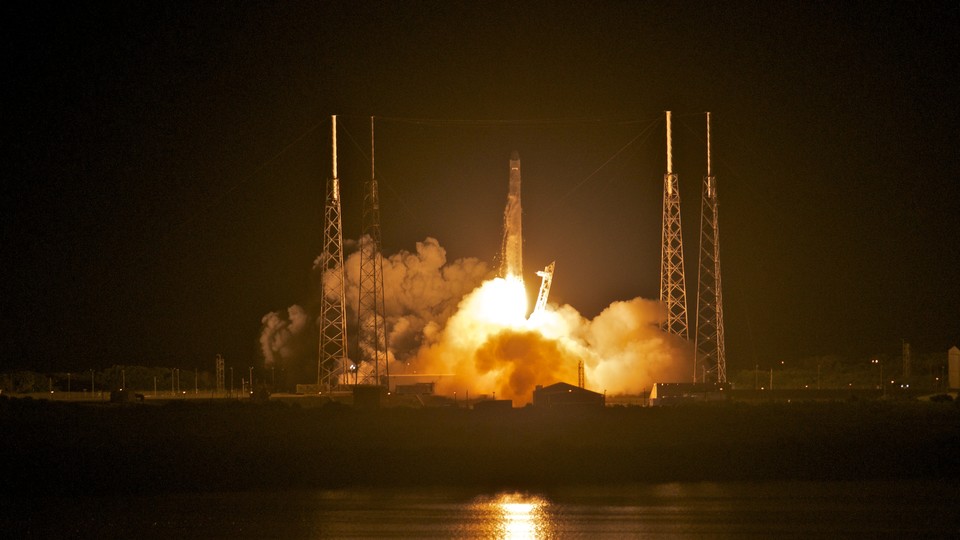 Billionaire entrepreneur Elon Musk has a plan to launch military satellites that he claims could save the government hundreds of millions, but to make it work, he says he needs Congress's help to break up a military-industrial monopoly.
"Competition and the free market is a good thing," Musk told Congress on Wednesday, estimating that his SpaceX rockets would cost nearly $300 million less per launch if given the opportunity to compete with United Launch Alliance — a partnership of Boeing and Lockheed Martin that the military currently relies on to ferry its satellites.
SpaceX ships have already conducted resupply missions for NASA to the International Space Station, but have found it more difficult to break into the Defense Department's launch program.
At present, the Air Force is slated to buy up to 36 rockets from ULA, while another 14 will be made open to competition for SpaceX and other companies. ULA CEO Michael Gass said his company's exclusive role in military launches is a good thing, offering reliability (the company boasts 68 straight successful launches; Musk and Gass had a back-and-forth over each company's mishaps and what constitutes a "successful" launch) and preventing spending on redundant technology.
But Musk took issue with the reliability argument, using events in Ukraine to undercut ULA's standing. "It makes no sense to claim that ULA's Atlas V [rocket] provides assured access to space when it depends on a Russian engine," he told reporters after the hearing. "In light of Russia's recent actions, with the de facto annexation of Ukraine's Crimea region and the fact that we've severed military ties with Russia — we're contemplating sanctions — it does not make sense to award Russia right now with a huge multi-hundred-million dollar contract for rocket engines."
He proposed that SpaceX's Falcon rockets could replace the Atlas V, with ULA still providing its Delta rockets to the military.
Gass countered that his company has a two-year supply of Atlas V engines already stockpiled, meaning near-term tensions between the two countries are unlikely to keep the U.S. out of orbit. "We are not at any risk," he said.
Sen. Dianne Feinstein — a California Democrat whose state hosts both SpaceX and some ULA launches — came to Musk's aid, producing a chart from the Government Accountability Office that showed spending increasing rapidly after Boeing and Lockheed merged their launch programs. "The costs to the government, to the taxpayer, have skyrocketed," she said. "Competition is the American basic demand for the accordance of a contract. So what keeps us from doing this?"
Added Musk: "When Boeing and Lockheed merged, the point at which they stopped being competitors, the costs doubled," The government, he said, further diminishes competition with a billion-dollar annual payment — which he referred as a subsidy — to ULA. He argued that funding "exclusively in support of the incumbent provider" should be eliminated, or at least factored into cost analyses when ULA competes for contracts.
That payment, known as the ELC, is crucial for ensuring ULA's readiness to meet America's space needs, even when demand ebbs, Gass replied. "The nation needs a launch vehicle company to stand ready," he said.
Sen. Richard Shelby — whose home state of Alabama hosts ULA's production plant — praised the company's track record. The Republican argued that competition, while generally a driver of progress, could lead to "duplication of existing infrastructure" and expressed skepticism at "re-creating the wheel." He also pressed Musk on a SpaceX engine failure that sent a cargo ship into the wrong orbit.
Meanwhile, Gass used an argument Musk couldn't — his knowledge of classified technology — to insist that getting multiple companies the capability to handle such payloads isn't feasible. "Those missions can't work in a competitive commercial environment," he said. "If you don't have a winner-take-all, survival of the fittest competition "¦ it doesn't work."
Musk replied that his company is prepared to meet the needs of any military launch, adding that expanded capabilities are built into its cost estimates. He dismissed the notion that ULA's longer track record should give it the edge in launching military satellites. "Reliability is a key factor in competition. It doesn't become less important; it becomes more important," he said. "If our rockets are good enough for NASA, why are they not good enough for the Air Force?"