Older White Voters Will Haunt Democrats All Year
Florida's special election this week was only the beginning.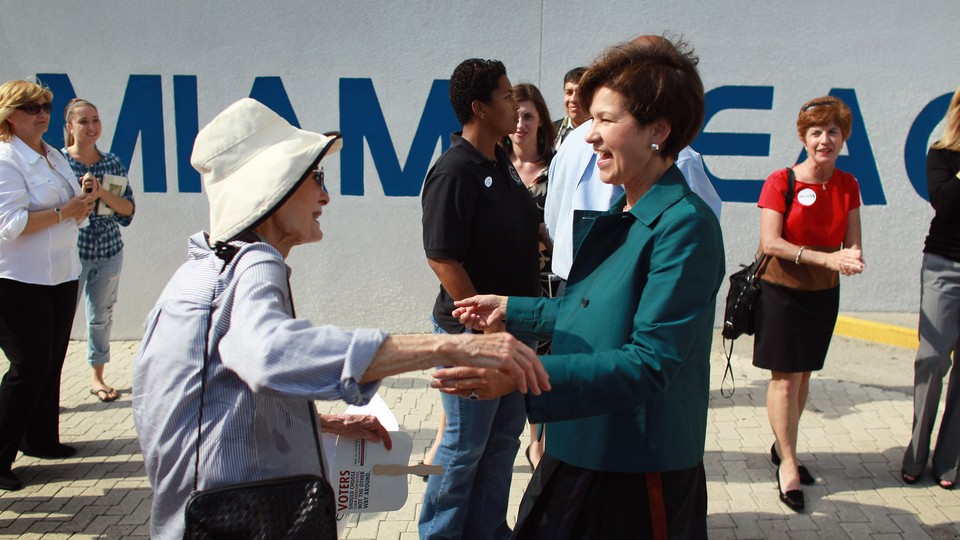 If the makeup of the district is any indicator, Democrats' loss in the Florida special congressional election this week may be a clear indicator of the party's struggles with older white voters.
And unless something drastic changes between now and November, those voters — and their animosity toward President Obama and Obamacare — will continue to haunt Democrats in Senate races throughout the country in 2014.
Geoff Garin, a pollster for Democratic candidate Alex Sink, said the president and the health care law translate into turnout among Republican voters — and that turnout was ultimately what won the Florida special.
"The Affordable Care Act was a motivating issue for Republicans to turn out and vote, and less so for Democrats," Garin said.
Whites over 45 years old account for about 29 percent of Americans, but they make up almost half — 44 percent — of the population in Florida's 13th Congressional District. Considering that younger and minority voters are the ones most likely to drop out of the electorate in non-presidential elections, older whites undoubtedly dominated the low-turnout special election. (More than 150,000 voters who cast ballots there in the 2012 presidential election did not turn out Tuesday.)
In addition, older whites, who gave 61 percent of their votes to Mitt Romney in 2012, are the demographic group most hostile to Obama and his signature health care law, which form the basis of most political attacks against Democrats. For example, fully 75 percent of all GOP TV spots in the Florida special mentioned Obamacare, according to the ad-tracking firm Kantar Media.
Midterm-election turnout among young people and minorities isn't as bad as it can be in special elections, but it's definitely not as good as it is in presidential years. And Democrats are about to wage battle for control of the Senate in red states where whites over 45 make up larger shares of the population and may dominate bigger shares of the electorate.
For example, in Montana, where appointed Democratic Sen. John Walsh is defending his new seat, 41 percent of residents are whites over 45 years old, according to census estimates. In Arkansas, another endangered Democratic seat, it's 34 percent. In West Virginia and South Dakota, it's 43 and 38 percent, respectively. (Remember, the national average is 29 percent.) North Carolina, the red-state Senate race most demographically favorable to Democrats, is at 30 percent, while Alaska and Louisiana are at 26 percent.
Moreover, even in presidential years, whites over 45 make up a much larger share of voters than they do of the population as a whole. In all seven states cited above, that group outperformed its population share by at least 10 percentage points in 2008, the last time these Senate seats were on the ballot. For example, whites over 45 made up 51 percent of Montana voters that year, but only 41 percent of the population.
In the absence of exit polling, we don't have empirical evidence on what older white voters did in Florida's 13th District. But there are several telling anecdotal cues, including private Democratic polling indicating that Sink lost older voters. She managed to keep the margins close, but "close" was not good enough to win.
As Election Day drew near, Republicans slightly widened their advantage among absentee ballot returns, and on the day itself, they completed the task. Weeks before the race concluded, former Pinellas County GOP Chairman Tony DiMatteo told National Journal that the district's older population tended to vote later.
Some Republican messaging on Obamacare focused on cuts to the Medicare Advantage program, which is popular among seniors in the district. Sink also targeted older voters, hitting Republican David Jolly as a Social Security-cutter, a longtime Democratic message that is also in play in the Arkansas Senate race. But in the end, it failed to gain enough traction.
Now, with Democrats facing large populations of older whites in Senate battleground states, much of the talk has shifted to the importance of get-out-the-vote efforts this fall. If Florida's results were an alarm bell, it was apparently heard.
"The takeaway from the special in Florida is that Democrats will need to invest heavily in a national field program in order to win in November," said Matt Canter, a spokesman for the Democratic Senatorial Campaign Committee.
---
Stephanie Czekalinski contributed to this article