Obstacles and Opportunities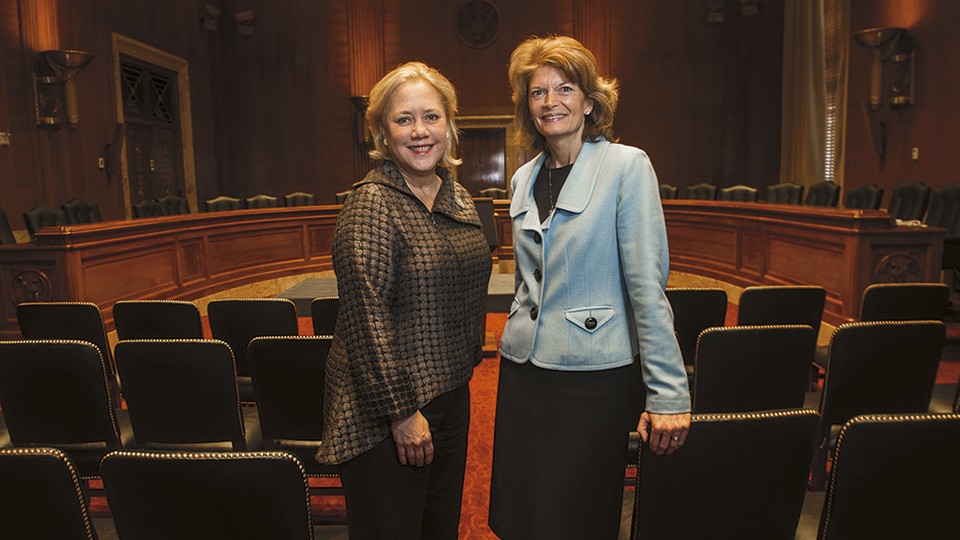 Mary Landrieu and Lisa Murkowski have a lot in common.
Both senators come from energy-rich states. Both come from political families. Both have endured major political challenges, only to emerge in leadership positions. It's true that Landrieu is a Democrat and Murkowski a Republican, but both have come to head the Energy and Natural Resources Committee amid the greatest energy boom the United States has seen in a generation.
Both want to be optimistic.
"I know sometimes it's hard for Washington to keep up with the times, because they like to stay in the bubble, but there's a big world out there, and we need to keep up," says Landrieu, who took the gavel in February.
Yet making great strides on energy issues won't be easy right now. The truth is, Landrieu and Murkowski are policy-oriented lawmakers at a time when Washington's appetite for legislation is near an all-time low. Congressional productivity was extremely weak last year. November's election is expected to suppress it further still, as political calculations eclipse policy needs.
Add Washington's minimal interest in big, comprehensive legislation in the post-Obamacare era — the last major energy bill Congress passed was in 2007 — and a future filled with legislating on the margins looks likely, at least for the rest of this year.
"So much has happened in seemingly such a short, abbreviated time span, and yet the operating rules, if you will — the statutes that govern so much of this — are not only not current, they are antiquated," Murkow­ski says.
"If you look at the things that we should be tackling, the great meaty, weighty issues in the energy sector, and we are talking but we are not actually legislating," she adds. "And so there is a frustration there."
MANAGING THE ENERGY BOOM
It is hard to overstate the seismic shifts in the energy sector in recent years. Today, the U.S. is pumping more crude oil than it has in two decades, and is on track to outpace Saudi Arabia and Russia as the world's largest producer. Reliance on imported oil has dropped substantially. U.S. natural-gas production is at record levels, and is already the highest in the world.
The result is that the old narrative — that the United States was running out of oil and gas, and was becoming increasingly dependent on foreign resources — has been blown up. Now, the challenge is managing the boom while also addressing questions about the environmental consequences of hydraulic fracturing, whether to ramp up gas exports and ease the almost total ban on crude-oil exports, and how to address the ever-present specter of climate change.
Fast-rising oil production in North Dakota, the gas frenzy in Pennsylvania, and the Texas shale energy boom have probably received the most attention in recent years. But Louisiana and Alaska, from which Landrieu and Murkowski respectively hail, are nonetheless huge energy-producing states where the oil-and-gas industry is a central pillar of the economy. So after several years of Democratic chairmen spotlighting renewable energy, the duo will likely shift the focus back to traditional fossil fuels.
Landrieu is solidly to the right of her caucus when it comes to energy issues. Murkowski is unabashedly pro-oil, but the ranking member is also more moderate on energy than some of her GOP colleagues. For instance, when many Republicans were bashing the Energy Department's green-energy loan program after the collapse of the federally backed solar-panel company Solyndra a couple of years ago, Murkowski called for reforms but supported the program overall.
The two women have been friends since they were introduced by Murkowski's father, Frank Murkowski, a former senator who once chaired the Energy Committee. "The Murkowski-Landrieu family [relationship] goes back literally decades," Landrieu says. And Murkowski makes clear that she sees a kindred spirit in her Democratic counterpart. "I have had a long working relationship with Mary Landrieu. We have extended that relationship beyond the working side. I have been to her state, she has been to mine; we have really worked to try and understand the similarities and the differences between our energy-producing states."
Moreover, the only other time in recent memory that two women have led a Senate panel was when Landrieu chaired the Small Business Committee and Olympia Snowe of Maine was the ranking Republican, according to the Senate historian's office. This is the first time a woman has chaired the Energy Committee.
"It's really interesting that we have two women running the committee," says former Sen. Byron Dorgan, a North Dakota Democrat who served on the panel until he retired in 2010. "The Senate is changing, the makeup is changing, and we'll begin to see this kind of thing, which I think is good for the country."
The result could be that the committee is in for a period of bipartisan cooperation that is exceedingly rare in today's Congress, where it is not unheard of for a chairman and a ranking member to go weeks without a meaningful conversation.
"I suspect both of them will work hard to make the Energy Committee relevant," Dorgan says.
Lee Fuller, vice president for government relations at the Independent Petroleum Association of America and a former aide to the late Democratic Sen. Lloyd Bentsen of Texas, says the panel "has a history of being reasonably bipartisan in the action it has taken."
But will that bipartisanship translate into legislation moving through the full Senate?
"That," Fuller says, "is an open question."
THE ART OF THE POSSIBLE
It's not at all clear that there's enough political space for the Energy Committee — which has been around in one form or another for more than 170 years — to return to prominence.
The panel has played a major role in shaping U.S. energy policy. It produced a 1975 energy law that, in response to the Arab oil embargo, restricted crude-oil exports and authorized the Strategic Petroleum Reserve. A mid-1990s law granted royalty waivers for oil companies exploring the deepwater frontiers of the Gulf of Mexico. Legislation in 2005 and 2007 included provisions that raised appliance-efficiency standards and authorized the Energy Department's green-energy loan guarantee program.
So what might the current chairwoman and ranking member get done?
Landrieu and Murkowski have teamed up on legislation to give Gulf of Mexico states a bigger share of offshore oil-and-gas revenues and expand availability of revenue-sharing to Alaska and other coastal states. Landrieu wouldn't offer a timeline for pushing that, however, and says she'll ensure that the views of all committee members are heard.
"I'm going to actually try my very best to meet with each of them over the course of the next few months to hear directly from them on what some of their views are, some of the challenges before us," Landrieu says.
Environmentalists worry that neither Landrieu nor Murkowski will prioritize other issues under the committee's jurisdiction, including renewable energy, national parks, forestry, and climate change. At 51 percent, Landrieu has the second-lowest lifetime score among Senate Democrats on the League of Conservation Voters' scorecard. Only Sen. Joe Manchin of West Virginia has a lower rating.
Landrieu says the criticism is misplaced.
"First of all, I believe climate change is real and that it's a great challenge," she says, adding that she has a long history of supporting expansion of national parks and coastal restoration. "I think a lot of those concerns, or some of them, are unfounded," Landrieu asserts. "I would just ask people to look at my record."
Nonetheless, she is unquestionably more pro-industry that nearly all of her Democratic colleagues, including Sen. Debbie Stabenow of Michigan, who is the most vocal panel member when it comes to concerns about increasing natural-gas exports. Yet Stabenow has only good things to say about Landrieu.
"I think she'll be terrific," Stabenow says, adding that on natural-gas exports, "we're having good conversations about the balance."
Landrieu and Murkowski will certainly use the committee's oversight powers to shine the spotlight on what they feel are badly needed updates to U.S. policy.
For instance, Murkowski has been pushing the Obama administration to relax decades-old limits on crude-oil exports under its existing authority, and she's eager to move that debate forward.
But if past is precedent, when it comes to actually moving legislation, what Landrieu and Murkowski choose to focus on may well not matter. Former Sen. Jeff Bingaman, who once chaired the committee, failed to get many significant bills through the Senate, including one that would have established a national renewable-electricity standard and another that was aimed at strengthening drilling regulations in the wake of the 2010 BP oil spill.
Bipartisan leadership on a committee, after all, isn't much help when the overall Senate is stuck. "If gridlock continues, it won't change much what can be passed," Dorgan says. He was quick to add, though, that Landrieu and Murkowski have the potential to make progress, given their records.
"The key thing about Mary and Lisa is that they're not content to be observers," Dorgan says. "They want to be active. Their legislative history shows that they want to be active on the things that matter."
"AN UNMITIGATED DISASTER"
Of course, not everyone is thrilled by the Landrieu-Murkowski pairing, which will move the committee to the right. Both women support opening more federal lands to drilling and expanding offshore oil and gas development. And while Murkowski has been far more willing than most Republicans to discuss the dangers of global warming, neither she nor Landrieu is a fan of the administration's climate-change regulations.
"It has the potential to be an unmitigated disaster," says Bill Snape, senior counsel for the Center for Biological Diversity, an environmental group. "Two blatantly pro-drilling senators leading both their parties in that committee. It doesn't get much worse."
But environmentalists have a firewall: Senate Majority Leader Harry Reid. Snape is hopeful that Democrats' efforts to help Landrieu, who faces a tough reelection fight this year, won't tip over into moving legislation to the floor that much of the Democratic caucus opposes. Still, "that is a concern," Snape says. "We will watch that very carefully."
Indeed, Landrieu's reelection race — she is a top target of Senate Republicans, who want to take control of the chamber — will also affect the committee's productivity. Murkowski is acutely aware of the political crosscurrents running beneath the policy discussions as Landrieu battles for another term and the Senate navigates an election. How much can be accomplished, the Alaskan says, depends on "how much can be navigated in a very politically charged environment."
"I don't want us to be in a situation where we are just kind of in a holding pattern for a year," she says, "that we waste a year as an Energy Committee because of the political process that goes on around here."