Obama's New Budget Is All About the Midterm Elections
The president's proposal is packed with liberal ideas and includes few incentives for Republicans. That's exactly the point.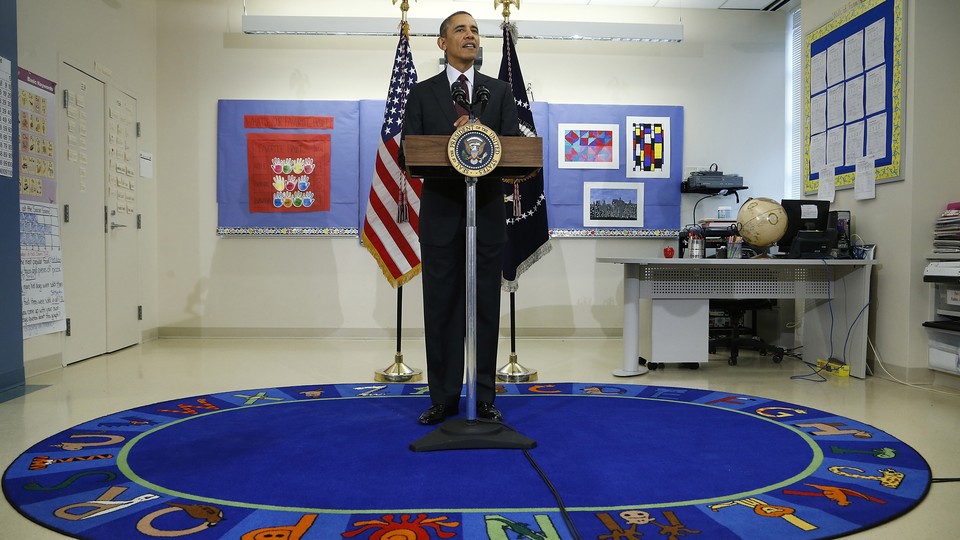 Every budget is a political budget, and President Obama's proposed spending plan for fiscal year 2015 is no different. But there are two kinds of political budgets: Those that set out a negotiating position, and those that try to establish an electoral posture. This year's budget is one of the latter.
It's perhaps the most unrestrainedly liberal budget Obama has proposed yet. Most of the big-ticket items have already been previewed: We already knew that the Pentagon was seeking to slow its budget growth and that Obama wasn't including a proposal to slow the growth of entitlement spending, known as chained CPI. But taken together, the budget constitutes a Democratic platform for the 2014 elections.
Here are a few of the highlights:
Obama's proposals would cost $3.9 trillion, a slight increase from his 2014 proposal of $3.77 trillion. Only about $1 trillion of that is discretionary spending, where the president has flexibility; the rest is mandatory money for entitlement programs like Social Security and Medicare.
The budget adds $600 billion in new spending. Most of it would be paid for by raising taxes on the wealthy.
The president wants to spend money on universal pre-kindergarten and infrastructure.
Obama wants to increase the earned-income tax credit (EITC), an anti-poverty measure that could theoretically attract Republican support. 
Many of these are ideas that have come around before, either in previous budgets or in Obama's January State of the Union address. What's different is that—EITC aside—there's not much here to humor Republicans. The president has dropped last year's proposal for chained CPI, a concession that infuriated Democrats without inducing Republicans to come to the negotiating table, either. (Deficit hawks are gnashing their teeth at the new plan: Fix the Debt complains that the plan "fails to seize the opportunity to truly confront our nation's long-term debt problem.") The budget also includes a far more optimistic projection for deficits than the nonpartisan Congressional Budget Office.
"Our budget is about choices," Obama said at a D.C. school Tuesday, in remarks about the budget. "As a country, we've got to make a decision if we're going to protect tax breaks for the wealthiest Americans, or if we're going to make smart investments necessary to create jobs and grow our economy, and expand opportunity for every American."
Meet Election-Year Obama. If 2013 was the year of Eternal-Optimist Obama, who felt residual buzz from his reelection and held out hope Republicans might go for a compromise, Election-Year Obama's attitude is blunter and bleaker: Fine, if you don't won't meet me halfway, I'm not going to put my neck out. I'll just ask for what I want. After all, this budget is dead on arrival. Republicans showed no interest in compromising last year, and they're even less inclined to partner with the president in an election year. The GOP fiercely opposes increased spending and says increased taxes on the wealthy could imperil still-sclerotic economic growth. Representative Paul Ryan, the party's budget guru, blasted the plan, saying Obama's proposal "would demand that families pay more so Washington can spend more. It would hollow out our defense capabilities. And it would do nothing to preserve or strengthen our entitlements. The President has just three years left in his administration, and yet he seems determined to do nothing about our fiscal challenges."
Adding an extra dose of futility, spending levels for this year have already been set by the agreement that Ryan and Senator Patty Murray reached in December. Murray says Senate Democrats won't even bother to draft their own budget as a result.
This document's value for Democrats is that it gives the party something to campaign on during November's midterm elections—something to talk about that isn't Obamacare. Universal pre-K, higher taxes on the wealthy, and more tax credits for other people are popular; entitlement cuts generally aren't. Democrats' fortunes look bleak in November, but a grab bag of popular but unviable budget ideas is their best chance to change the subject.