Obamacare Premiums a Guessing Game — Again
Insurers still aren't certain just how risky the risk pool will be in 2015.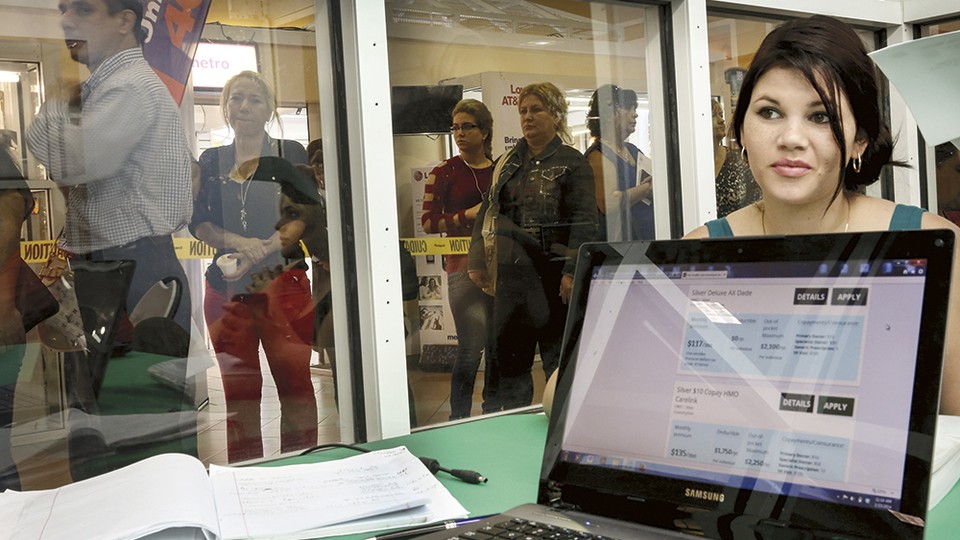 Whether Obamacare premiums will increase next year — and by how much — will once again come down to good-old guesswork on the part of insurance companies.
Setting prices for 2014 was very much a game of pin the tail on the donkey for insurers, who generally make such decisions based on the costs they expect to incur over a year: If they have a lot of sick customers who are likely to file a lot of claims, premiums rise; if the customer base is healthier, prices drop. But while the Affordable Care Act's new marketplaces offered firms millions of potential customers, they provided hardly any information about how healthy or unhealthy those people might be.
With a year of real-world experience under their belts, insurers should, in theory, find it easier to set premiums for 2015. But because it's no longer legal to discriminate against people with preexisting conditions, the Obamacare application doesn't ask about health status. Which means the only data firms have is what they've collected from enrollees so far — and that's not much.
"You look at your claims history when you're setting rates, and there's not a lot of claims history on these folks," one industry official said.
From an actuarial perspective, a healthy 50-year-old is better than a sick 25-year-old. But for now, with no better alternative, insurers and health care wonks are simply using age as a proxy for health status. A young adult is assumed to be healthier than someone older. That's a very broad assumption, and one that leaves much uncertainty in the calculus.
In insurance, uncertainty often translates to higher premiums. When a firm isn't sure what it will have to spend, it tends to build in a cushion. The White House has already taken one step to prevent that scenario: It delayed the next enrollment period and the deadline for rate filings, giving insurers an extra month to take stock of who signed up this year. Rates for the federally run insurance exchanges are now due at the end of May, rather than the end of April.
"There's no question there is a challenge. For the [federal marketplace], the bids are due at the end of May, and the reason that was pushed back was to give the plans more time to understand what their risk profile actually looks like," said Karen Ignagni, the president of America's Health Insurance Plans.
The extension is, in part, an acknowledgment that young, healthy consumers — those least likely to use their insurance — are expected to sign up at the last minute. So, giving insurers more time to assess their risk pools should help them take those consumers into account, and perhaps make firms more comfortable with lower premiums for 2015.
There are other factors that might also help limit premium hikes.
First, the law includes a three-tiered safety net, known as the "three Rs" (risk adjustment, risk corridors, and reinsurance), designed to soften the blow if insurance companies turn out to have guessed wrong about the previous year's risk pools. If their real-world experience is better than expected, they pay into a fund that provides payments to carriers with a worse-than-expected experience.
Second, the law sets rules on insurers' spending. Plans in the individual market have to spend 80 percent of their premiums on medical care, leaving only the remaining 20 percent for overhead and profit. If they miss that ratio, they have to pay out the difference in a rebate to their customers. That could discourage plans from raising premiums just to be safe — a higher premium is less attractive to new customers, and any excess will just go back to policyholders, anyway.
Third, there are the basic incentives of a competitive marketplace. Even with all the initial uncertainty, premiums for 2014 came in well below the Congressional Budget Office's expectations, because insurers want customers — healthy ones in particular. And those customers are the most likely to shop for the lowest premium rather than the richest coverage. Plans probably won't want to sacrifice long-term market share to avoid risking a short-term bump in the road, some industry officials said.
Nonetheless, industry insiders say the 2015 rate-setting process will still work a lot like the 2014 process, when insurers were entering a completely new market.
"What they're going to have to base their rates on is a best guess, based on limited information," the industry official said.
Which means the donkey's tail could still wind up tacked pretty high on the wall.