Obamacare Missed February Enrollment Target
February numbers fell short of expectations, but the law's survival is still assured.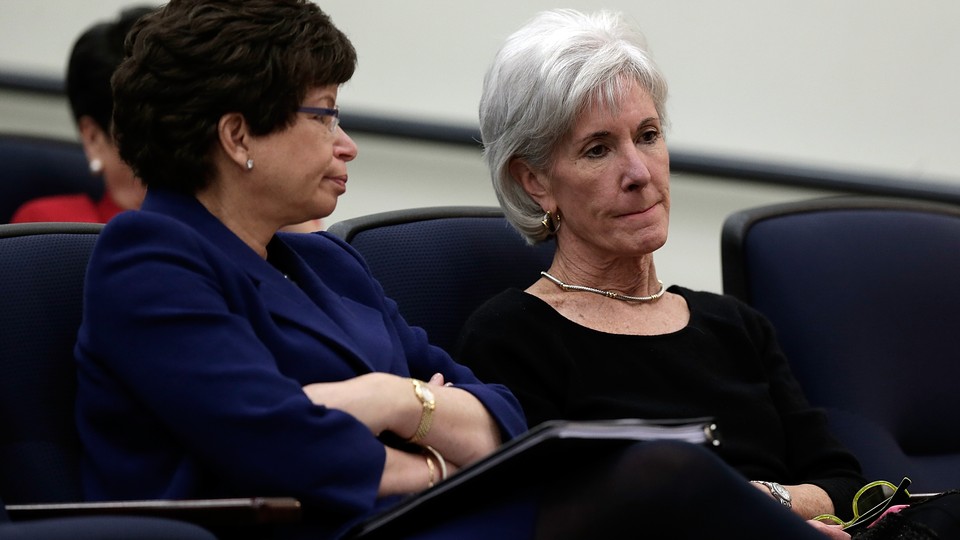 Roughly 4.2 million people had signed up for coverage under Obamacare at the end of a weaker-than-expected February, the Obama administration said Tuesday.
The administration's enrollment campaign is now in its intense final push ahead of the March 31 deadline to sign up for coverage. The White House and its allies are unleashing a flood of paid advertising, promotional partnerships, and grassroots outreach designed to coax consumers — and especially young people — into new insurance markets created by the health care law.
February's progress was slower than expected. About 943,000 people signed up for coverage last month, compared with the nearly 1.3 million the Health and Human Services Department had anticipated for February.
Young adults made up 24 percent of all new sign-ups — unchanged from last month. Administration officials initially set a target of roughly 38 percent, but have since said that even holding steady at about 25 percent is good enough.
Overall enrollment and the number of young enrollees are both expected to surge in March, thanks to the March 31 deadline. But the administration would need an especially strong month to hit an ultimate total of 6 million people — the latest target from the Congressional Budget Office.
When it plotted out its expectations before the HealthCare.gov launch, HHS estimated that about 80 percent of all enrollees would be in the door by the end of February, and the remaining 20 percent would come in March.
If that trajectory holds, based on last month's figures, total enrollment will end up closer to 5.3 million.
Impartial experts agree that's probably enough, from a policy perspective. Really, the national total doesn't mean much — each state is its own marketplace that has to live or die independently. But getting close to 5 million enrollees nationally is a good indicator that each state has probably reached a critical mass.
The law has already cleared the threshold for basic survival, and from the White House's perspective, that's good enough for a year marred by the botched HealthCare.gov launch and a series of confusing delays. As long as premiums don't skyrocket next year, the Affordable Care Act's system of subsidized, regulated private coverage is likely to become an ingrained part of the U.S. health care system.
Premiums will depend largely on who signs up for coverage under the law — how many healthy consumers are in the mix to balance out the costs of guaranteeing coverage to people with preexisting conditions. At the end of February, young adults made up 24 percent of enrollees. That's enough to avoid the dreaded insurance "death spiral," but could still lead to smaller premium increases next year, according to the Kaiser Family Foundation.
For all the concern about premiums, people still aren't choosing the cheapest plans. Nearly two-thirds of all enrollees, 63 percent, have selected "silver" plans, while just 18 percent have chosen cheaper "bronze" policies and only 1 percent selected bare-bones catastrophic coverage. The law categorizes policies based on the richness of their coverage, and more generous policies have higher premiums.
Eighty-three percent of people who chose a plan are eligible for tax subsidies to help cover the cost of their premiums.
As always, there are a few important caveats to the latest enrollment report. These are not final enrollment numbers. They reflect the number of people who have selected an insurance plan — not the number who have actually paid their first premium, and enrolees aren't covered until they make that payment. Insurers have estimated that about 70 to 80 percent of their customers paid their first premium, which would put actual enrollment closer to 3 or 3.5 million.
The White House hasn't released a formal tally of how many people paid their premiums, but should be able to do so once it has more complete data from insurers.
These figures also don't break out the number of uninsured people who have signed up for a plan, versus those who changed coverage rather than gaining it (perhaps because their old policy was canceled as a result of the Affordable Care Act). The best estimates so far say that about 70 percent of all enrollees were previously uninsured.
That may seem like nitpicking, but it's essential in judging whether the health care law lived up to expectations. CBO has said it expects the law to reduce the number of uninsured in the U.S. by about 13 million this year, including both its Medicaid expansion and insurance purchased through the exchanges.