Obama Hints at European Fracking Following Russia Sanctions
He also made the case for importing more U.S. gas in a conference with the European Union's two top leaders.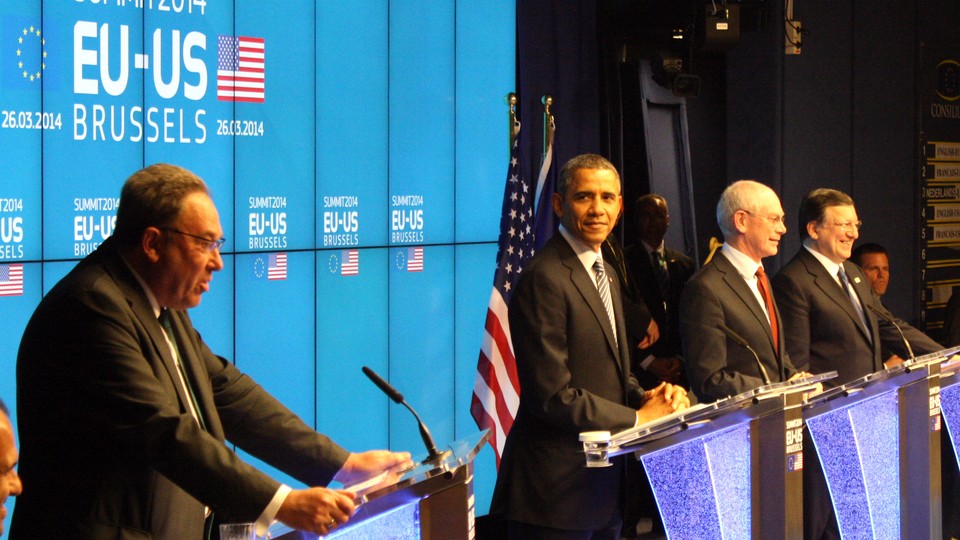 BRUSSELS -- President Obama didn't directly call Wednesday for Europe to start fracking for shale gas, but he strongly suggested that countries there diversify their energy sources as the European Union hits Russia with sanctions over its annexation of Crimea.
Russia's aggression in Crimea has highlighted the E.U.'s dependence on gas that travels through pipelines in Ukraine. Isolating Russia economically would be less painful for Europe if it did not depend so heavily on that gas, Obama said at a press conference with European Council President Herman Van Rompuy and European Commission President Jose Manuel Barroso.
"This entire event has pointed to, I think, for Europe, how it needs to diversify its energy sources," Obama said.
Declining to specifically endorse fracking, Obama said the U.S. has been "blessed by some incredible resources" recently.
Barroso, however, made clear his support for fracking, saying it was a "blessing" for countries that import gas from the U.S. rather than Russia.
"European countries will become less dependent on energy coming from, let's say, difficult spots," he said.
The statement also hinted at negotiations on the free-trade Transatlantic Trade and Investment Program. President Obama suggested that U.S. liquefied gas exports to the E.U. could increase depending on the contents of the deal, which could reduce tariffs and regulations in trade between the U.S. and E.U.
British Prime Minister David Cameron has also called for fracking in Europe since the crisis in Crimea began. On Tuesday, he said Russia's invasion was a "wake-up call" for countries relying on Russia gas, Reuters reported.
Obama walked a fine line on environmental issues in the press conference, both promoting the U.S.'s gas exports and assuring Europeans that the United States would not push for more-lax European laws on environmental protection as part of the free-trade deal. He addressed European concerns that the U.S. would try to reduce barriers to trade by asking for weakened environmental regulations, saying he has fought for environmental protections during his "entire political career."
But Obama also subtly criticized the E.U. for heavily favoring environmental regulation over energy production, saying the U.S. had made tough choices that the E.U. now faces.
"The truth of the matter is, just as there's no easy, free, simple way to defend ourselves, there's no perfect, free, ideal, cheap energy sources," he said. "Every possible energy source has some inconveniences or downsides. And I think Europe is going to have to examine, in light of what's happened, their energy policies to find, are there additional ways that they can diversify and accelerate energy independence."
Neither Obama, Barroso, nor Van Rompuy addressed whether the U.S. and E.U. see Crimea as a lost cause, instead focusing on the possibility of additional sanctions if Russia becomes aggressive toward any other parts of Ukraine. Obama, who was attending the E.U. summit for the first time as president, emphasized the U.S.'s coordination with the E.U. on sanctions.
Obama also declined to address worries in Europe over U.S. spying programs. Barroso said he and Van Rompuy have "concerns, shared widely by citizens in E.U. member states," about U.S. surveillance, but that they had discussed the issue with Obama earlier in the day and are confident about Obama's proposals for NSA reforms — including ending the agency's mass collection of phone data.