Northern Senators to D.C.: We Don't Need Your Stinkin' Snow Days
Snow day? They just call this Monday.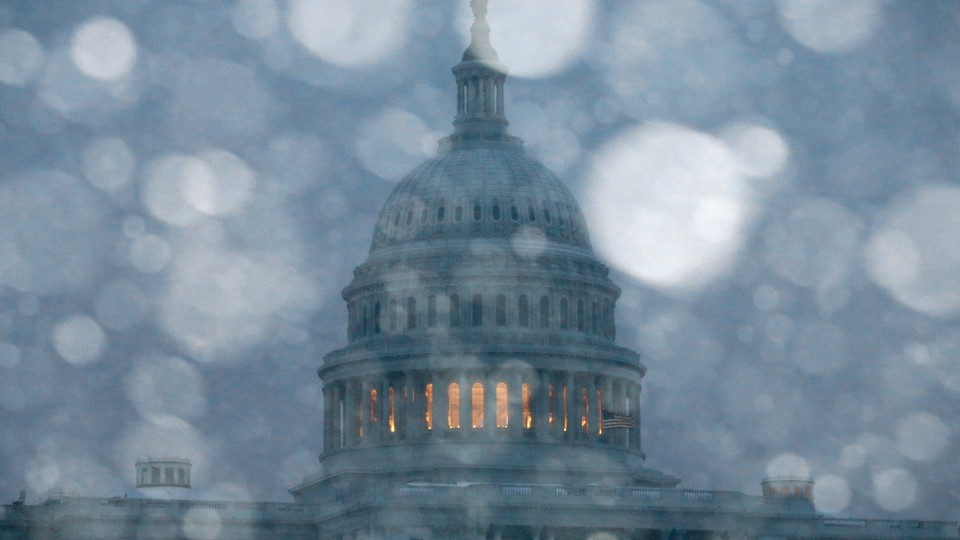 With the District shut down and most of Washington burying itself under the covers, hoping for this falling white stuff to just leave us the hell alone, a few members of Congress are happily going about their work. Although votes have been canceled for the day, a few senators from snowier climates are in the office and are not above a little polite ribbing of their colleagues who decided to take the day off. Sen. Heidi Heitkamp, D-N.D., began it this morning with a shot of the Capitol.
Heitkamp's staff is working through the snow day, although the senator herself is still traveling back from North Dakota, where she attended an event Saturday in negative 52 degree weather, according to a spokesperson.
Sen. Patrick Leahy, D-Vt., was even sassier, braving the elements on his office balcony sans winter coat.
Sen. Lisa Murkowski, R-Alaska, upped the social-media game by posting a Vine of the falling snow from her office balcony.
" 'Snow day?' You mean 'Week day at the office,' yes?" one of Murkowski's staffers said in an email. Sen. Chris Murphy, D-Conn., and his staff were in the office promptly at 7:30 a.m. The senator even took a little time out of his morning to head up to the MSNBC studios in Northwest Washington for an appearance on Morning Joe before snapping this snow shot.
Sen. Dan Coats, R-Ind., had hoped to joined them, hopping on an early flight back to Washington, but was burned by some overconfidence in the District's ability to respond to a major snowstorm.
This is third time this year that the federal government has shuttered due to snow. Congress is scheduled to get back to work officially on Tuesday, though the Senate has delayed votes until Wednesday.
Updated Tuesday at 11 a.m.
Correction: The original version of this story mis-identified Sen. Heidi Heitkamp as a Republican.