Men's Rights Activists Embrace the Complex Rape Case Against Brigadier General Jeffrey Sinclair
Men's rights activists have taken up Sinclair's case as an example of how "public outcry" against rape results in false accusations.
This article is from the archive of our partner
.
On Monday, a judge halted Brigadier General Jeffrey A. Sinclair's sexual assault trial after reviewing new evidence suggesting the case has been tainted by political pressure from the Pentagon. Colonel James L. Pohl dismissed the jury and is now allowing both sides to attempt to reach a plea deal. Sinclair stands accused of sexually assaulting a female captain. If convicted, he could spend his life in military prison. The defense maintains he will not plead guilty to sexual assault.
Men's rights activists (MRAs) have taken up the case as an example of how "public outcry" over rape results in false accusations. The military charged Sinclair amidst congressional debate about whether sexual assault cases should be taken outside the chain of command (they won't be, Congress recently voted). The military wanted to look tough on sexual assault, MRAs reason, so officials took an innocent man and put him on the stand. The Community of the Wrongly Accused blog (which used to be called False Rape Society), explains:
Public outcries can skew the decision-making processes of prosecutors, college administrators, and military leaders and sometimes prompt them to bring charges, to proceed with cases, or to take other actions that enhance the likelihood of punishing the innocent. 
To MRAs and those sympathetic to Sinclair, Pohl's decision proves that point. Pohl ruled that "unlawful command influence" was at play after an email surfaced in which the accuser's lawyer wrote that a plea deal would not look good for the Army.
Military officials and Sinclair's lawyers met Tuesday to begin discussing a plea deal. This is the latest development in a case that began two years ago and really started with an affair that began in 2009. Here is a timeline of Sinclair's last five years, and you can view it through one of two lenses: he's being unfairly targeted, or his accuser is being unfairly disparaged.
Summer 2009: The affair begins
In the summer of 2009, Sinclair began a consensual affair with his accuser, a female captain, while the two were deployed in Iraq. He was in his late 40s, she was in her late 20s. He was (and remains) married with two children. The affair continued for three years, while Sinclair allegedly had inappropriate relationships with at least four other women at various intervals (three military women and one civilian). He's admitted to exchanging sexual messages with two of them. Adultery itself is a military crime that can end careers.
September 2011: Sinclair deploys
 to Afghanistan, where the alleged assaults occur
Sinclair's accuser deployed with him as part of the 82nd Airborne division to Afghanistan in September 2011. She was listed as one of his aides. Now, Sinclair's accuser alleges that he forced her to perform oral sex on him twice during this time — once on December 1, 2011, and once on February 5, 2012. In her testimony about the relationship (given in November 2012), she recalled, "I didn't want to do it. I just kept crying. It was weird. It was like he was trying to say that he loved me." She says she tried to end the affair, but he threatened her.
March 2012: The accuser confesses the affair and makes her allegations
On March 19, 2012, the accuser confessed the affair to Sinclair's boss, Major General James L. Huggins. She also claimed that he forced oral sex on her and groped her inappropriately. In her November 2012 testimony, she explained the nature of their relationship and how it ended. The Fayetteville Observer recounts:
The woman said that when she began sleeping with Sinclair ... she thought he was in an open relationship with his wife and that the couple was looking for a woman to complete a threesome. 

The woman said she assumed her relationship with Sinclair would end once the Iraq deployment was over. But, she said, Sinclair broke down crying and told her that he had lied and that he was in a loveless marriage and wanted the affair to continue.
And so the affair continued in Afghanistan, where Sinclair allegedly assaulted her. The accuser claims that Sinclair threatened to kill her family if she told anyone about the relationship. She testified, "He said that he would kill my family and that he could do it in a way that nobody would know it was him." In light of these allegations, Sinclair was sent back to Fort Bragg.
In the summer of 2012, Sinclair offered to plead guilty to adultery, hoping the assault allegations would go away. The Army denied his request. He was formally accused of assault, adultery, and other military crimes in September 2012.
November 2012: Rebecca Sinclair defends her husband
In the midst of Sinclair's scandal, a bigger military affair captured the public's attention — that of then-CIA head David Petraeus. Sinclair's wife, Rebecca, took Petraeus's November resignation as an opportunity to speak out about the allegations against her husband. She wrote an op-ed for The Washington Post basically blaming soldier infidelity on the wars in Iraq and Afghanistan. She maintained that her husband was innocent of sexual assault.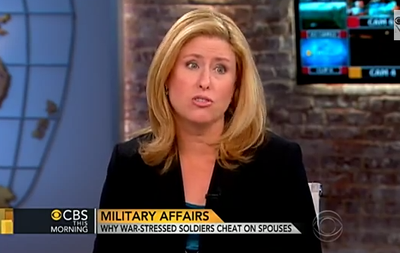 In an appearance on CBS This Morning, she explained that due to deployment cycles, "There's not time for these [military] families to be families." In her op-ed, she admitted that her husband hurt her "tremendously," but maintained that his affair was consensual. She also implied that Sinclair's accuser alleged assault to avoid being prosecuted herself:
As a servicewoman, she stood to be charged with criminal conduct under the military code of justice. She alleged sexual assault, and no such allegation should ever go unanswered. We are confident that the charges will be dropped.
December 2012: The Army court martials Sinclair
On December 18, 2012, Fort Bragg officials announced that Sinclair would be court-martialed on eight charges with 25 specifications, including forcible sodomy. The decision was made after an investigative hearing in November 2012. Many of the offenses are not considered crimes in civilian court, like "conduct unbecoming of an officer." Some of the charges, like wrongfully possessing alcohol, were ultimately dismissed. Here is the full list as presented on December 18:
Forcible sodomy with a captain in Afghanistan.

Engaging in sexual contacts with a captain by grabbing her without her consent. 

Disobeying an order from Maj. Gen. Jim Huggins, his superior officer, to cease all contact with a captain by calling her cellphone.

Wrongfully engaging in an inappropriate relationship with a major. 

Wrongfully possessing alcohol in Afghanistan in violation of military orders. 

Wrongfully possessing and displaying sexually explicit photos and movies in Afghanistan in violation of military orders. 

Wrongfully using his government travel charge card for personal purposes. 

Using his rank and authority to "coerce and compel" a captain to maintain a sexual relationship and prevent her from ending the relationship. 

Attempting to engage in an inappropriate relationship with a first lieutenant. 

Having sexual intercourse with a captain and threatening her if she told anyone about their relationship.
December 2013: 
Accuser finds her phone 
Throughout 2013, the defense, with new civilian lawyer Richard Scheff, built the case that Sinclair was unfairly charged because of pressure from the Pentagon. Scheff argued that "Because of the focus on sexual assault in Congress, the spotlight has been on Gen. Sinclair and this case. The whole case has been overblown. The case has been overcharged." Jury selection began in the summer of 2013, which was unique in that Sinclair's jury had to be made up of two-star generals (military rules mandate each member of the jury be of superior rank to the defendant.) 
Then, after a series of delays, the accuser provided new evidence for the case. In December 2013, she found an old cell phone that she says she used to correspond with Sinclair during their affair. Unfortunately for the prosecution, she didn't immediately turn the phone over to the government. She plugged it into her computer first instead. The defense argues that she lied about this in her testimony. Now there's a question as to whether she tampered with evidence. 
February 2014: Lead prosecutor drops out
During the second week of February, Lieutenant Colonel William Helixon abruptly left the case, citing "personal reasons." The defense claims he left because he did not think the jury would believe the accuser. Scheff alleges that Helixon was pressured by the Pentagon not to drop the charges against Sinclair.
March 2014: Sinclair pleads guilty to lesser charges
In another attempt to get the prosecution to drop the sexual assault charge, Sinclair pled guilty to three of the lesser charges on March 6: adultery, possessing pornography, and conduct unbecoming of a gentleman. The defense now insists the prosecution has no case. Scheff says:
The government now has a big problem. It took pathetically weak assault charges and put a fancy wrapper around them. We just tore the wrapper off. The prosecution team no longer gets to distract us with salacious details about acts that aren't even criminal in the civilian world. All they're left with is a crime that never happened, a witness who committed perjury, and a pile of text messages and journal entries that disprove their claim.
The judge was ready to continue with the case, until Monday, when the email surfaced suggesting the Pentagon did pressure the prosecution.
It's not clear whether a plea deal can be reached, as Sinclair's lawyers insist he won't plead guilty to sexual assault. But the hope for a deal has vindicated MRAs who say Sinclair was a victim of the political machine all along. Scheff calls Pohl's decision a "major win."
Captain Cassie L. Fowler, the accuser's special victim counsel who wrote the offending email, says Pohl was misdirected by the defense. She tells The New York Times, "It's nothing more than attempt to take the focus off the general's gross misconduct." 
This article is from the archive of our partner The Wire.