Meet Ukraine's Top Presidential Candidate, the Willy Wonka of Eastern Europe
Billionaire chocolate maker Petro Poroshenko is the new front-runner to be Ukraine's next president.
This article is from the archive of our partner
.
Over the weekend, Vitali Klitschko, boxer-turned-democratic party leader, announced that he would be withdrawing from Ukraine's presidential race. He will still be running for political office, with his hopes set on Kiev's mayoral race, which will also be held on May 25. Though popular and more famous (globally, at least) than the other candidates, Klitschko has instead put his support behind another contender: "We have to nominate a single candidate representing the democratic forces. This has to be a candidate who enjoys the strongest public support. Today, this candidate in my opinion is Petro Poroshenko."
Who is Petro Poroshenko? Put simply, he is the Willy Wonka of Ukraine. His company, Roshen, is Ukraine's leading sweets brand and a household name in Eastern Europe. Roshen produces over 450,000 tons of confections a year, fueling his personal net worth to $1.79 billion. And unlike most billionaires in the former-Soviet bloc, he came by it honestly.  
Ukrainian politics are so lathered with corruption that the country has a non-profit organization — "CHESNO" (which translates to 'honest') — dedicated to examining the root of politicians' wealth. Svitlana Zalishchuk, the spokesperson of CHESNO, confirmed that "We [CHESNO] couldn't find any instances of corruption" in the amassing of Poroshenko's fortune. In this sense, Poroshenko is the anti-Yanukovych.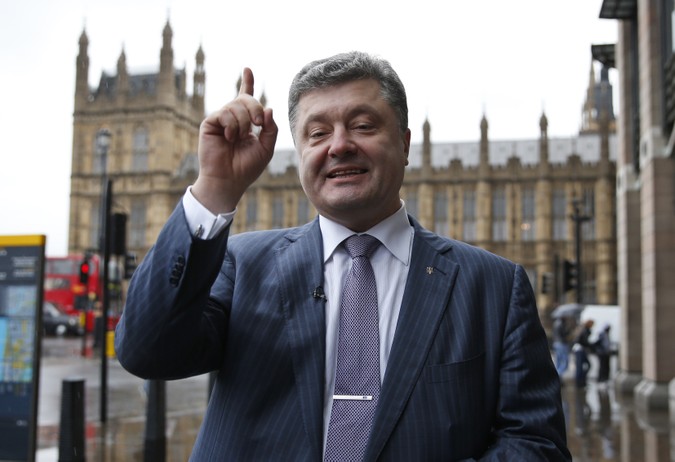 Poroshenko is not new to the political game, however. He began his career in politics in the 1990s. Since then, the chocolatier has been a political whirlwind: he supported former President Leonid Kuchma; began his own political party (Party of the Regions) with the recently deposed Viktor Yanukovych; abandoned Party of the Regions to join forces with the infamously poisoned former President Viktor Yushchenko; supported the Orange Revolution after the disputed 2004 elections; became foreign minister under the new regime; served under Yanukovych as the economic minister during his presidency; and then most recently, he joined Maidan as a leader of the leading democratic party.
Overall, Poroshenko is a curious moderate, hopping between various political parties during Ukraine's turbulent last decade. All the while, his business managed to maintain a strong relationship with Russia. He has the very unique experience of a Ukrainian politician and businessman who set up a mutually beneficial relationship with the Russian government. That is, until the relationship began to deteriorate when Poroshenko's democratic allegiances became stronger.
In July 2013, Russia banned the sale of Roshen products claiming that the ingredients in the chocolate were harmful for consumption. According to Roshen, Russian authorities never searched the factory producing the chocolate in question. Poroshenko retaliated by beginning to financially support the campaign for Ukraine to join the European Union. On March 14 of this year, Russian authorities seized Roshen's factory in Lipetsk, Russia, citing counterfeit chocolates as the reason. Unicof, Russia's largest confectioner, also hit Roshen with $70 million in counterfeit claims. This politically charged move by the Russians, coming at the height of the Crimean crisis, has cost Roshen an estimated $200 million — but can only help solidify Poroshenko's position as a solid anti-Kremlin candidate.
Poroshenko certainly believes he is the best candidate for the job, saying "I have experience in how to build up a new investment climate. I know how to build zero tolerance to corruption. I know how to build a court system. I know how to create a positive, absolutely new page of Ukrainian history."
With Klitschko out of the way, his main competition is former Prime Minister Yulia Tymoshenko. The fresh out of prison Tymoshenko is still known as a hero of the Orange Revolution, but some political authorities believe those days are behind her. CHESNO's Zalishchuk says that Tymoshenko is "a politician of the past. Her era is over." Accusations of political corruption from her own time in office have not helped. Political analyst Vadim Karasyov thinks Tymoshenko will go the way of Klitschko, vying for a different political office, saying, "It is clear that Yulia is not fighting for the post of president, but for a future faction in parliament." Both she and Poroshenko are building their campaigns on the idea of Ukrainian unity and nothing brings people together like chocolate.
This article is from the archive of our partner The Wire.