Meet the Newest Member of the Super PAC Billionaires Club
Tom Steyer is taking his climate politics national in 2014. But will it play outside California?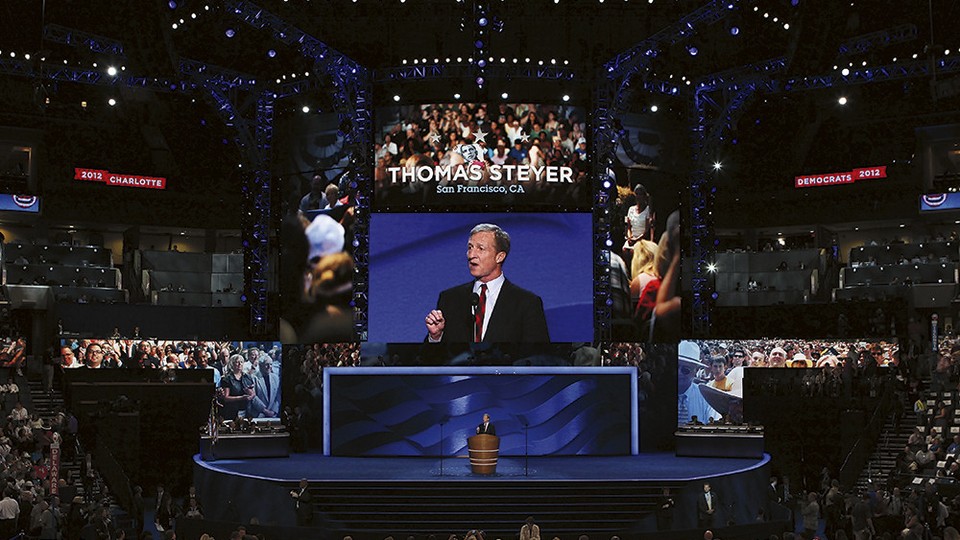 The last time California served as a successful launchpad for one man's national political ambitions was more than three decades ago. Before electric cars. Before Energy Star appliances. Before climate change (or even "global warming") was recognized by anyone outside science. Tom Steyer could end that drought.
Steyer isn't campaigning for any office, but in little more than a year, the environmental advocate has catapulted from a member of the national Democratic donor community to one of the party's biggest political spenders. He is reportedly planning to deploy $50 million of his own, plus $50 million from donors, through his NextGen Climate Action super PAC and affiliated groups to influence the 2014 midterms. That makes the former hedge-fund manager one of the biggest political spenders in the country, a role set up by his recent work in Golden State politics.
While Steyer's dramatic entry onto the national political stage has invited comparisons to the Koch brothers and other major financiers, his planned investment is less about matching ever-larger amounts of conservative groups' spending than it is about expanding the climate politicking he's been doing in California, far from the Washington media glare. Over the past four years, Steyer has been a prolific, but conventional, donor to national Democratic campaigns. He steered clear of super PACs in 2010 and 2012, instead spending more than $35 million pushing two successful statewide ballot initiatives.
Those were, in effect, training exercises that allowed Steyer to learn the ropes of big-time political campaigning and see how his investor's eye might be applied to polling and campaign mechanics. And with that now under his belt, an expansion should come as no surprise. "He didn't necessarily go into California ballot initiatives as if they'd be a beta test for what he's doing nationally, but in effect they served as a beta test," said Steyer strategist Chris Lehane.
Although they can slip below the national radar, California initiatives are some of the biggest political contests out there. "They can be more complex than any campaign outside a presidential," says Lehane — who would know, having worked on both. Steyer spent $5 million to save a state law curbing carbon emissions in 2010. Two years later, he made an even bigger financial commitment, pumping more than $30 million of his own money into an effort to pass Proposition 39, which closed the loophole on an out-of-state business tax and directed the revenue into green-technology projects.
Put into perspective, Steyer's pro-Prop 39 spending in California amounted to more than 40 percent of what President Obama's unofficial super PAC, Priorities USA, spent nationwide in the same year.
So, his $100 million financial investment in 2014, eye-popping as it might be, is not a big leap. Steyer is applying a national focus to what he's been doing all along — and shifting his eye from policy initiatives to campaigns for elected office. In 2013, the super-PAC-armed billionaire dropped seven figures to elect Democratic Sen. Edward Markey in Massachusetts and then an additional $11 million on climate-themed advertising to boost new Democratic Gov. Terry McAuliffe in Virginia.
"He really believes that climate change is the most important issue of our time, so now he's building on the success" in California, said Mark Baldassare, the president of the Public Policy Institute of California and a keen observer of the state's ballot measures.
Skeptics on both sides of the aisle — scoffing Republicans on one hand and some Democratic strategists arguing over the best way to win votes on the other — wonder whether Steyer's group, no matter how well moneyed it is, can elevate climate issues enough to drive voters' decisions in major Senate and governor's races. The topic itself won't be on the ballot, and polling shows that voters started the year far more concerned about the economy and jobs than the environment.
But Steyer has already had some success outside California, using opposition to gas drilling to set up a wider ethics-based attack on Republican Ken Cuccinelli in Virginia last year. Now, he thinks he can build on it. "He's been successful in the business world because he's a 'reinvestor,' " Lehane said. "You invest money, figure out what works, and get really smart about making that second, third, fourth investment."¦ That's informed by what he went through in California and knowing just how sophisticated your data needs to be" to make decisions.
Reinvesting also lets a financier scale up the potential gains. "It can't all be done in California," Baldassare said. "He's applying what he learned on a bigger stage."