Mary Landrieu Is Paying — and Getting Paid Big — for Her Stance on Global Warming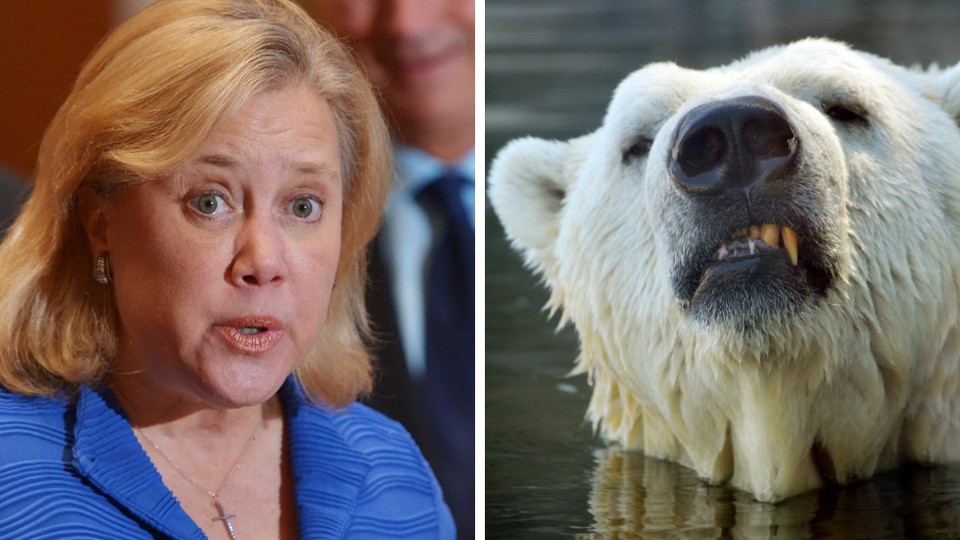 Environmentalists need Mary Landrieu, but they don't love her — and they're proving it with their checkbooks.
Louisiana's Democratic senator and Republican Rep. Bill Cassidy are locked in a Bayou battle that will go a long way in determining whether Democrats can hold their imperiled Senate majority, a force that has proved an implacable bulwark against a steady stream of House Republican attacks on environmental regulations.
But that hasn't convinced the environmental lobby's heavy hitters to cut checks for Landrieu. In the past year, only one environmental organization has donated to her campaign. The Baton Rouge-based Center for Coastal Conservation gave Landrieu a $2,500 nod, according to the Center for Responsive Politics. The Sierra Club, Natural Resources Defense Council, and Environmental Defense Fund have handed over a combined contribution of exactly nothing. All three groups declined to comment on the record when asked whether they would endorse Landrieu.
So why have environmentalists thus far washed their hands of a campaign so critical to their movement's future?
In short: They just can't stand her stance on global warming. Landrieu is an oil- and gas-industry champion who tiptoes around the global-warming debate and voted to block the Obama administration's climate rules for power plants. Lining up behind a candidate like that, environmental groups fear, would signal to Democrats that their support is unconditional — and that greens can be taken for granted.
"We don't want to be in a situation where one party feels like we're beholden to them. That's how we get taken advantage of," said Ben Schreiber, a spokesman for Friends of the Earth Action, the political fundraising arm of Friends of the Earth. "Candidates need to know that there are consequences to the way they vote."
Landrieu was never going to be a darling of the environmental movement. She represents a state dotted with oil wells and refineries, and sides with the fossil fuel industry more often than not. She also backs the Keystone XL pipeline at a time when opposition to the oil sands project has become the green movement's call to arms.
The Louisiana Democrat also holds considerable sway over energy policy. She's the chair of the Senate Energy and Natural Resources Committee, and if another bipartisan energy bill comes out of Congress under Landrieu's watch, it would be covered in her fingerprints.
"Landrieu puts the environmental community in a difficult situation," Schreiber said. "She's been awful on climate change and she's quite responsive to the oil and gas industry. And she's chair of the Energy Committee. That makes things complicated."
Environmental groups have been willing to forgive other moderates for their fossil-fuel embrace as part of a broader campaign to keep their preferred party in power.
NRDC Action Fund, the political fundraising arm of the Natural Resources Defense Council, is already supporting Kay Hagan of North Carolina and Mark Begich of Alaska, two vulnerable Senate Democrats who, like Landrieu, say the pipeline should be built.
"It's not realistic to ask people to be with you 100 percent of the time. A purity test doesn't work in politics," Heather Taylor-Miesle, the fund's director, said. "We look for people we can work with on a number of issues. They don't have to have a perfect record."
So why has Landrieu been left out in the cold?
The real deal-breaker is the senator's stance on climate. Landrieu's not a climate change denier, but she sidesteps the issue every chance she gets. Begich and Hagan, on the other hand, have been outspoken in their calls to action on global warming. Landrieu also opposes Environmental Protection Agency regulations to curb power-plant emissions, the federal government's primary avenue to counter climate change and a key part of the president's second-term climate agenda. In the previous session of Congress, Landrieu voted in support of a measure to prevent the agency from regulating greenhouse gases. Begich and Hagan did not.
The election year is young, and the environmental lobby is not a monolith, so it's possible that more moderate groups will shell out for the senator. The Environmental Defense Fund partnered with Landrieu on Gulf Coast restoration — as did the National Wildlife Federation.
But where greens have withheld their funding, the fossil fuel industry has more than filled the void.
The oil and gas industry is the second-largest contributor to Landrieu's campaign committee and leadership PAC combined. The industry has also done more to give the senator a boost than her Republican challenger. According to the Center for Responsive Politics, Landrieu's campaign has so far raised close to $9.5 million with a cool $564,350 coming from the oil and gas industry. Cassidy, in comparison, has raised just over $5.1 million and gotten $180,750 from the industry.
It's unclear whether Landrieu would even want environmentalists' backing.
When NextGen Climate Action, an environmental group backed by billionaire Tom Steyer, raised the possibility last month of targeting the senator through an anti-Keystone XL ad campaign, Landrieu said Steyer's ad buy would likely boost her popularity in Louisiana.
The Sierra Club's stamp of approval isn't exactly a badge of honor in an oil state. "That's something an opponent could seize and run with," said Frank O'Donnell, president of Clean Air Watch, an environmental organization that does not take part in electoral politics. "Nobody wants to waste money doing something that could backfire."