Major Gaps in Plan to Slow Down Oil Trains
A safety push by the government and rail industry only covers 46 urban areas.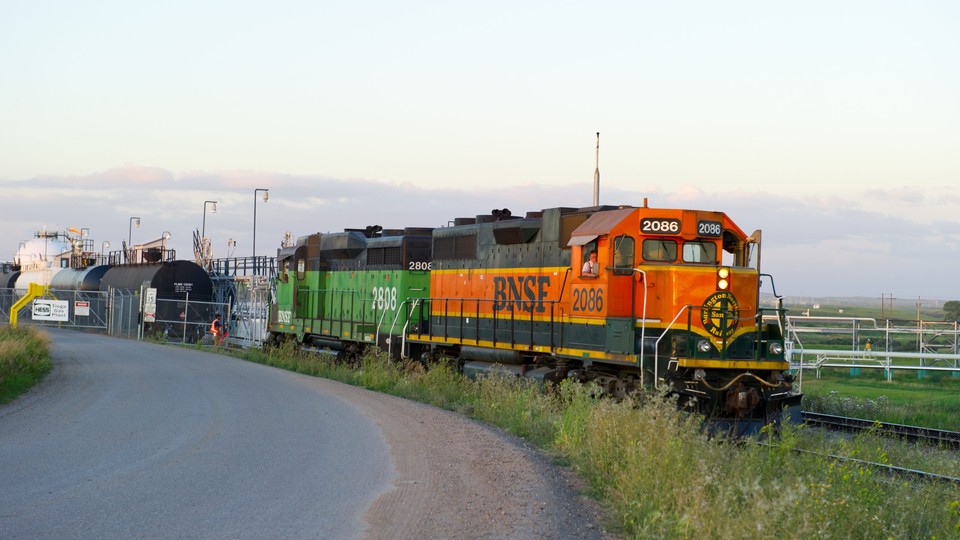 Communities across the country seeing a glut of trains carrying crude from America's booming oil fields could feel left behind by a new government and industry push to improve safety on the rails.
The Transportation Department and the American Association of Railroads, a group representing major North American freight carriers, released a list last month of 46 urban areas where trains with oil-tank cars will be required to slow down by July 1, if not before.
But there are some big gaps in the list of areas where the maximum speeds will be reduced from 50 to 40 mph. Most of the places where crude-by-rail accidents have taken place in the past year are not on the list.
Some members of Congress are sounding alarms. Sen. Chuck Schumer of New York is asking DOT and AAR to revise the agreement and cast a broader net. "It's critical that stakeholders go back to the drawing board and review the list of locations for lower speed limits," Schumer told reporters last week.
Buffalo and New York City are the only two cities in Schumer's state where oil-bearing trains will be required to slow down, despite the fact that high volumes of crude pass through a number of New York cities and towns.
When asked whether communities left off the list have been given short shrift, Sen. Heidi Heitkamp of North Dakota said: "We want regulators to take a comprehensive look. Just because someone's in a lower population area, we don't want to not give them the same level of protection."
Residents of Casselton, N.D., watched a massive fireball rise in late December after a train carrying crude derailed. Yet Casselton is not on the list of places that DOT and AAR have deemed "high-risk."
Crude-by-rail shipments have soared in the U.S. due to a surge in oil production brought about by the one-two punch of hydraulic fracturing and horizontal drilling. But recent accidents involving crude-rail transport have led public-safety advocates and lawmakers to question rail safety.
The debate has taken on greater urgency amid speculation that crude sourced from North Dakota's Bakken formation may be more volatile than oil from other regions of the country.
Regulators want you to know, however, that just because a city or town isn't targeted for lower-speed trains, it doesn't mean other safeguards won't be put in place.
"It's a case-by-case basis and rail carriers have agreed to cooperate with cities across the board on additional steps, including speed reductions, that will improve safety," Federal Railroad Administrator Joseph Szabo said in an interview. "I think too much focus has been put on rail speeds while not enough attention has been given to all the other agreements we've put in place such as the routing protocol which rail operators will use to determine the most safe and secure route to move crude."
Republican Sen. John Hoeven of North Dakota said that speed restrictions are already in place in Casselton to ensure that trains carrying crude don't exceed 40 miles per hour, despite the fact that the city was left off the list of high-risk areas.
Szabo also cautioned that slowing speeds could cause new problems. "Communities need to understand there are trade-offs to slowing things down," he said. "You have to balance the flow of commerce as well as the potential impacts on the communities, and it's important to look at the impact on the overall rail network."
In other words, it's a balancing act. It's too soon to say if speed restrictions will lead to bottlenecks on the tracks, but it's not out of the question.
"It's kind of like merging onto a highway. When you have a train that slows down it's not just a question of how it affects that one train, it's also a question of how that affects all the other traffic," said Lowell Rothschild, a senior counsel at the law firm Bracewell & Giuliani who works on crude-by-rail issues.
Freight cars carrying crude are already causing delays of up to several hours for Amtrak in the northwest United States. And DOT is well aware of the problem. Passenger rail advocates, including the National Association of Railroad Passengers, have lodged formal complaints with the department, saying that crude transport is gumming up the works and needs to be fixed.
One thing is clear, however. The push to improve rail safety won't end soon. "This agreement is nothing but one more step in an ongoing process and something that can generate tangible and significant safety benefits to the public quickly while we continue to review all of our options to make sure that crude is moved safely across the country," Szabo said.