Lots of People Who Support Gay Marriage Think Gay Sex Is Immoral
How U.S. attitudes on LGBTQ issues have shifted during the last decade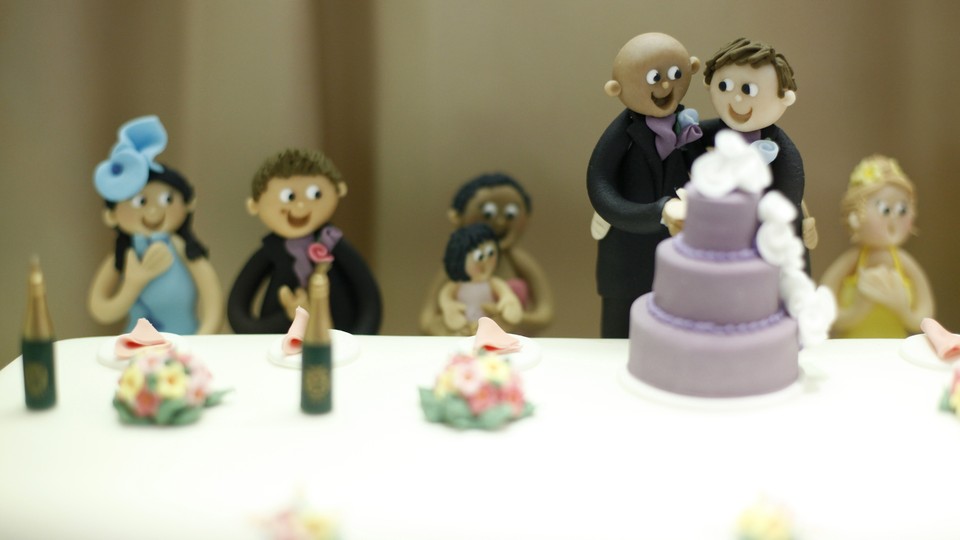 California, Illinois, New York: three states where gay marriage is or will become legal within the next six months—and three states where less than half of people see gay sex as "morally acceptable," estimates suggest. Of all the changes in attitudes toward LGBTQ issues over the last decade, perhaps this is the most remarkable: Americans seem to have concluded that what happens in other people's bedrooms is none of their business.
There are lots of interesting findings in a new study released by the Public Religion Research Institute last week. Millennials are nearly twice as likely as their grandparents to support gay marriage, including the half of the young people who identify as Republicans. Many religious Americans have changed their minds on the issue since 2003, and a majority of Jews, white mainline Protestants, and white and Hispanic Catholics now support the issue. And since 1999, the proportion of Americans who support gay adoption has increased by 20 percentage points. Today, 58 percent support it, as opposed to 38 percent.
But the most surprising statistics are buried toward the end of the study. A majority of those surveyed said that sex between adults of the same gender was morally wrong. It was a slim majority—only 51 percent—and roughly 43 percent said that gay sex is fine. There were regional differences, too. About half of Californians and Floridians had no objection to gay sex, while only a third of Texans were okay with it.
Compare this to the proportion of people who support gay marriage: 53 percent of Americans for, 41 percent against. This suggests that roughly a tenth of Americans don't like gay sex but think gay people should be able to get married anyway. In other words, they don't think public policy should necessarily mirror their private beliefs.
Some people seem to have decided that their religious beliefs shouldn't determine who can get married.
A decade ago, this distinction between public and private was virtually non-existent. In 2003, 62 percent of Americans said gay marriage violated their religious beliefs, and roughly the same proportion (59 percent) believed that gay people shouldn't be allowed to marry. Fewer people believe that gay marriage violates their religious beliefs now, but of those who do still think that, some seem to have decided that their religious beliefs shouldn't determine who can get married.
On this topic, there were big differences among various religious groups. Catholics and white mainline Protestants in particular saw gay marriage very differently in 2003 and 2013. The percentage of people who thought gay marriage violates their religious beliefs dropped by more than 12 percentage points in both groups.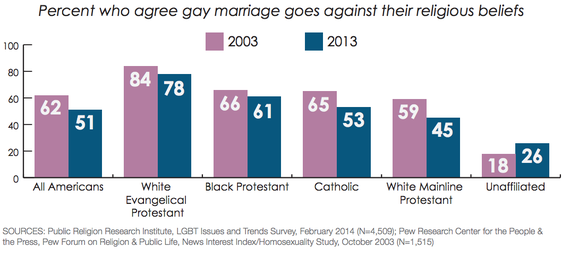 There could be a few explanations for this growing distinction between public and private. In the most general sense, gayness has become more normal. There's an abundance of gay television and movie characters now, but even more importantly, 65 percent of those surveyed reported having a close friend or family member who's gay, as opposed to just 22 percent who reported the same in 2003. Gay marriage has also gotten a lot more visible, in that it actually exists: In 2003, zero states had legalized same-sex marriage, but now it's permitted in 17 states and the District of Columbia.
The biggest factor might be age. Young, white, evangelical Protestants are more than twice as likely as their grandparents to support same-sex marriage. Seventy percent of Millennials believe religious groups alienate young people by being too judgmental toward those who identify as LGBTQ. Between 14 and 17 percent of Millennials who are no longer religious say that attitudes toward LGBTQ issues had a very or somewhat important effect on their decision to quit going to church or synagogue.
The most compelling evidence to support the age argument is this: Nearly 70 percent of Millennials support same-sex marriage, but only 56 percent think gay sex is morally acceptable. That is pretty remarkable—young Americans are only slightly less skittish about it than the general population, 51 percent of which disapproves. But no matter what Millennials may think about gay sex, they've clearly decided to keep it to themselves. The twenty- and thirtysomethings who grew up with Will and Grace and Queer Eye for the Straight Guy have come of political age, and as gay marriage hits more and more ballot boxes and courtrooms in the coming months, this generation will have a strong influence over who lives happily ever after.