The Loneliness of the Conservative Singer-Songwriter
In a effort to modernize, the Conservative Political Action Committee used live musicians between speakers for the first time this year. For some singer-songwriters, openly calling yourself conservative is a death knell.
This article is from the archive of our partner
.
For the first time this year, the Conservative Political Action Committee found a way to fill the void. CPAC tapped Big Dawg Music, a group that promotes "culture for the right side of your brain," to get their freedom-loving artists to play and sing live between the speakers and panels, and the loop of commercials that lament the American dream. The Andrew Breitbart theory, that "culture is upstream of politics," is sputtering along inside CPAC.
Lisa Mei, who is retired from the Air Force, is one of the co-founders of Big Dawg Music, along with a retired Marine living in Florida who simply goes by "Big Dawg." A singer-songwriter, Mei started the group when the Tea Party Movement burst out in 2009, when rallies were popping up everywhere.
"I saw the slogan, 'A Revolution is Brewing,' and I wrote a song about it," Mei said. She played it at the 9/12 Tea Party rally in Washington. "The more I started to sing at other events, the more I discovered that there were other conservative artists out there."
Big Dawg Music Mafia was originally a social site, bringing together conservative musicians to share their ideas and art; some of them are also painters and cartoonists. That eventually grew into Big Dawg Music Radio, a 24-hour online music station featuring some of the artists who performed at CPAC.
The ambience of walking into a stuffy exhibition hall has been completely altered with live music, Mei said. "Now you've got some music, it changes the whole energy of the room. We've gotten a lot of feedback, the organizers said, 'Why didn't we do this before?'"
That famous quote about culture and conservatism, which has been repeated like a psalm throughout CPAC, now seems like a viable way to win hearts and minds and, most importantly, votes.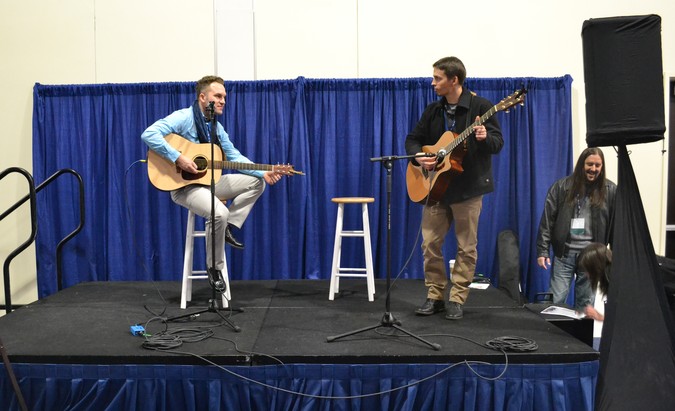 "By using culture, we believe that we can do the same thing the left did. The left used it successfully to get people to think a certain way. We want people to go back to the way the founders thought America should be," Mei said.
But being a conservative musician, especially openly, can be a death knell for artists, and have to make the choice to come out, almost formally, as conservatives.
Brock Lawley, who agrees that he has perhaps the most American name of all time, was contacted by Big Dawg Music to play at CPAC, which he likens to the Superbowl. He's played country music in Nashville for years, but his personal beliefs, including his love for the free market and capitalism, were better left unsaid.
"I didn't let anyone know I was a conservative because that stuff can bite ya. I decided two years ago that I wasn't going to do that anymore, I felt bad about being ashamed of it," Lawley said.
"There actually is a cost to being a conservative," Lawley said — but obviously not at CPAC. Lawley said that CPAC asked the conservative musicians to handpick their music, making sure it fit the tone of the conference, although it's not like any of them would have sung their odes to Hillary Clinton unless they were told otherwise.
While the Internet is redefining the music industry, Lawley said that conservative musicians are being left out of the revolution. He is being left behind despite the fact that everyone he knows, including conservatives, live on their iPads and YouTube, using them to consume music.
"Conservatives, especially in the arts, have not taken advantage of [the Internet]. It's crazy to me because politics is way downstream from culture," Lawley said. "It's almost like a mindful tone-deafness. Conservatives have a reputation of having money and financing this stuff, but it's like they're kicking a dead horse."
"Conservative artists are virtually non-existent. You have better chance of seeing a unicorn," Lawley said.
But for some artists who are sponsored and promoted by Big Dawg, often found at events like CPAC, or through social media, it's been an opportunity to professionalize their passion and be part of what feels like a mini-revival.
Anne Marie Harpen, from Cincinnati, Ohio, is an executive assistant for a company that makes jet engines. She's been working with Big Dawg since 2009, recording two albums and some Christmas songs.
"We are the conservative alternative to the 1960s folk era, where a lot of their songs were political in nature. They were anti-war. They were anti-government. So why can't we do that?" Harpen said. "I think it's been a really good draw for young people." Harpen played on the stage in CPAC Hub, the exhibition hall lined with booths of swag like Ronald Reagan posters and Ted Cruz coozies (Cruzies?) and during registration, but next year she hopes to be on the main stage.
"I wrote some music for our country and [Lisa Mei] did too. I was amazed to find there were other people that were doing this," Harpen said. "My song 'Walk the Streets in Anger' came to me in a dream and I woke up and I had to write it down."
Another member of the Big Dawg Music Mafia, Ben Nanke, 21, works at an audiology clinic. He was also influenced by Breitbart's comments on culture.
"I write [my songs] in a way where people aren't going to think, 'Wow, that guy's a conservative singer-songwriter,' necessarily. I played the song 'Keep the Faith' in a coffeehouse full of liberals in Oregon and they loved it," Nanke, who considers himself a Christian Libertarian, said.
"That's how the left does it. They'll put stuff in [music] that have these overt themes, but they're written in a way that's cool and relatable," he said. Nanke said girls have come up to him (he wouldn't say more), but, more bizarrely, a fan page exists for his eyebrows on Facebook. "There's also a Facebook page for my music, but the eyebrows are the real winning point," he said. His growing popularity as a musician on the conservative circuit has helped both Facebook pages.
Awareness of the Big Dawg artists among CPAC attendees was also virtually non-existent, which could be put down to the group's first year at the conference. Elie Letvin, a senior political communications major at George Washington University, had never heard of anyone on the roster.
"I'm honestly not familiar with any of these artists, I'm an old-school R&B fan myself. I wish we had some Ja Rule playing at CPAC," Letvin said.
Asked if the political equivalent of Ja Rule would do, Letvin was skeptical.
"Libertarian Ja Rule? I don't know who that would be. 50 Cent would probably be close enough, he's a registered Republican."
This article is from the archive of our partner The Wire.