Just How Doomed Are Congressional Democrats? Pretty Doomed
Retaking the House has long looked out of reach, but now there's a real possibility the party could lose the Senate, too.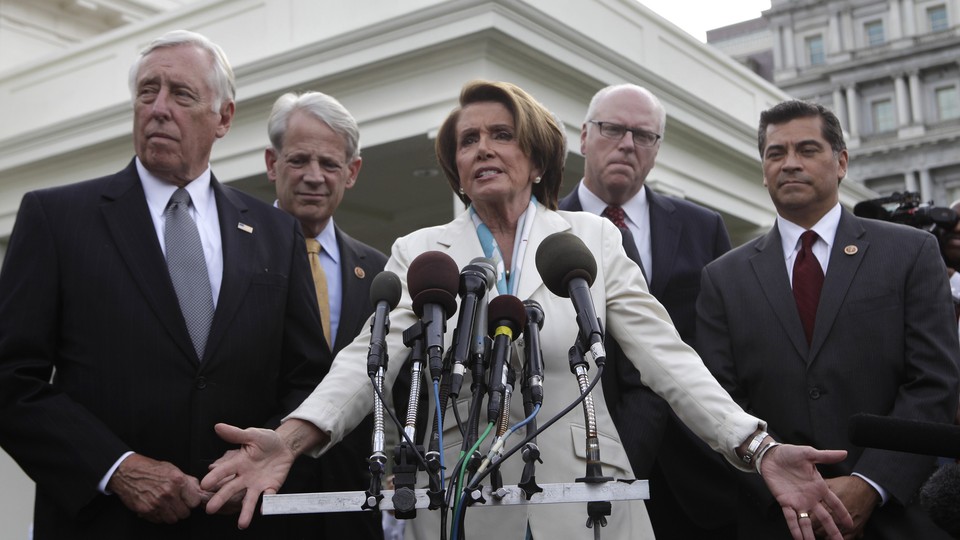 At this point, eight months before the November 4 election, it's hard to see a lot of good news for congressional Democrats.
No matter how you look at it, the House seems out of reach. Today, Republicans appear a bit more likely to gain than to lose seats; it would take a cataclysmic event for Democrats to score the net gain of the 17 seats they need to take the majority.
What's changed is that Democrats' chances of holding onto their majority in the Senate is looking increasingly tenuous. There are now at least 10, and potentially as many as 13, Democratic-held seats in jeopardy. By contrast, only two GOP seats are in any meaningful danger, and that number hasn't changed in six months.
Things are starting to look grisly for Senate Democrats. President Obama's approval ratings average 41 percent, basically where President George W. Bush's poll numbers were at this point before his own disastrous 2006 second-term, midterm election. And the Affordable Care Act, Obama's signature legislative and policy achievement, is now even more unpopular than it was in October and November of 2010, when Democrats lost 63 seats, control of the House, and a half-dozen Senate seats. It doesn't help that midterm electorates tend to be older and whiter than in presidential elections. Obama's current job-approval ratings are also worse than they were in October and November of 2010.
The two most likely legislative land mines for Republicans to step on between now and Election Day have been defused: The government is now funded, and Congress won't need to lift the debt ceiling between now and November. As a result, it is not clear where the kind of break that Democrats need could emerge.
The Senate's playing field keeps getting larger and, at least so far, entirely at Democrats' expense. Three of their seats are, to put it charitably, uphill challenges. The open seats in South Dakota and West Virginia are pretty much gone. In Montana, it's unclear whether newly appointed Senator John Walsh is in any better position, apart from fundraising, than he was when he was just the lieutenant governor running for an open seat. Between national party committees and super PACs, the amount of money raised by the candidates and their campaigns means less than ever before. With a handful of people in each party apparently ready to spend $50 million to $100 million of their own money on behalf of their favored candidates, a lot of things that used to be important aren't so much anymore.
Although it is getting surprisingly little attention, Democrat Carl Levin's open seat in Michigan is a toss-up; neither of the candidates is particularly strong or well defined, but the natural advantage that a Democrat in the Motor State could be expected to have is likely offset by ugly headwinds caused by radioactive Obama and ACA numbers. The same can be said for Tom Harkin's open seat in Iowa. In both states, the presumptive Democratic nominees have Obamacare votes to defend, but the highly problematic GOP nomination process in Iowa might well yield an exotic and unelectable contender.
Five Democratic incumbents now face tough races, Arkansas's Mark Pryor is in the most challenging situation, followed by Kay Hagan (North Carolina), Mark Begich (Alaska), Mary Landrieu (Louisiana), and Mark Udall (Colorado). Udall became the latest addition to the list when GOP Representative Cory Gardner announced his candidacy Saturday. Also worth keeping a close eye on are Al Franken (Minnesota); Jeanne Shaheen (New Hampshire), if former Senator Scott Brown runs; and Mark Warner (Virginia), who is as strong as a Democrat can be in that state but would be in trouble in the event of a meltdown. When there is a president with numbers this bad, even incumbents who might normally be OK need to be watched carefully, particularly if there is deeply unpopular policy weighing down the party's candidates.
Many suspect that the best—or even only—chance that Democrats have of salvaging their majority is if they can pick off one or even two GOP-held seats. This would force Republicans to gross seven or even eight seats to secure the six-seat net gain needed to win the majority. The Washington conventional wisdom is that Minority Leader Mitch McConnell will ultimately prove unbeatable, but there are no data to support that notion.
The polls have the Kentucky race dead even, and being one of the most powerful and visible leaders in an institution with favorable ratings comparable to gonorrhea is no asset in this day and age. Unlike Begich, Franken, Hagan, Landrieu, Pryor, Shaheen, Udall, and Warner—or Representatives Bruce Braley and Gary Peters, the likely Democratic nominees in Iowa and Michigan—McConnell's challenger, Kentucky Secretary of State Alison Lundergan Grimes, did not vote for Obamacare and is more associated with the Clintons than Obama. That doesn't mean she wins, but she will be less saddled with the ACA than her counterparts in other states. I'd put Kentucky at 50-50. The other vulnerable GOP seat is in Georgia, where Saxby Chambliss is retiring. The state leans Republican, but an exotic GOP nominee could make things very interesting, and Michelle Nunn, the CEO of Points of Light and the daughter of former Democratic Senator Sam Nunn, is proving to be one of the party's strongest recruits this cycle, and she is running without a paper trail of votes.
It's far too soon to say that Democrats' Senate majority is history. In 2012, their situation looked pretty grim at this juncture, too, but the GOP self-destructed and nominated the wrong people in a couple of states, and ended up losing three seats.
Still, at this point, it sure looks to be a very ugly year for Democrats on Capitol Hill.