Joe Scarborough for President? Sure, Why Not?
The MSNBC host has Beltway buzz for his flirtation with the 2016 presidential race. Republican primary voters may be a different story.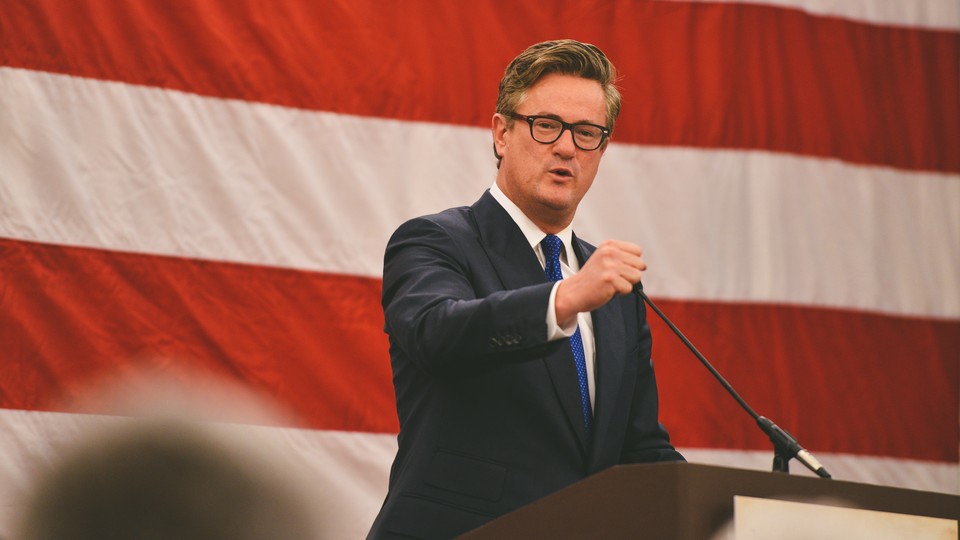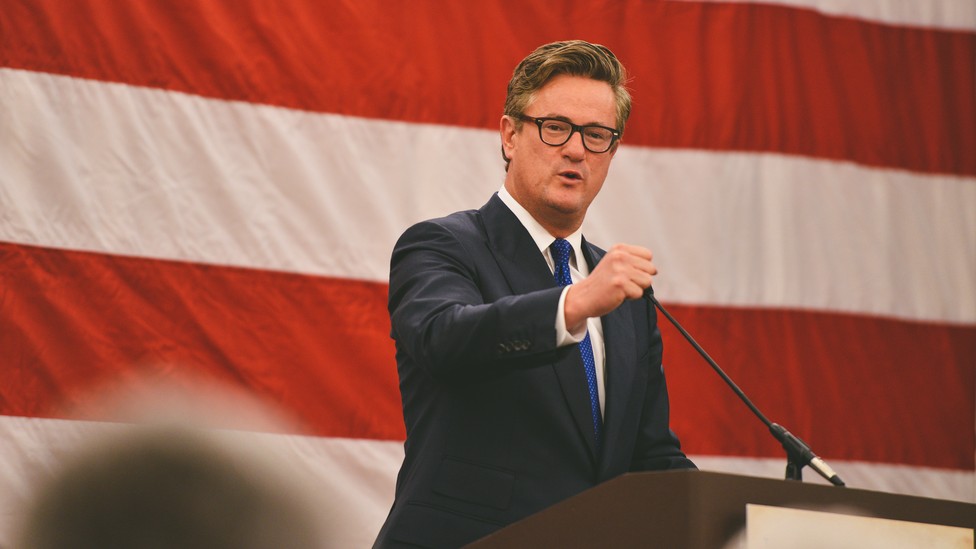 NASHUA, N.H.—In the end, Joe Scarborough's name wasn't on the ballot for the presidential straw poll of the Northeast Republican Leadership Conference.
The organizers of this small, regional GOP meeting had planned to include him after his appearance on the event's schedule caused a minor outbreak of Beltway buzz, chiefly a mention in Politico's daily Playbook newsletter. (Scarborough says he had nothing to do with it.) But MSNBC, the network that airs his show, Morning Joe, grew uneasy and prevailed on the organizers to get his name removed.
Here in New Hampshire, Scarborough, a former three-and-a-half-term Florida congressman who's been openly flirting with getting back into politics, is telling me all this with an air of amusement. From a political standpoint, he regrets it a little. "I could have gotten some good press, you know?" he tells me. "The reception was good, I was signing some books. It was very positive." Rand Paul ends up winning the straw poll, with Chris Christie a close second.
Nonetheless, at least among the consultant-class elites and political obsessives who are Morning Joe's target demographic, the idea of a Scarborough candidacy has gained some small amount of traction. And after all, why not? Plenty of candidates have used a presidential run in recent years as the springboard to a TV contract; surely it was only a matter of time until someone went in the other direction.
At the GOP gathering here on Saturday, Scarborough is scheduled to moderate a panel about the New Hampshire primary. But before the panelists can take their seats on stage, he takes the podium solo for a 12-minute speech about how Republicans can win again. "Our message has to be optimistic!" he says, punching the air with a fist. The panelists, four strategists who worked on 2012 presidential campaigns, stand gamely off to the side, waiting their turn.
Scarborough's speech sounds for all the world like a campaign speech—and a not-bad one at that. During the audience Q-and-A, a man stands up and says, "Thank you for giving my wife a tingle every morning." Scarborough blushes hotly underneath his smooth tan, face scrunching gleefully behind his horn-rimmed glasses. "I categorically deny it!" he says.
After the panel and book signing, Scarborough sits down with me in a hotel conference room. He is accompanied by two clean-cut young assistants in suits, whom he proceeds to kick out of the room—"I didn't have handlers even when I was in politics!" He crosses right ankle over left knee and leans back in his chair, running a hand through the spectacular wave of gray hair that crests above his forehead. Nearly every sentence is punctuated by a joke and seems to end in an exclamation point. Is he serious? Does he just like the attention? Is he trying to boost his ratings? Whatever his motives, Scarborough is clearly enjoying himself.
"Ever since I got out of politics, people have asked me if I'm going to get back in," Scarborough says. "The answer is yeah, at some point I'm going to get back in. It just hasn't been the right time yet."
Scarborough was a 31-year-old lawyer practicing in Pensacola when he ran for Congress in 1994, an underdog in a crowded field for an open seat that Democrats had held since 1873—"a tough damn district," as he puts it. He kept the seat until 2001, when he suddenly stepped down, citing family reasons. A broadcasting career quickly followed; by 2003, he was hosting Scarborough Country in prime time on MSNBC, and in 2007 Morning Joe debuted.
Now 50 and twice divorced, Scarborough lives in Connecticut and wakes every morning at 3 a.m. for Morning Joe, which he co-hosts with Democrat Mika Brzezinski. (Disclosure/humblebrag: I have been on Morning Joe.) The show's air of chummy, Acela-corridor knowingness has made it destination viewing for the political class; it is shown in the morning on the televisions in the House of Representatives gym. Still, nary an election cycle passes without party elders trying to draft Scarborough for something—a Senate race in Florida, in New York, in Connecticut—and he's always tempted. "I absolutely loved being in Congress," he tells me. "It was my favorite job, ever."
In 1994, Scarborough and the rest of Newt Gingrich's young charges were the Republican radicals. New York Representative Peter King likened the influx of new, largely Southern representatives to "hillbillies at revival meetings," an insult Scarborough cites in his speech. (King, for his part, believes Scarborough took his categorical swipe too personally: "He mentions it every time I go on the show, and sometimes when I'm not on," King, who nurses his own long-shot presidential ambitions, tells me.)
As a member of the Eastern media establishment, however, Scarborough has taken a somewhat different tack. He frequently criticized George W. Bush and questioned the strategy of Mitt Romney's 2012 campaign. These views were unpopular with his party at the time, but they've since been vindicated, he believes. "I actually had to debate movement conservatives about whether Clint Eastwood's speech [at the 2012 GOP convention] was good for the party or not!" he recalls. More recently, he's excoriated Republicans for the government shutdown and come out strongly in favor of gun control.
Scarborough's new book, The Right Path: From Ike to Reagan, How Republicans Once Mastered Politics—and Can Again, argues that the GOP will once again triumph when it emphasizes fiscal restraint and strikes a practical, inclusive tone. (In the New York Review of Books, Garry Wills was skeptical, writing, "Scarborough's silly picture of American politics leaves out most of the things that matter.") "I think it would really help us out if our voters didn't keep getting older and whiter and richer," Scarborough tells me. "That's probably not a formula for success moving forward!"
The audience seems to like his speech, and there is a long line of people waiting to buy his book. But it's not exactly a "run, Joe, run" groundswell. A dozen attendees tell me they've heard no talk of a Scarborough candidacy and find the idea implausible on its face. Linda Paul, a homemaker from Bedford, New Hampshire, tells me she "won't even turn on MSNBC," and while she was impressed with Scarborough's remarks, she'd like to see a presidential candidate with a more recent record in elected office.
Others were not on board with Scarborough's plea for party unity. "He hasn't always been kind to the Republican Party," says Kris Hammond, an attorney from Washington. "RINO stands for Republican In Name Only, and that means you're not really a Republican. We need to hold the line on what we believe in."
"I watch his show," says former Representative Frank Guinta, who's running again for his old seat in New Hampshire. "Sometimes I'm yelling at the TV because he's not tough enough on Mika."
Scarborough tells me that whether he plunges back into politics will depend on how the 2016 field takes shape. There are, he believes, two candidates who could plausibly capture the hearts of Wall Street and the GOP establishment: Chris Christie and Jeb Bush. Of Christie, he says, "If he comes out of all these investigations unscathed, I think Chris'll be a really strong candidate in 2016." Of Bush: "He was a great governor and I think he'd be a great candidate, but there's an awful lot of questions about whether Americans want another Bush."
But if neither man runs, Scarborough believes there will be a void. "You take those guys off the playing field and suddenly it is wide open," he tells me. "Who else is there? It's the most open Republican field, my God, since Eisenhower was trying to figure out whether to run or not in 1952."
And then, perhaps, just as it once implored a military commander and university president to be its champion, Scarborough's party will seek him out as its only hope. My time with Scarborough is ending, so I ask him whether being a member of the media has changed his outlook on politics. "It's a blessing and a curse," he says. "I've been debating three hours a day without a teleprompter ... so I'm thinking the debates may go okay if I ever decide to run! Nobody will have to put a packet on my back and an earpiece in my ear. I won't have to be shuffling nervously between notecards!"
On the other hand, it could be a problem, he acknowledges, that "MSNBC, obviously, is seen as a liberal network .... But at the end of the day, it doesn't matter. People meet you. They judge you by who you are."