Joe Manchin Tricked Into Appearing in Energy Propaganda Video
The senator says he didn't know the former CEO of the company blamed for a deadly mine explosion was behind the video.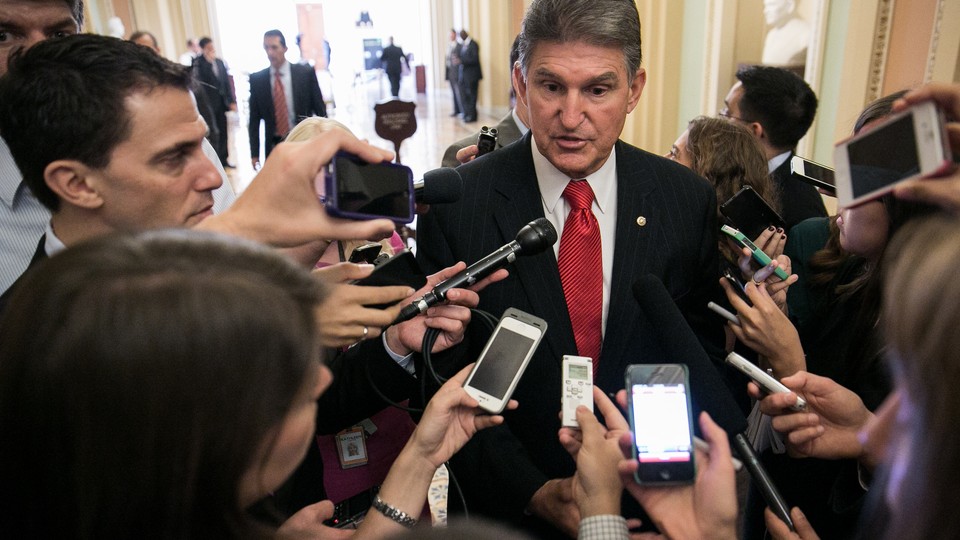 A video that claims to reveal the truth behind a mining disaster that killed 29 workers in West Virginia deceived at least one person: Sen. Joe Manchin.
The West Virginia Democrat features heavily in a documentary released on Monday that claims that government and media investigators ignored evidence related to the 2010 explosion at the Upper Big Branch mine.
Funding that video — and potentially benefitting from its industry-friendly conclusions? Former Massey Energy President Don Blankenship, whose company owned the UBB mine and was implicated in the explosion by federal regulators.
The video effectively functions as an infomercial for Blankenship, who stepped down from Massey just six months after the explosion and has been out of the industry since then. It claims that a buildup of natural gas into the mine was likely behind the explosion, contrary to government investigations that blamed a buildup of coal dust linked to poor ventilation systems.
In a statement Monday, Manchin said that Adroit Films, the production company behind the video, "never disclosed to me the intent of this film.
"They lied to my face and told me this documentary was focused on mine safety, an issue I have been committed to since the Farmington Mine disaster that killed my uncle and 77 miners," Manchin said. "Had I known the film was in any way associated with Don Blankenship, I would have never agreed to the interview."
"I am not only livid that I was lied to, but I am even more enraged that Don Blankenship would manipulate a tragedy to promote himself and his own agenda," he added. "I am going to pursue every legal recourse available against Adroit's despicable tactics."
No other West Virginia politicians are interviewed in the film, and Rep. Nick Rahall is seen in news footage criticizing Massey. The video shows an email from the Mine Safety and Health Administration declining to participate, citing Blankenship's involvement.
Adroit Films is a Virginia-based production company that has worked on commercials and corporate videos and had previously produced a video titled "American Common Sense" that featured Blankenship discussing the government's regulatory agenda. Adroit was not available for comment for this story.
The video acts as Blankenship's response to MSHA investigations, media reports, and lawsuits that implicated Massey Energy in the April 2010 explosion at the Upper Big Branch mine, the worst such accident in the U.S. since 1970. A May 2011 report from MSHA scolded Massey for having an inadequate ventilation system and says the company pressured miners to keep working in areas without adequate oxygen levels.
In February 2013, a former Massey official, speaking under oath as part of a plea deal, also said Blankenship was involved in attempts to cover up safety violations at company mines from federal regulators.
Blankenship funded the video and is interviewed extensively throughout. It portrays him as an innovator for mine safety, often in the face of obstruction from MSHA. At one point, an unseen narrator says that Blankenship, "the man directly blamed for this tragic accident, believes that he has always done his best to live up to his responsibility for miner safety."
"This documentary is further evidence of his taking his responsibility seriously, even at great risk and expense to himself," the narrator says.
In the video, Blankenship slams the government for policies that he says are damaging the coal industry and sometimes run counter to miner safety. The government and miner unions, he says, are "living in the past" and "don't see things for what they are because they're blinded by their dislike for business and their dislike for certain individuals."
A spokesman for MSHA said the administration stood by its findings from the accident investigation report, adding that they were consistent with "numerous other reports."