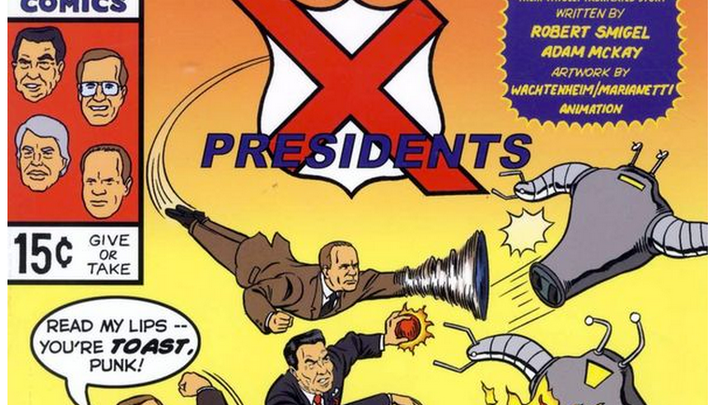 No doubt I'm biased, but I thought our 39th president did a great job on the show last night—as did Colbert, in being mock-disrespectfully jokey right up to the limit of what is seemly with an 89-year-old former president, but not beyond.
What I really liked about this segment, apart from seeing Carter so relaxed and quick, was the glimpse it gave of the person with enough political instinct to have become president in the first place. For example, check out Carter's little deadpan retort in the time between 1:05 and 1:15 in this first part of the interview. Or approximately 1:45 through 2:15, in which Carter explains the circumstances in which he might stop being a Baptist and join the Catholic Church. (Pre-roll ads involved.)
[UPDATE: The embedded videos seem not to be loading. As far as we can tell, this is a problem on Comedy Central's end rather than ours. For the moment, here's the link to Part 1 of the Carter-Colbert interview.]
While you're at it, why not watch that whole clip, and this second installment of the interview too? It includes great riffs on Carter's home-building activity for Habitat for Humanity and whether the other X-Presidents consider him the odd man out. [Update: Here is the link to interview Part 2.]
Politicians still bearing the obligations of office, especially presidents, can be only so informal, before the "but let's be serious" part kicks in. Politicians on the rise are often trying a little too hard to show that they are hip. This is a rare instance of someone far enough past those days (though not past the sting of losing, as Carter mentions several times) to be at his relaxed best, and still in good enough mental shape to pull it off. This was an unexpectedly nice moment, by Carter also Team Colbert. 
We want to hear what you think about this article. Submit a letter to the editor or write to letters@theatlantic.com.
James Fallows
is a staff writer at
The Atlantic
and has written for the magazine since the late 1970s. He has reported extensively from outside the United States and once worked as President Jimmy Carter's chief speechwriter. He and his wife,
Deborah Fallows
, are the authors of the 2018 book
Our Towns: A 100,000-Mile Journey Into the Heart of America
, which was a national best seller and is the basis of a forthcoming HBO documentary.