'It's Just Really Not the Place for Me': Congress's Brain Drain
Members are leaving the House to seek lower-prestige county and state posts where they feel they can make a bigger difference.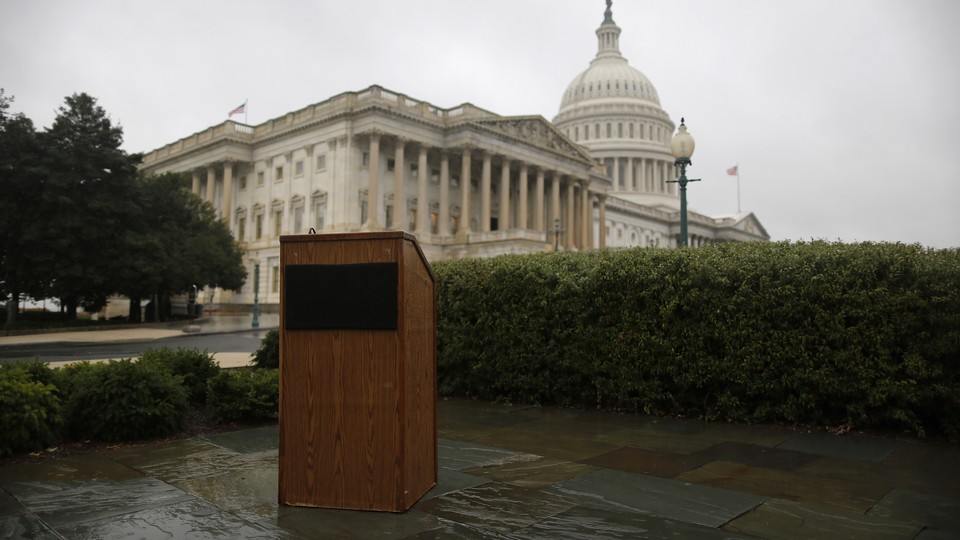 Washington has become so toxic these days that one member of Congress is leaving after just one term—to run for a position in local government. After only a year in office, Democratic Representative Gloria Negrete McLeod of California plotted her escape from the House to seek a seat on the San Bernardino County Board of Supervisors.
If she is successful, Negrete McLeod will become at least the second member of Congress in two years to move straight from federal government to a smaller, local constituency. Former Representative Todd Platts, a Pennsylvania Republican, is now known locally as Judge Todd Platts, ever since he won a seat on the York County Court of Common Pleas in 2013, a year after leaving the House. Meanwhile, Republican Tim Griffin is leaving the House after two terms to seek a decidedly less high-profile position, running for Arkansas lieutenant governor.
It's not exactly an exodus, but the reverse movement catches the eye in a House filled with climbers. Many members of Congress toiled in state or local government for years to set themselves up for a gig in D.C. And though plenty of former members start over in local or state government after losing their seats—for example, former Democratic Representative Kathy Dahlkemper, defeated in 2010, just won a race for county executive in Erie, Pennsylvania—moving the other way for something other than a big-city mayoralty is unusual.
"It's been on my mind for a long time, and I felt I could accomplish more here in the county," Negrete McLeod said in an interview. "Congress is a wonderful place .... It's just really not the place for me. I really just want to be serving the people of the district."
Negrete McLeod's implication that it has become more difficult for members of Congress to affect constituents' lives for the better is widely held, pushing a pair of two-term Republicans to cut bait and retire last year. Congressional offices are devoting a high share of their manpower to troubleshooting constituent issues in their districts, but they aren't passing much legislation that tackles long-term issues. The decline of earmarks has also limited Congress's ability to influence local development and direct federal projects to their home regions.
Those factors have left much of the interesting work of governing to state and local authorities, which compelled Negrete McLeod, a former state senator, to make the switch. In fact, she may have been eyeing the county post since before she came to Washington. While Negrete McLeod was running for Congress in 2012, her state Senate campaign account was transferring its funds into a 2014 county supervisor account, before she scored an upset victory over former Representative Joe Baca with millions of dollars in outside help from then-New York City Mayor Michael Bloomberg's super PAC.
In terms of quality of life, Negrete McLeod's planned switch may not be a trade down: She will get to ditch her cross-country commute and, should she win, maintain a six-figure salary. Platts's judicial salary is $173,791—all of $209 less than his yearly congressional pay. Plus, he doesn't have to maintain two residences, and he gets a 10-year term to boot.
A few other colorful members have trodden this path in recent years.
New Hampshire Republican Gordon Humphrey, a two-term senator, left Washington in 1990 and ran for a seat in the state Senate the same year. "Now that he's learned his apprenticeship in Washington, he can come up here and do some work," a constituent told The Boston Globe that spring. Humphrey, who was a professional pilot when he first ran for the U.S. Senate in 1978, served one term in the state legislature and later ran for governor several times.
A decade later, former Representative Jim Barcia, a Michigan Democrat, got squeezed into a district with a Democratic colleague after redistricting in 2002, so he ran for (and won) his seat in the state Senate again.
Barcia served in the Michigan legislature until he hit his term limit in 2011. The ex-congressman's next career step was more conventional. He's now a senior counselor at The Livingston Group, a Washington lobbying firm.