Is the Chamber of Commerce No Longer Bipartisan?
Once upon a time, Senate Democrats occasionally scored a U.S. chamber endorsement. Will they ever again?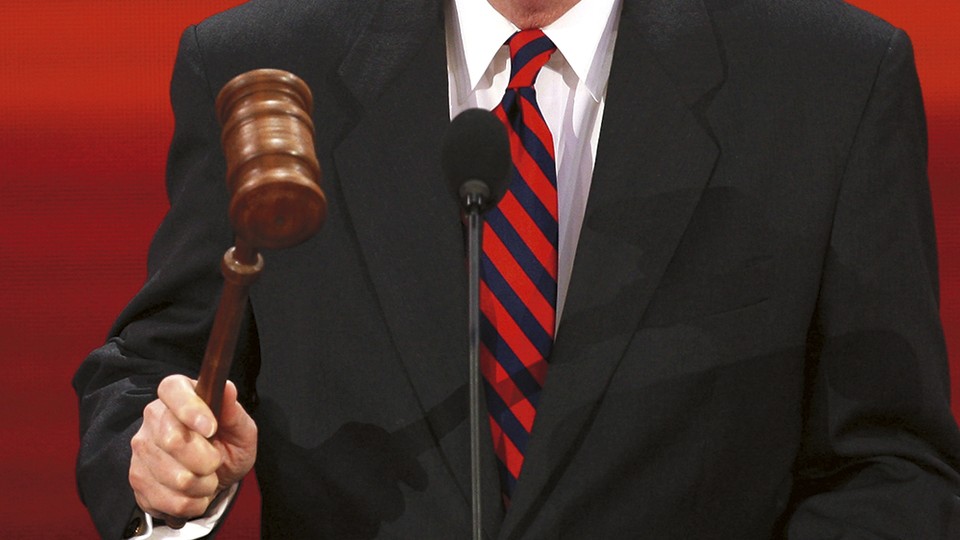 "Our health care is a mess," a TV narrator says. He is somber, but as cymbals crash and trumpets sound, his voice brightens immediately. "But Senator Mary Landrieu is working hard to fix it. She has fought for better health care for Louisiana seniors and more-affordable prescription drugs. She understands that it should be doctors and patients who make the decisions, not government bureaucrats."
It is six years old, but in all of 30 seconds, the spot and its unexpected sponsor highlight much that has changed in the political world since then. The U.S. Chamber of Commerce paid for the ad backing Landrieu in 2008, a time before Obamacare, before Landrieu's moderate wing of the Democratic Party fell into decline, and before the chamber's electoral relationship with Democrats — a small but very real part of its political activity — dwindled to a fraction of its former self.
The officially nonpartisan organization has always supported more Republicans than Democrats, but the margin has grown in the past few elections. And as the chamber warms up its political muscles for 2014, when the fate of former endorsees like Landrieu hangs in the balance along with control of the Senate, many watching the races wonder where the business group's support will go.
Even if Landrieu and some other Democrats still hold appeal, supporting her would affect other political plans, especially chamber-endorsed Senate Minority Leader Mitch McConnell's effort to muster a Republican majority. "The No. 1 priority of the U.S. chamber's political program is to make Senator McCon­nell the majority leader in the United States Senate," the chamber's political director, Rob Engstrom, told the Lexington Herald-Leader in mid-March after his organization officially backed the Kentuckian.
In a more recent interview, Engstrom said he meant it as a gesture of support for McConnell's leadership and that the chamber's "race-by-race, state-by-state" approach remains in effect. "Our criteria never incorporate partisanship," he said. Endorsements for Democrats like Landrieu are still a distinct possibility.
Don't expect to find out anytime soon. Engstrom notes that the political environment continues to evolve rapidly, especially in the Senate, where top-tier Republican challengers just started campaigns in New Hampshire and Colorado. Many of the chamber's endorsement decisions are a ways off, apart from a few Republican incumbents already fighting tough primaries.
"Our priority is protecting and growing the pro-business majority in the House and making gains in the Senate," Engstrom said. "We haven't endorsed in a majority of Senate races at this point. But partisanship is not a factor in our endorsement process — period. There is never a day where anyone says, 'Well, but this is what it means for the Senate [majority].' "
The endorsement stats show an organization leaning more Republican lately. The chamber's PAC contributions to Democrats bounced up and down over the past decade, but then they cratered in the last two elections. Twenty congressional Democrats received chamber money in 2008, the year the group devoted more than $1 million in outside spending to backing Landrieu, according to the Center for Responsive Politics. The chamber endorsed three other Senate Democrats that year — Montana's Max Baucus, Arkansas's Mark Pryor, and Virginia's Mark Warner.
In 2010, only six Democrats received PAC funds from the chamber of commerce, and only five did in 2012, according to CRP. And since the passage of Obamacare and a raft of other major Democratic legislation in 2010, just one Senate Democrat — West Virginia's Joe Manchin, who wasn't in Congress for that vote — has won a chamber endorsement. There were none in 2012.
While that decline is not in dispute, the reasons for it are. "We've seen a lot of retirements," Engstrom says, and plenty of business-aligned Democrats were also defeated in the 2010 GOP wave election. Most of the House Democrats the chamber supported with outside spending in 2010 lost. Both political parties have become more homogeneous over the last 30 years, a trend for which 2010 serves as an interesting marker. In National Journal's vote ratings for that year, there was no overlap between the parties in the Senate; the most conservative Democrat was still more liberal than the most liberal Republican. That pattern has continued for three years.
The number of chamber-approved Democrats in the House could continue shrinking. Just seven House Democrats qualified for the organization's "Spirit of Enterprise" awards this year by voting the chamber's way on at least 70 percent of its key votes in 2013. But three of them — Utah's Jim Matheson, North Carolina's Mike McIntyre, and New York's Bill Owens — will retire at the end of this term. At least two of them will be succeeded by Republicans in the next Congress. (No Senate Democrats qualified for the award in 2013, although Engstrom says that doesn't preclude the possibility of endorsing someone whose career voting record comes close to meeting the chamber's standard.)
A handful of battleground-district Democratic freshmen came close to that 70 percent threshold in 2013, but plenty of their compatriots have long since decided it's not worth trying to win the chamber's support. "Most Dems on Capitol Hill view them as increasingly partisan," said Jim Manley, a former aide to Senate Majority Leader Harry Reid who is now a communications executive. "Most are still anxious to get support from local chambers," Manley continued, "but many have given up on the national organization, viewing them as just pretty much part of the Republican Party."
That's certainly not a universal truth; the chamber's millions could yet play a role in some besieged Senate Democrat's struggle for reelection. The next few months will tell whether chamber-backed Democrats in the Senate remain endangered — or are already extinct.