Is Scott Brown the Face of the Coming Republican Wave?
The GOP hopes the former Massachusetts senator, now exploring a run in New Hampshire, is a sign that Obamacare will be toxic in the midterms—just like he was in 2010.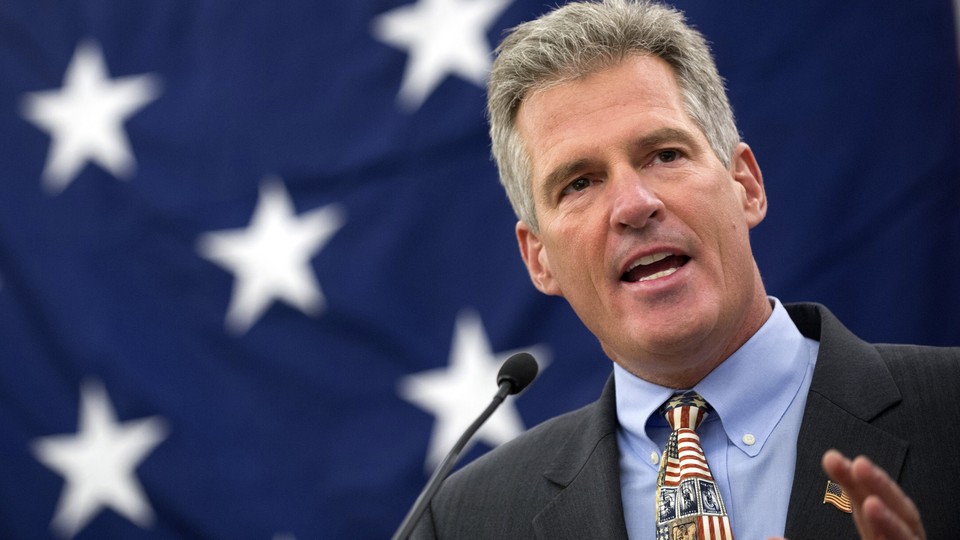 NASHUA, N.H.—Jim Rubens has been running for New Hampshire's Republican Senate nomination since last May. A quirky entrepreneur, onetime commune resident, and former two-term state senator, he might have even been the frontrunner—until Friday.
On Friday, in a hotel ballroom full of New Hampshire Republicans 45 minutes from Boston, Rubens got bigfooted. That's when Scott Brown, former Massachusetts senator and new New Hampshire resident, entered what Rubens ruefully called "a new phase of this long dalliance," announcing the formation of an exploratory committee for the New Hampshire Senate race in a speech to a GOP gathering. The committee will allow Brown to raise money ahead of a formal announcement of his candidacy, which is expected in the coming months.
"A big political wave is about to break in America, and the Obamacare Democrats are on the wrong side of it," Brown proclaimed. He choked up remembering vacations in New Hampshire with his grandparents when he was a boy. He said he'd decided to "get involved" again at the urging of his wife.
For Republicans, Brown's entry is the latest in a run of recent good news, from a special election in Florida earlier in the week to unexpectedly competitive Senate races in places like Colorado and Michigan. For Democrats, Brown's reemergence heightens a very bad case of déjà vu. In 2010, Brown's special-election triumph was the first concrete sign of the political backlash Democrats were about to face over healthcare reform; in 2014, Republicans hope he is once again the avatar of their comeback season.
Brown received a warm reception from the crowd at the Northeast Republican Leadership Conference. Flinty New Englanders all, attendees said he'd have to work to earn their votes. But they were clearly eager for a big-name candidate to take on the Democratic incumbent, Jeanne Shaheen.
"It's a game-changing moment for New Hampshire," said Jim Merrill, who directed both of Mitt Romney's New Hampshire campaigns. "This instantly catapults the race to the top tier nationally." Brown, he said, would "put Senator Shaheen on defense and make sure it's a long, hot summer for her."
Merrill and others believe Shaheen, a former governor finishing her first Senate term, is vulnerable because of her vote for Obamacare and the "D" next to her name, at a time when the president's approval rating has been sinking like a stone. Sure, he's a recent import—Brown recently made his longtime vacation home in Rye his primary residence—but a sizable percentage of Granite Staters get their television and radio stations from Boston, giving Brown a level of name recognition that likely outweighs the carpetbagger rap.
Many New Hampshire Republicans recall driving across the border to campaign for Brown in 2010. "I made a lot of phone calls for Scott Brown in that special election—a lot of us did," said Mark Vincent of Amherst, whose role as a state GOP official barred him from making an endorsement ahead of the September primary. "I'm from Massachusetts originally, so that was a very proud day for me."
Brown is counting on those residual warm memories, and not the fresher recollections of his 2012 loss to Democrat Elizabeth Warren. Can he win this time? The most recent public poll, released this week by Suffolk University, showed Brown losing to Shaheen by 13 percentage points; others have shown a closer race, though none has shown him winning. Still, New Hampshire, a state Obama won by about six points last time, is certainly friendlier territory for Brown than Massachusetts, which Obama won by 23.
And that, of course, was why Scott Brown was here, telling the crowd about the tour he planned to undertake to introduce himself to the people of New Hampshire, "listen to them, and learn of their concerns."
Rubens, one of Brown's three likely Republican primary opponents—the others are a kooky former senator who's been living in Florida and a social-conservative activist—wasn't buying it. "Washington tried to feed us Obamacare and now Washington is trying to feed us a candidate," he grumbled. "I've been on a listening tour of New Hampshire for 40 years, if you catch my drift."