In Meeting With Obama, Ukraine's Prime Minister Embraces the West
As the standoff in Crimea continues, the two leaders meet at the White House.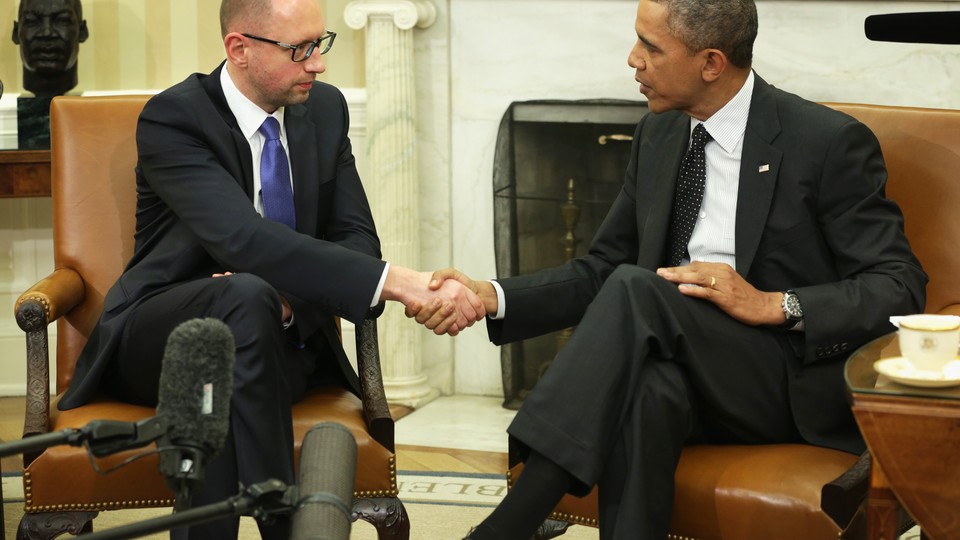 President Obama said Wednesday that there would be "costs to Russia's violation of international law and encroachments on Ukraine," continuing his strong language as the volatile situation unfolds.
In an Oval Office meeting with Ukrainian Prime Minister Arseniy Yatsenyuk, Obama praised "the courage of the Ukrainian people" and their right to "determine their own destiny," but also delivered a stern warning to Russia.
"We have been very clear that we consider the Russian incursion into Crimea "¦ to be a violation of international law," Obama said. "We will stand with Ukraine and the Ukrainian people to insist that territorial integrity is maintained."
The new Ukrainian leader remained defiant and said his country would "never surrender" to Russian action.
"Ukraine is and will be part of the Western world," Yatsenyuk told reporters after the meeting, an idea that Putin fears.
The prime minister said that if Russian President Vladimir Putin succeeds in Crimea, he might turn to invading other parts of  the country. To that point, Yatsenyuk said Ukraine is "absolutely ready and open to talks with the Russian Federation" to find a peaceful path forward.
The meeting was held to discuss strategies for a peaceful resolution to Russia's military intervention in Crimea, a sovereign territory of Ukraine. The talks come just days before a referendum by the Crimean Parliament to determine whether the region should secede and become part of Russia.
The near-bankrupt Ukraine is currently racing to secure funds to repay billions in foreign debt. The U.S. recently pledged $1 billion in loan guarantees to Ukraine. Russia's Foreign Ministry said Monday that U.S. financial assistance to Ukraine would be illegal. Monetary aid, Russian officials argue, would violate a U.S. law that bars financial assistance for regimes that use force to take power (Moscow considers Ukrainian President Viktor Yanukovych's ouster to be a coup).
U.S. intervention in Ukraine goes beyond potential economic aid. The U.S., along with Britain and Russia, is party to a 1994 agreement that guarantees certain security assurances to Ukraine. After the Soviet Union collapsed, Ukraine surrendered its entire nuclear-weapons stockpile — the third largest in the world at the time — in exchange for respect of its independence and territorial integrity. Ukraine's acting president, Oleksandr Turchynov, said Wednesday that "if this agreement is violated, it may lead to nuclear proliferation around the world." If nuclear weapons enter the equation, the U.S. may be forced to reconsider its exact role in the conflict.
Yatsenyuk is making the most out of his visit to the U.S. He will also meet Wednesday with Secretary of State John Kerry, House Speaker John Boehner, and several senators. He will address the United Nations Security Council on Thursday in New York.
White House spokesman Jay Carney said the meeting sends the message to Moscow that Washington fully supports the new government of Ukraine. Putin will likely hear the message loud and clear, but it won't change the course of action for his administration. By seeking assistance from the U.S. and other Western powers, the new leadership in Kiev is trying to drag Ukraine out of Russia's sphere of influence. However, with Russian troops firmly planted on Crimean soil, it may be too early for Putin to be worried.
American politicians are also going to Ukraine to monitor the situation. John McCain and seven other senators are heading to the country to meet with the new government and activist groups on Thursday.
Meanwhile, Secretary of State John Kerry is heading to London to meet with Russian Foreign Minister Sergei Lavrov to discuss Ukraine, a possible sign that there is diplomatic progress.