Hundreds of Students Arrested as Activists Press Obama to Nix Keystone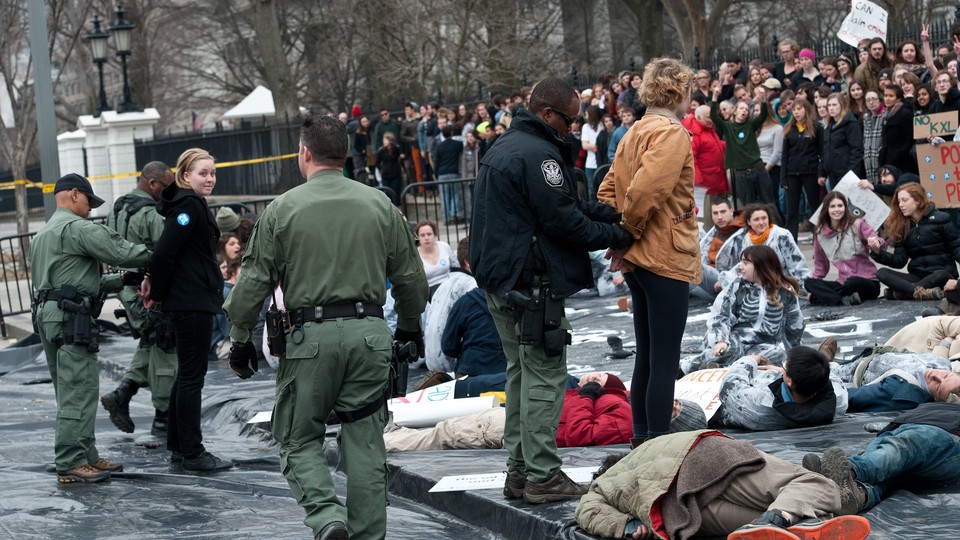 Police arrested hundreds of student anti-Keystone pipeline activists near the White House on Sunday afternoon as opponents of the project seek political momentum after recent setbacks.
"President Obama, we voted you in for change. Climate change isn't what we were looking for," Hannah Bristol, a Middlebury College senior, told the crowd at a Lafayette Square rally late Sunday morning before the civil disobedience began.
Several hundred college students soon used plastic handcuffs to link themselves to the White House gate across the street from Lafayette Square, while dozens of others lay down in front of them on black plastic in a "human oil spill."
More than 200 people had been arrested by 5 p.m. Sunday, and arrests remained ongoing at that time, a U.S. Park Police spokeswoman said.
Student activists are trying to boost pressure on the White House as a final decision draws closer on Keystone, TransCanada's proposed pipeline to bring crude oil from Alberta's oil sands to Gulf Coast refineries.
"We are trying to escalate as much as we can," said Michael Greenberg, a Columbia University sophomore who helped organize Sunday's "XL Dissent" event. "We are not playing softball with the president any more, and that relates to these things," he said, referring to the restraints that activists used to link themselves to the White House gate.
The arrests, for what a U.S. Park Police spokeswoman called misdemeanor charges of blocking passage, began at about 1:30 p.m. after police offered several warnings in what was a choreographed and peaceful protest.
Organizers estimate that roughly 1,200 people took part in Sunday's protest, with a subset of hundreds risking arrest in front of the White House.
The event, which the groups 350.org and the Energy Action Coalition helped the student activists organize, has been in the works for months.
But organizers say that interest picked up after a State Department analysis released in late January concluded that building the pipeline would be unlikely to cause a surge in greenhouse-gas emissions.
Obama has said he will not approve the pipeline unless he's convinced that it would not "significantly" worsen carbon emissions.
While the State analysis also modeled alternative scenarios that showed Keystone boosting emissions, the overall finding was nonetheless a major blow to activists who argue that building Keystone will be a catalyst for carbon-intensive oil sands development.
Late February brought another blow to the anti-Keystone movement.
The State Department's inspector general released an audit on Feb. 26 that concluded that State's review process did not run afoul of the department's conflict-of-interest rules. Keystone opponents had alleged the contractor for State's review was compromised.
A final Obama administration decision could come in the next few months, although there is no deadline.
Activists say approval would not end their efforts and that more actions would follow nationwide.
350.org cofounder Jamie Henn said on Twitter that Sunday's event is "just youth & on a random weekend in February," adding: "Imagine what protest will look like if Obama moves to approve KXL," he said.
Greenberg, the Columbia University student, said Obama has good reasons not to touch off the resistance to the project that would follow approval.
"It is going to be a tremendous time of environmental unrest, and it is going to create a compelling political reason for Obama to not approve the pipeline if he wants the Democrats to not lose part of their base and if he wants to remain on the right side of history, which at the moment is in question," he said.
Activists who gathered Sunday see the Keystone decision as a central part of Obama's record on climate, even as the administration moves ahead with first-time carbon emissions standards for power plants, toughens car and truck mileage rules, and takes other steps.
"I think the president has made great strides on the things that are politically easy, and I think he hasn't taken any politically difficult steps on climate change," said Bristol.
It was the third set of arrests at the White House in civil-disobedience actions against the pipeline. More than 1,200 people were arrested over two weeks in August 2011, while 48 people were arrested in February 2013.