How to Give Workers a Voice Without Making Them Join a Union
An federal law from eight decades ago dictates that companies like Volkswagen can't create work councils unless employees unionize. But what if employees don't want to?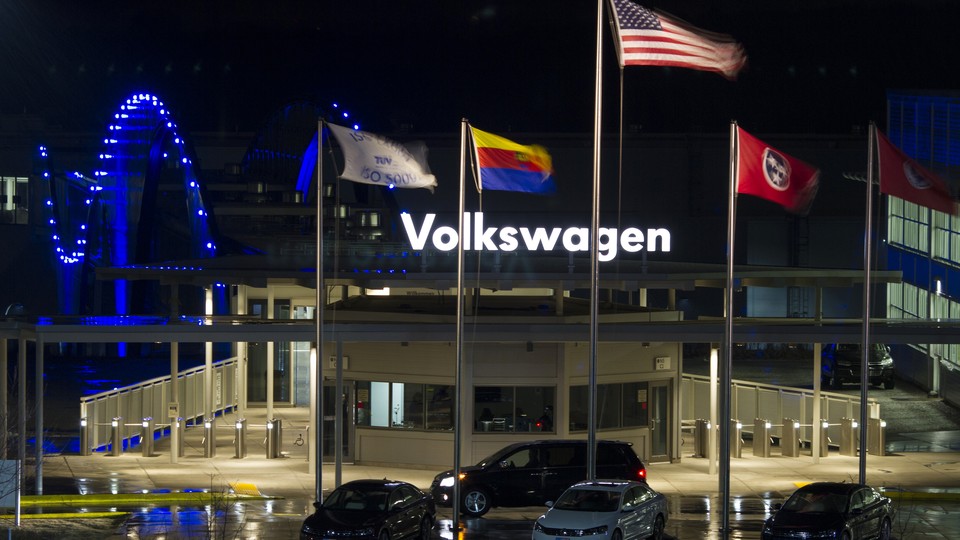 One can trace the United Auto Workers's defeat in Chattanooga last month to a factory in Elkhart, Indiana.
Two decades ago, employees at Electromation Inc.'s Elkhart plant opposed plans to change their attendance bonuses. Surprised, Electromation formed joint worker-management "action committees" to solve workplace problems. The company committed to implementing committee solutions that did not cost too much. This gave workers a meaningful voice on the job while management fixed problems it didn't know it had.
Everyone was happy—except the government. The National Labor Relations Board stepped in and disbanded the committees.
The National Labor Relations Act prohibits companies from "dominat[ing] or interfer[ing] with the formation or administration of any labor organization." Congress wanted to prevent businesses from setting up fake "company unions" to fend off organizing drives. But that broad prohibition also proscribed Electromation's action committees. In fact, it prohibits almost any formal employee voice on the job outside of collective bargaining with a union.
The law gives workers an all-or-nothing choice. If they want a formal voice with management, they need to unionize. Otherwise, they must remain silent. The government will shut down other non-union forms of employee representation.
This no longer makes sense. Employers have little reason to create fake unions today—few feel they need them to fend off organizing drives. Union membership has dropped below 7 percent in the private sector.
But many companies do want to hear their employees' concerns. Rank-and-file workers know things that senior management does not. And businesses want to attract and retain quality employees. The entire "human resource" philosophy emphasizes the fact that workers are a company's most valuable asset. Most employers want to keep their employees happy if they can. Employee participation programs can improve morale and working conditions.
This explains why Volkswagen's management wanted employees at their Chattanooga plant to unionize. Volkswagen has work councils in all of its German factories. With work councils, employee representatives formally discuss concerns with management representatives. They enable companies to get input and consult their workers before making changes. German work councils often help plants to operate safely and productively.
Volkswagen has found its plants run better with work councils, so management wanted one in Chattanooga. Yet Volkswagen could not simply create one. As Electromation learned the hard way, that violates the NLRA. To form a works council, the workers first needed to unionize.
So Volkswagen's management invited the UAW in. The company gave union organizers free run of the plant. Management held meetings—on the clock—for union representatives to make their pitch. The company did everything but roll out a red carpet for the UAW. Yet on election day, in the privacy of the voting booth, a majority of workers voted against unionizing.
Volkswagen's employees had many reasons for voting no. Some told reporters they disliked the union's politics (it spent millions to reelect President Obama). The UAW alleges that vocal opposition from local politicians moved votes against them. Many workers said they liked their jobs and felt respected at work; even UAW Secretary-Treasurer Dennis Williams calls Volkswagen's management "a class act." Still more feared winding up like Detroit. In the words of one employee: "We felt like we were already being treated very well … [and we] looked at the track record of the UAW. Why buy a ticket on the Titanic?"
Given the choice between the UAW or nothing, Volkswagen's employees preferred nothing. Another worker asked about the union told reporters, "I just don't trust them." Many workers simply do not want to unionize.
A collective contract—which necessarily ignores individual skills and contributions—appeals to fewer workers today than in the past. Further, polls find large majorities of workers feel respected by their company and satisfied with their jobs. Adversarial collective bargaining does not interest them. Alan Krueger, the former chair of President Obama's Council of Economic Advisers, finds that U.S. union membership has fallen primarily because fewer workers want to unionize.
But this preference should not prevent workers from having a voice on the job. In the 1990s, Webcor Packaging Inc., a Flint, Michigan-based manufacturer, expanded employee input by creating a board of workers and managers, with workers holding most of the slots. The board took suggestions from workers on improving pay, benefits, and working conditions and gave recommendations to management. At least it did … until the NLRB shut it down.
Shouldn't workers have more options than a union or nothing? How does preventing them from formally talking with management benefit anyone?
If Congress removed the NLRA ban, workers would gain a greater voice on the job. Many of the Volkswagen employees who voted no told reporters they wanted a works council—just without the UAW. Many companies would establish employee-involvement programs if the law permitted it. Worker input can help them run more smoothly.
The UAW has asked the NRLB to review the election, which could lead to a new vote. But it's hard to imagine a revote turning out differently. And it shouldn't matter. The National Labor Relations Act's prohibition on non-union employee participation has become an anachronism. Congress passed it in 1935. Workers born then began collecting Social Security 14 years ago. This proscription now only restricts employees' voices. Why should the government stop companies from listening to their workers?