House's Most Conservative Members Soften Tone on Immigration
Acknowledging that reform won't happen in 2014 has given Republicans a chance to appeal to Hispanic voters.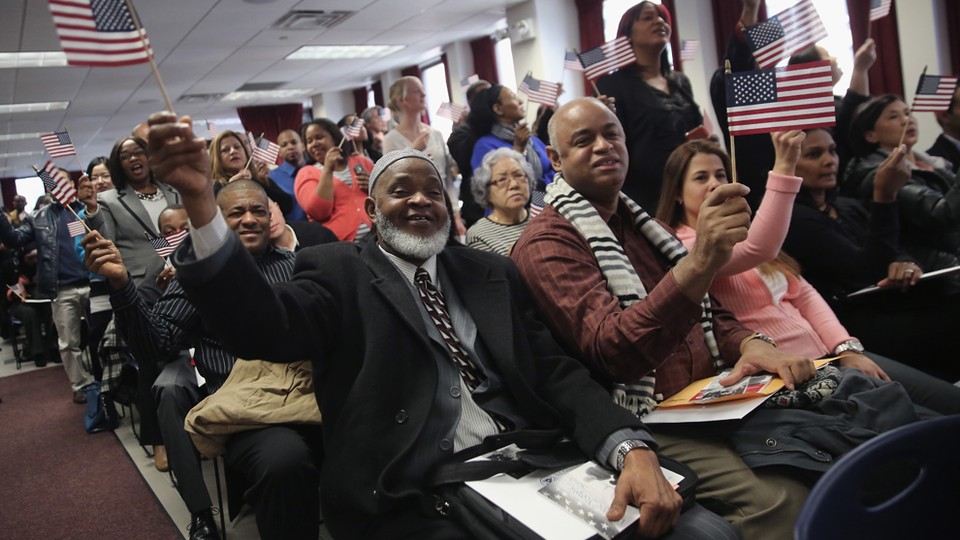 As the smell of Chick-fil-A sandwiches cooling in the corner wafted over them, some of the House's most conservative members took an unusually soft tone on immigration reform on Wednesday.
While acknowledging at their monthly "Conversations With Conservatives" event that little in the form of actual legislation is likely to be done on the issue this year, several conservatives implicitly voiced their support for allowing those who were brought into the country illegally as children, and for those who are willing to work hard, to solidify their status in the country.
Rep. Joe Barton, R-Texas, kicked off the discussion by using the L-word. "I think there is a middle ground. It's not a citizenship path, but it is a legalization path," Barton said, adding that "the overwhelming majority of the Hispanics in Texas are either there because they were born there or they've come there to work and they are working and they're positive, productive citizens."
Barton went on to recount a meeting he held in his district on Tuesday with a group of Hispanic-Americans, including a woman in her "mid-40s, maybe her early 50s," he said, who was brought to the United States illegally by her parents when she was just four years old. "She's worked hard, she's paid her taxes, she's a productive citizen. We've got to find a way as Republicans to help that woman and her family keep her in this country without being perpetually afraid that she's going to be deported," Barton said.
At the same time, conservatives argued, nothing can be done for people like Barton's constituent until the border is secure. "I think you would be amazed at what we will agree to once the border is secure," Rep. Louie Gohmert, R-Texas, said emphatically Wednesday.
The change in tone among conservatives comes weeks after House Republican leadership admitted that despite putting out a series of immigration-reform principles, nothing will be done this year to act on them. At the same time, this is an election year and Republicans openly acknowledge the need to appeal to Hispanic voters. "There's so much we can do to show the Hispanic community that we value them if they value the American value system."¦ We just cannot turn our back on that constituency or that issue. But at the same time, we can't just open the border and say come on in," Barton said.
Another fellow Texan, Rep. Jeb Hensarling, added: "Unless you get border security right, I'm not sure any other thing counts and how can you count on this administration to get border security right?"
The excuse that Obama, who has increasingly relied on executive action to skirt around Congress, cannot be trusted to enforce new and existing immigration laws has opened up Republicans to soften their tone on the issue. Their hope is that showing compassion coupled with the insistence that they would act, if not for an ineffective president, will help to attract Hispanic voters in 2014, offering a change in rhetoric, but little in the way of action.
Hensarling summed up the tactic on Wednesday. "I've got lots of compassion for people who are coming into this country and are just trying to feed their kids, I get that. I mean if I was in that position, you couldn't make the razor wire sharp enough or the wall high enough, I get that. But at the same time you cannot excuse those whose first act is to break the law," Hensarling said.
But what to actually do with those who entered the country illegally is an issue that Republicans are leaving for another day. Part of the issue is that the party wants to focus the midterm elections on the failures of the Affordable Care Act, rather than open themselves up for attack on a new and contentious issue.
But that strategy could backfire, warned Rep. Raul Labrador, R-Idaho, who has been a leader in the House Republican Conference on immigration reform. "I think we need to have a positive agenda for America. We need to talk about the four, five, six issues that we stand for. If we only talk about Obamacare, we're going to have the same result that we had in 2012, which is a lot of excitement and a lot of people on the night of the election thinking that we're going to win the election and being very disappointed the next morning," he said.