House Republicans Not Feeling Any Pressure to Extend Unemployment Insurance
House GOP to the Senate: Go on, go on, do what you want.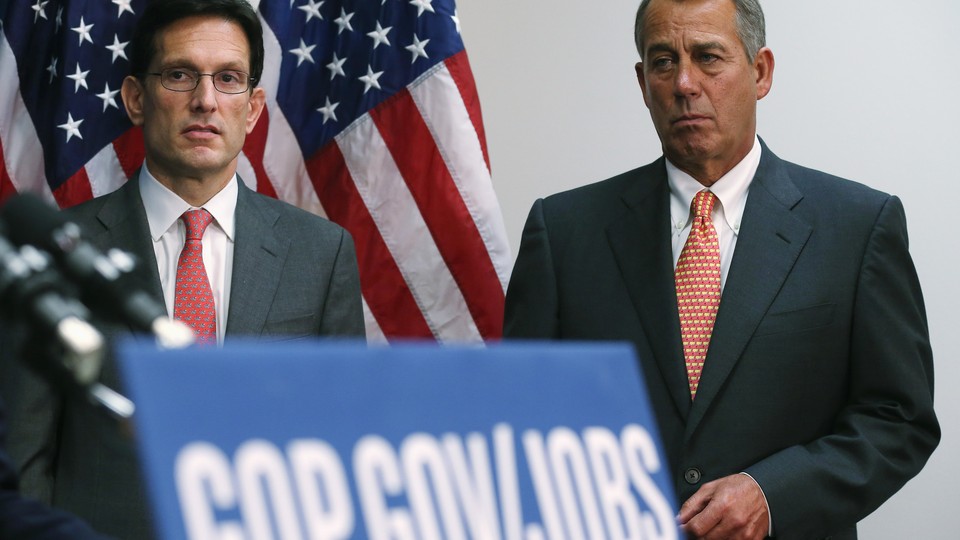 Three months after more than a million Americans lost their unemployment insurance benefits, the Senate is set to move on an extension later this week, with final passage expected next week. But as the Senate gets closer to passing an extension, the House's position has not changed.
"I told the president I would consider this, as long as it was paid for and as long as there were provisions attached that would actually help the economy and help people get back to work. Those conditions have not been met," House Speaker John Boehner said Tuesday.
Rep. Tom Cole, R-Okla., said there has been no talk amongst House Republicans about taking up an unemployment-insurance package, noting that the conference is strongly behind Boehner on the issue. "There's just not a big appetite amongst our members to actually [pass the Senate bill]," he said.
Part of the issue is the offsets, which House Republicans view as gimmicks — even though they were proposed by a group of their colleagues in the Senate minority. While Republican members in both chambers are supportive of a measure that would prevent unemployment-insurance beneficiaries from also taking in disability benefits, House Republicans are skeptical that the funding from extending customs user fees from 2012 through 2024 will ever materialize and argue that pension-smoothing will end up costing more in the long run. Senate Republicans brought up the latter point in rejecting an earlier unemployment-insurance bill.
Republicans argue that if Democrats really want to extend the program, they'll have to find real savings. "In a multitrillion budget, we could find tens of millions of dollars that we could probably agree on."¦ I don't think that's too much to ask," Cole argued. "We've worked hard to cut the budget deficit as much as we have. I don't think we should be surrendering these gains for pie-in-the-sky plans coming out of the United States Senate."
"If they were remotely serious, if they were really concerned about these people, they'd help us find the savings," Cole added.
But there is also a large group of House Republicans who oppose extending the benefits at all, arguing that the economy is slowly recovering and that most unemployed individuals already receive 26 weeks worth of support before the federal emergency extension — which expired on Dec. 28 — kicks in. "We're not talking about eliminating unemployment insurance. We're talking about going back to a more normal length of time," Cole said.
Frustrated, House Democrats have stopped trying to negotiate with Boehner over the issue and are attempting to ratchet up pressure on the speaker to introduce his own plan. "I mean, talk is cheap. Let's see a plan.... He's rejected every plan brought forward, he's not put his own plan on the table. I mean, he's AWOL when it comes to helping those 2 million Americans," Rep. Chris Van Hollen said last week.
That call is likely to go unanswered.
Meanwhile, Democrats are pressing ahead with the Senate bill, hopeful that its passage will put pressure on House Republicans to take up the legislation. House Minority Leader Nancy Pelosi has repeatedly insisted that she can get the votes to pass the bill in the House, if given the opportunity.
"The leverage [comes] when the Senate passes this legislation," Van Hollen said. "It will provide some momentum. And it will be very clear who the obstacle is. And the obstacle is not just the speaker of the House, but all of the Republicans who are standing behind him and blocking a vote on this issue."
Cole scoffed at that idea. "I can only speak for myself, but again, you're not going to put any pressure directly on me," he said. "...You can't let a minority of the minority in the Senate decide what the majority of the majority is going to do in the House. And it's not bipartisan when most Republicans vote no and a few vote yes. I mean, you've got a sort of fig leaf of bipartisanship, fair enough, but that type of legislation is not likely to make it through over here."
Sen. Susan Collins, R-Maine, one of the sponsors of the Senate extension bill, agrees with Van Hollen, however, and is hopeful that swift Senate passage will encourage her House colleagues to at least take a look at the measure. Sen. Rob Portman, R-Ohio, said it will depend on how many Senate Republicans back the proposal.
But both expressed concerns about the final passage being pushed to next week. The Senate unemployment-insurance bill only extends the program through May, meaning they'll have this headache on their hands once again in short order.
"It looks like we're losing yet another week, and the longer we wait, the harder it is to get it passed," Collins said.