Group Prenatal Care Boosts Pregnancy Outcomes
New results are forcing health care providers to reconsider the best ways for preventing preterm births.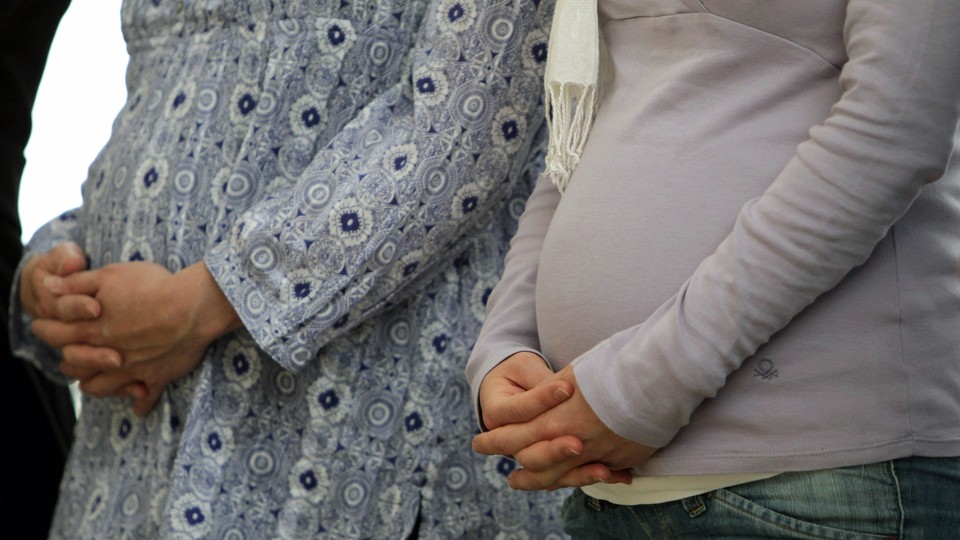 NEWARK, N.J. — At first glance, little about the Ludlow Street Newark Community Health Center seems different from any other federally funded clinic.
Requisite posters remind visitors to "cover their cough." Brochures encourage HIV screening, healthy eating, flu shots, and frequent hand washing in both Spanish and English. But it's what's happening in a meeting space just down the hall that's drawn the attention some of the nation's leading experts and advocates working to reduce the number of American children born too soon.
Behind a closed door, a group of women mill around the room. In a far corner, midwife Edith Eze runs a handheld Doppler — a machine slightly larger than a smartphone with a flat-topped microphone-shaped wand attached — over a smiling woman's lower abdomen. Within seconds Eze locates a baby's heartbeat. A rhythmic whooshing sound fills the room.
"Ohhh," the woman sputters. The baby is her second but the first she will deliver in the United States. "Wow. There it is."
Other women stand near a whiteboard chatting with a social worker, translator, doctor, and nurse practitioner about the myriad buttons that control a free-standing digital blood-pressure monitor and the white doctor's-office scale parked in the front of the room. The women, all of them pregnant, will need to get comfortable with both.
The group has gathered for its first session of a prenatal care program known as Centering Pregnancy. As part of the program, which began five years ago, participants see a midwife as often as other pregnant women or as their health requires. But over the course of 10 sessions, they will record and report their own vital statistics, and they'll share their experiences, concerns, and fears about pregnancy in facilitated group discussions.
If the results for the Ludlow Street clinic's program hold, few if any of the six pregnant women slated to participate in the group will deliver their babies preterm. All of the women are healthy but they are considered at particular risk of preterm birth because they live at, near, or below the poverty line. In the last two years, none of the more than 200 women in the clinic's Centering Pregnancy program have delivered their babies before 37 weeks gestation. (In October, the American College of Obstetricians and Gynecologists and the Society for Maternal-Fetal Medicine moved the goalpost for healthy, full-term pregnancies to a minimum of 39 weeks gestation.)
And in 2013, there were not only no preterm births among Centering Pregnancy patients, but almost all of the nearly 800 women who received prenatal care of some sort at a Newark Community Health Center delivered babies that were a healthy weight. Only 34 children arrived weighing less than 5.5 pounds.
"What we do here," says Eze, a Nigerian immigrant and longtime midwife, "is a lot like what we women do at home. We gather. We talk. We share what we know. We share our concerns. Here we do it with a bit more technology but something incredible, something beautiful still happens."
While preterm births are by no means limited to the poor or uninsured, they are most common among women who lack access to regular health care, enter their pregnancies with perilous habits such as smoking or eating an unbalanced but often low-cost diet, or struggle with a biologically detectable degree of chronic stress created by economic strain, social isolation, and perceived discrimination.
In the United States, home of the world's largest economy and some of its most advanced medical tools, just over 12 percent of the 4.3 million children born alive in 2010 arrived at less than 37 weeks gestation, according to the most recent global measure of preterm birth employed by the World Health Organization. Those figures put the United States in league with countries such as Iran, Turkey, Niger, and Angola. Women and children in only a handful of countries — including Zimbabwe, Pakistan, and Indonesia — fared worse.
American preterm births happen at such disproportionate rates among black, Latina, and Native American women that some researchers have come to suspect something about their medical and social experiences in the United States may be driving the problem. In 2012, the most recent year for which national data are available, a full 16.8 percent of black children, 13.6 percent of Native American infants, and 11.7 percent of Latino babies arrived before their mother's 37th week of pregnancy. That's compared to just 10.5 percent of white children and 10.3 percent of Asian infants.
The figures represent some improvement, after climbing for three decades and peaking in 2006. In fact, in 2013, the black preterm birthrate hit a 20-year low. But the nation's youngest residents remain in significant peril.
Children born too soon are significantly more likely to experience problems with breathing and feeding, and often face future learning difficulties. They are also more likely to suffer from cerebral palsy and to die within their first year of life. American children born during their mother's 37th and 38th week of pregnancy are 50 percent more likely to die before the age of 1 than children born later. And, for children born at 34 to 36 weeks gestation, their first-year mortality rate sits 3.5 times higher than that of full-term infants.
"Medically, we are good," says Dr. Edward McCabe, the March of Dimes' chief medical officer. "We have a lot of advanced technology and tools that can help an infant as young as 23 weeks survive. But I don't think we are as good as everyone thinks we are at saving babies born too soon."
In the early 1990s, Sharon Schindler Rising, founder of Centering Pregnancy and now CEO of a Boston-based nonprofit bearing the same name, was an experienced nurse practitioner and midwife working with some of New Haven, Conn.'s poorest mothers at a Yale University-affiliated clinic. Schindler Rising started bringing together small groups of women due around the same time for regular discussions and health checks. It was a different approach to providing prenatal care, one that focused on women and their experiences with pregnancy.
Soon other midwives began to clamor for training. Then, physicians associated with Yale. Before long, one Yale researcher approached Schindler Rising with an offer to study 200 women in the New Haven program and independently analyze its results.
The researcher's findings attracted National Institutes of Health funding for a 1,000 woman study in New Haven and Atlanta. The larger study found that Centering Pregnancy participation seemed to reduce preterm deliveries by 33 percent. And among African-American women the results were even more stark. Eighty percent of the study's participants were black. These women saw a 41 percent reduction in preterm deliveries (when compared with similar women).
The study also found that health care systems delivering prenatal care using the Centering Pregnancy model reduced the cost of prenatal care provided to each patient by about $2,000. And each preterm birth prevented saved about $53,000 in medical expenses.
"Those findings were replicated. They were pulled apart and examined every which way," says Schindler Rising. "But it still took us years to get the thing published. People just had a hard time believing that after decades of delivering prenatal care one way, teaching women to monitor their own health and bringing women together to talk about their experiences could make such a difference. It wasn't some big, new fancy drug."
In 2003, the Journal of Obstetrics and Gynecology published the results, spreading the word about Centering Pregnancy across the country. In the years since, the March of Dimes, the nation's leading private research funding and health advocacy organization working to reduce preterm births, has funded Centering Pregnancy programs in communities with elevated preterm birth rates, including Newark. The Center for Medicare and Medicaid Services has also initiated a large-scale study of prenatal care that includes Centering Pregnancy programs.
Today, more than 300 private practices, clinics, and hospitals operate Centering Pregnancy programs. Centering Pregnancy is the sort of patient-driven care that has swept medicine, says March of Dimes' McCabe.
When McCabe was training to become a doctor, he can remember a chief resident balking at a patient-controlled blood-sugar monitoring demonstration. The chief resident saw the practice as unwise since it would put patients in control, McCabe says. "Today, of course, at-home patient blood-sugar monitoring is a cornerstone, an absolutely standard part of diabetes care."
Back in Newark, the Ludlow Clinic's results have been so impressive that the March of Dimes decided to fund similar programs at a number of hospitals and health-care agencies around the city. At the time the effort was announced in late 2012, nearly 20 percent of black children born in that city arrived early. Ludlow Street Newark Community Health Center staff have offered advice and insight to these organizations, and they are making plans to increase the number of women enrolled at Newark Community Health Centers.
The Centering Pregnancy program has had such a profound impact that Dr. Neveen Elkholy, the Newark Community Health Center's chief medical officer and a self-described one-time Centering Pregnancy cynic, has begun investigating other patient-centered group models of care.
"We're really looking closely at programs that bring together groups of people living with diabetes, high blood pressure, obesity, and all sorts of chronic conditions," Elkholy said. "I guess you could say Centering Pregnancy has really shown us what's possible."