For Real Change, Beer Advocates Turn to the States
Across the country, states are advocating for crisp, thirst-quenching laws.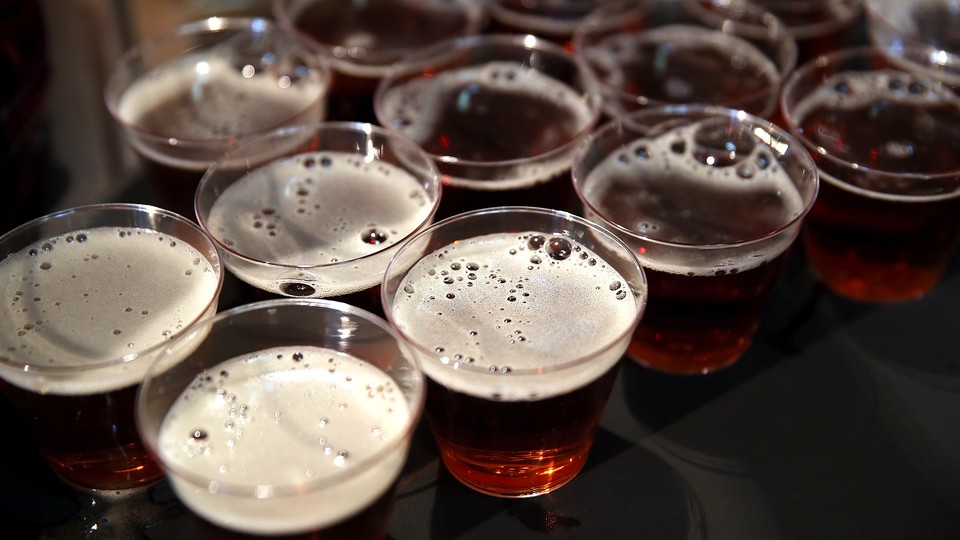 State lawmakers are looking to spur business wherever they can, but one industry hopes to change local palates as well as local economies: breweries.
While they haven't had much luck in Washington, beer advocates are having more success at the state level. Last year, Alabama became the last state to legalize home brewing. A bill wending its way through the state Legislature this week would allow larger Alabama brewers to open restaurants at their breweries. The only hitch: No brewery in Alabama is big enough to qualify for the law.
Alabama is working to change that. The state is now trying to lure high-profile breweries from out of state, like Stone Brewing in California. In 2012, Alabama ranked 49th in breweries per capita. But with recent laws like the Alabama Brewery Modernization Act, which allows craft brewers to sell their wares where they're brewed, Alabama is hoping to raise its profile as a destination for brewers and beer aficionados alike.
Still, compared with other booze, the beer industry is struggling to keep its brand recognition. Unlike years ago, more people today say they prefer drinking wine or liquor instead of beer. Despite the relative decline of beer's popularity, there has been an explosion of craft breweries around the country — in 2012, the craft-brewing industry saw 15 percent growth. Larger mainstream products like Blue Moon and Pabst Blue Ribbon are enjoying rapid growth. There are almost 2,000 craft breweries in the U.S. There's even a congressional Small Brewers Caucus.
And the beer industry has economic ripple effects. According to the Beer Institute, the industry employs roughly 2 million Americans, directly and indirectly, for a combined $79 billion in wages and benefits.
Beer advocates have been fighting for years to decrease the federal excise tax on beer. In 1991, the federal beer tax was doubled from $9.00 to $18.00 per barrel as part of an effort to balance the federal budget. Taxes were also raised on select luxury goods, but were eventually repealed or phased out. Now, beer advocates want to roll back the federal beer tax to pre-1991 levels, arguing that it would correct for years of overtaxing and bring back lost jobs.
Beer-industry lobbyists argue that the beer tax is unfair, since it unduly burdens the lower- and middle-income workers who prefer a cheap, cold brewski over a glass of single-malt whisky. "The tax on beer is thus one of the most discriminatory of all taxes in the federal and states' tax codes," according to the Beer Institute.
And Alabama isn't the only state wrestling to expand beer business and the economic benefits that come with it:
"¢ Minnesota beer activists are agitating to reinstate Sunday sales.
"¢ New Hampshire lawmakers may reverse a state ban on advertising alcohol on billboards, and could even vote to allow restaurants to sell beer to go.
"¢ Connecticut may do away with excise taxes on beer, wine, and liquor, as the state has been losing business across the border to Rhode Island, which has lower alcohol taxes.
"¢ An Indiana lawsuit is challenging the state's ban on selling refrigerated beer in gas stations, groceries, and pharmacies, though the law is unlikely to be overturned.
Still, the federal beer tax isn't likely to decrease any time soon, as National Journal's Sarah Mimms wrote last month:
The Congressional Budget Office has argued in favor of raising the excise tax, noting that the costs of alcoholism and alcohol-related incidents far exceed the revenue brought in by taxes on beer, wine, and spirits. "When adjusted for inflation, current excise-tax rates on alcohol are far lower than historic levels," CBO argues. "In the 1950s, excise taxes accounted for nearly half of the pretax price of alcohol; they now account for between 10 and 20 percent of the pretax price."
While beer advocates may be fighting a quixotic battle, lawmakers should recognize the economic good the craft brewing industry can bring to their states — or just shut up and drink.