For EPA's Global Warming Rules, Will 'Next Year' Mean 'Never'?
EPA is running out of time to craft carbon-emissions standards for industrial polluters beyond power plants.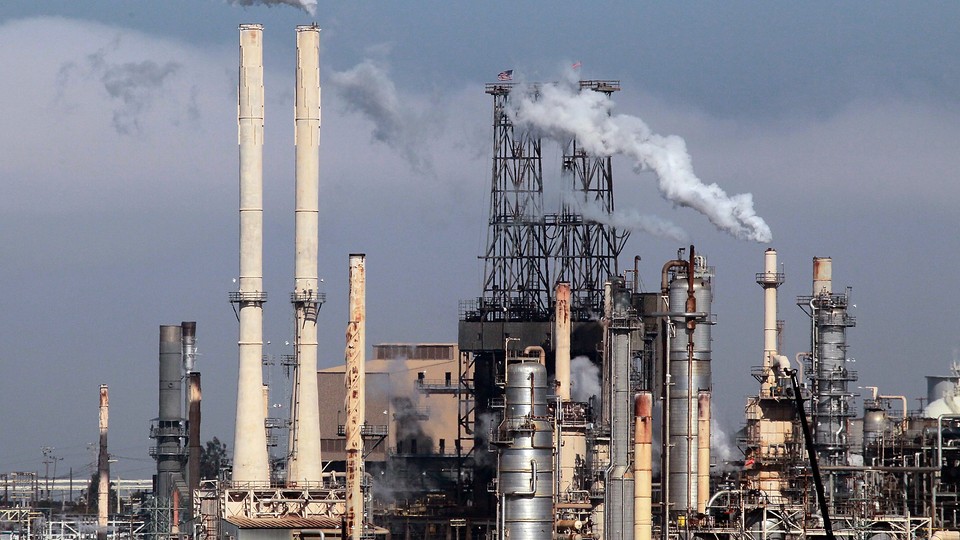 EPA's new budget plan says the agency hopes to make critical — and controversial — decisions about its effort to regulate greenhouse gases by the end of fiscal 2015.
Specifically, the budget says the agency hopes to determine whether it should craft carbon-emissions standards for several big industrial pollution sources — notably refineries, but also pulp and paper facilities, iron and steel production, and few other categories.
But if the pledges about expanding climate rules sounds familiar to EPA-watchers, they should: The fiscal 2014 plan said the same thing about a decision on the rules, and the fact that the agency has now moved these decisions to its 2015 budget suggests that determinations in 2014 are probably not in the cards.
Now, with the clock winding down on the Obama administration, experts say it's unclear whether EPA will craft carbon-emissions standards for any big stationary pollution sources beyond power plants — or even if it has enough time or resources left to do so.
"As a practical matter, they would probably need to get started on the rulemaking by the end of this year if they want to get new [greenhouse-gas] regulations in place for refineries or any other industry sector before they leave office," said Jeff Holmstead, who was the top EPA air pollution official under President George W. Bush and is now a partner at Bracewell & Giuliani.
"I'm pretty confident they're not working on anything yet," he said.
Here's specifically what EPA's fiscal year 2015 plan says about potential rules for refineries and a small handful of other industrial categories: The agency in 2015 will "perform analyses and plans to make determinations to address whether regulation of GHG emissions from such listed source categories is warranted as resources allow, including continuation of activities involving the electricity generating sector."
But getting from "plans to make determinations" to actually regulating requires EPA to cover lots of terrain. Crafting Clean Air Act rules is a slow, resource-intensive process.
Once the agency has determined it will craft a rule, the process of writing and proposing it, taking comment, and completing it can take years. And for major rules, court challenges almost inevitably follow.
"I would be pretty surprised if they try to do another [greenhouse-gas] rule before they leave office," said Holmstead, whose firm lobbies on behalf of power companies, refiners, and other industries.
Power plants are by far the biggest stationary source of carbon emissions. Refineries rank second.
EPA has been focusing heavily on crafting standards for existing power plants, which the agency intends to propose in June and complete a year later. The agency is also working to complete final emissions standards for new power plants.
If President Obama is succeeded by a Republican, that could very well shut the door for years on carbon-emissions standards for industrial sources besides power plants.
Holmstead estimates that EPA would need to complete a final refinery rule by October 2016 to avoid having a subsequent administration withdraw it. He also notes that EPA has other big-ticket items on its plate, such as the review of ozone standards that's mandated by statute.
In 2010, EPA reached a settlement with a number of states and environmental groups to set standards for power plants and refineries. The power plant rules are proceeding, albeit more slowly than EPA had initially pledged.
But the refinery rules have become a big question mark.
"We are talking to all kinds of folks about what [the power-plant rule] might mean for other stationary sources, but, frankly, this [power-plant rule] is where my focus is and will be," said EPA Administrator Gina McCarthy, speaking to reporters at an energy conference in Houston last week.
EPA, to be sure, is doing more on climate in Obama's second term than the power-plant rule. For instance, the agency is crafting the next round of emissions standards for big trucks.
But when it comes to carbon emissions standards for big stationary industrial polluters, power plants are the big show — and maybe the only one.
Michael Livermore of the Institute for Policy Integrity, an environmental group affiliated with New York University's law school, said the fact that the clock is running out on emissions standards beyond power plants is a "concern."
But what's crucial, he said, is for EPA to focus on creating carbon emissions standards for power plants that will withstand challenges in the courts and on Capitol Hill, and he noted that the power plant rules are a high priority for environmentalists.
Those EPA rules are a centerpiece of President Obama's climate agenda.
"My guess is they see the refineries ... as icing on the cake," said Livermore, who was the founding executive director and is now senior adviser to the institute. "But they mostly want to make sure the cake doesn't fall apart."