For Darrell Issa and Elijah Cummings, Sorry Is the Hardest Word
Both congressmen are asking for an apology after an explosive disagreement at a Wednesday morning hearing. But it may be too late to apologize.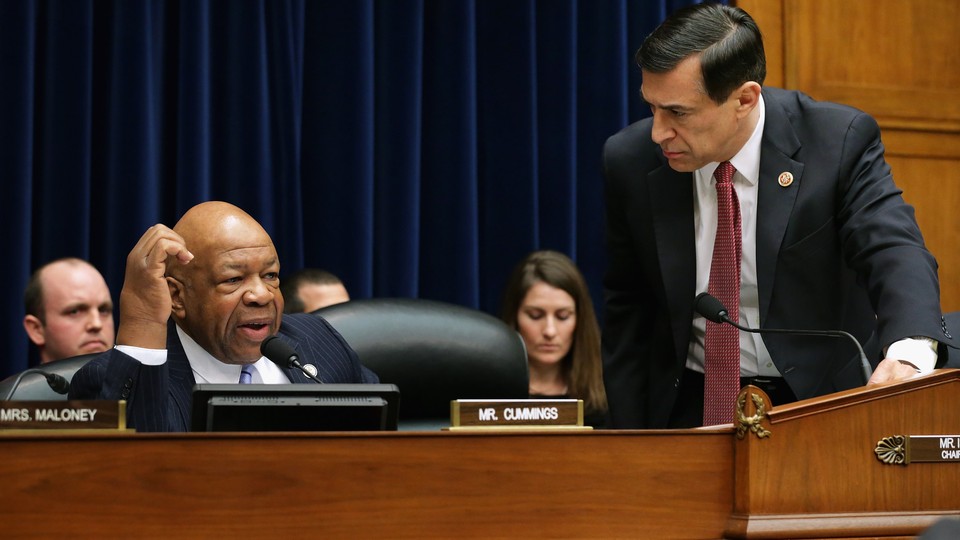 House Oversight and Government Reform Committee Chairman Darrell Issa and ranking member Elijah Cummings don't exactly get along well, as was apparent during a Wednesday morning hearing: Cummings began a lengthy speech denouncing the chair's investigative tactics while Issa held down the mute button on Cummings's microphone.
Both are calling for an apology following the outburst, and Issa, in true House Oversight Committee form, is calling on his Democratic colleagues to launch a kind of investigation.
"He owes me an apology," Issa said Wednesday afternoon. "I think he should be dealt with by his leadership. You know the conduct of the House.... We'd dismissed the only witness and his conduct was inappropriate and rather shocking."
The incident began following a very brief Oversight hearing with former IRS official Lois Lerner, which ended abruptly after Lerner invoked her Fifth Amendment right. Issa officially adjourned the hearing, but not before Cummings took to the mic.
"Mr. Chairman you cannot run a committee like this "¦ we are better than that as a country, we are better than that as a committee, I have asked for a few minutes to ask — " Cummings said before Issa cut his microphone.
"We're adjourned, close it down," Issa said, as Cummings began shouting into the dead microphone. After a minute, Issa just got up and left. (Watch the video of the full exchange here.)
Issa isn't sure exactly where Cummings's attack came from. "We talked about it before the hearing. He asked would there be opening statements? I said no, there wouldn't be, we'd already opened in May. And he understood that," Issa explained later Wednesday. "And then he asked if he could ask a question after adjournment. I said, 'What is your question?' and he went into effectively an opening statement accusing me of having all the hearings based on false premise. And so then — we'd already adjourned, I simply walked away."
For his part, Cummings says Issa should be the one to say he's sorry. He and the other 16 Democratic members of the Oversight Committee penned a letter to Issa Wednesday, asking for an apology. "We believe your actions today were disrespectful and abusive, and they impugn the integrity of this Committee and undermine the credibility of its work. They also make it appear that the Committee is more concerned with political spectacle than gathering facts in a balanced and impartial manner," they wrote.
For now, Democratic leadership seems to be sticking by their man. "The behavior displayed today by Chairman Issa during the Oversight and Government reform hearing was unacceptable and deplorable," Minority Whip Steny Hoyer said in a statement to National Journal. "This is not how our democracy works and it's not the way to provide responsible government oversight. Ranking Member Cummings and Democrats should have the opportunity to be heard. If anyone deserves an apology, Mr. Cummings does."
Hoyer also tweeted his support for the ranking member Wednesday morning.
Updated: Wednesday at 5:50 p.m. with comments from Hoyer.