Don't Expect to See Obama's Gigantic Wish List Become Law
The budget proposals unveiled Tuesday by the White House lay out a more progressive view of government. But not even Democrats are going for it.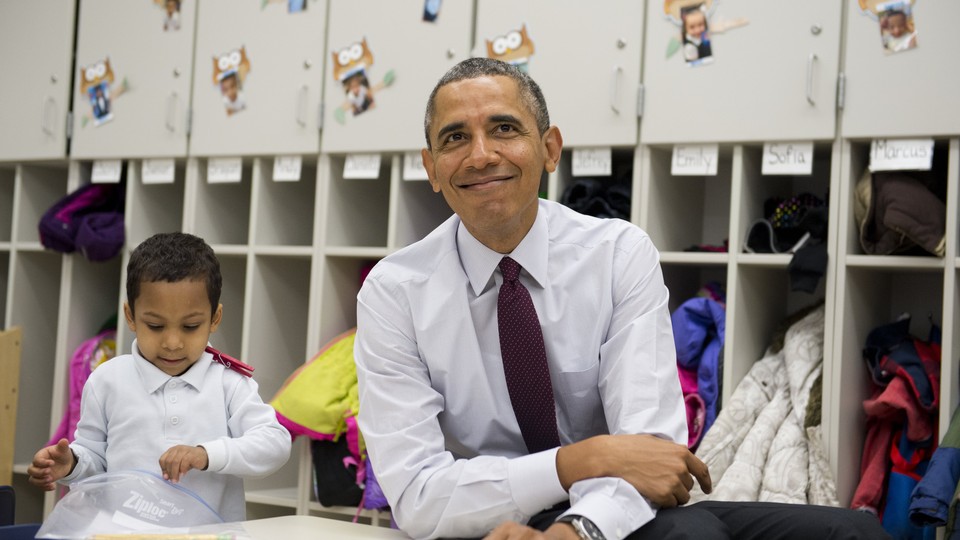 The White House sent a massive, 1,650-page document into the world Tuesday to languish.
President Obama's fiscal 2015 budget was immediately dismissed by congressional Republicans as a "campaign brochure" providing massive increases in spending for Democratic programs while offsetting the costs with tax-loophole closures that Republicans have repeatedly insisted they will not accept.
The White House acknowledged the wish-list nature of the document. "In light of congressional Republicans' unwillingness to negotiate on fundamental issues and agree to a balanced plan to deal with our long-term fiscal challenges, this year the administration is returning to a more traditional budget presentation that lays out the president's vision," the proposal said.
Democrats welcomed the budget, which builds on the president's Jan. 28 State of the Union speech and offers new programs to boost the middle class and provide assistance to lower-income Americans ahead of a midterm-election fight that the party hopes will focus on income inequality.
But even Democrats admit that the budget as a whole — or even as a half — isn't likely to go anywhere, even if some of the more bipartisan bits and pieces find their way over to the Capitol through separate talks. Although Senate Appropriations Committee Chairwoman Barbara Mikulski praised Obama's focus on the nation's "values," she quickly rejected the White House proposal that Congress spend an additional $56 billion on Democratic programs this year. The 2015 appropriations process should adhere instead to the $1.014 trillion top line that Congress agreed to — and Obama signed — in December, she argued. "We have a budget agreement for fiscal year 2015, and the Senate Appropriations Committee will adhere to the spending caps in that deal," Mikulski said in a statement.
The administration had little funding to work with when crafting its proposal. The budget deal reached by Congress in December provides $1.014 trillion in discretionary spending for fiscal 2015, only $2 billion more than the current year, forcing a spending cap onto the president's budget proposal for the first time in years.
Given just a few billion dollars to work with and no desire to make massive cuts to current programs, Obama laid out several tax loopholes he would close for corporations and the wealthy (including those affecting private jets, golf courses, and overseas investments) to offset the $56 billion in new programs he proposed.
That work-around isn't going over well with congressional Republicans, who accused Obama Tuesday of attempting to renege on the budget deal. Those charges aren't entirely true. The president's 2015 budget does spend more than Congress agreed to, but that spending is fully offset by a series of tax-loophole closures and revenue-raisers.
Congressional appropriators have insisted in the past that any changes to the tax code be left up to a larger tax-reform overhaul, which is unlikely to happen this year. Already, House Appropriations Committee Chairman Harold Rogers is signaling that his committee will resist making any of the president's requested changes. "Contrary to the president's wish-list of additional spending, my committee will abide by the budget caps for fiscal year 2015 put into place by law, which total $1.014 trillion," Rogers said in a statement concurring with Mikulski.
Obama's additional $56 billion in spending still produced some trade-offs for the president to remain within the congressionally set limits. Wall Street-reform advocates balked at the lower level of funding requested for the Commodity Futures Trading Commission, which regulates derivatives, than Obama requested the previous year (the requested level is higher than the CFTC's current budget). "It really is inexplicable that the smallest, least-funded agency with such a critical mission, that they would ask for less resources for," said Dennis Kelleher, president of the financial-reform group Better Markets.
An administration official said that given the constraints of the Ryan-Murray budget, the 30 percent increase in agency funding demonstrated the president's commitment to implementing the 2010 Dodd-Frank financial-reform law, in which the CFTC plays a large role. The White House asked for $280 million in fiscal 2015, $65 million more than the agency's current funding but $35 million less than it requested in 2014.
Among Obama's new initiatives that are sure to go over well with Democrats in Congress and progressive voters are IRA accounts aimed at helping 13 million workers save for retirement, lower taxes for parents whose young children are enrolled in child care, and a broad expansion of the Earned Income Tax Credit, a federal tax credit for low- and moderate-income workers.
The president's budget would expand the EITC program to childless adults and some younger workers, "lift[ing] about half a million people above the poverty line," according to the White House. The idea is popular among members of both parties and was recently touted by Berkshire Hathaway CEO Warren Buffett, an administration ally, as a better tool for helping lower-income Americans than raising the federal minimum wage, another of the president's priorities this year.
In the grander sweep of things, the White House said that if its budget proposals were implemented, the deficit would stabilize at less than 2 percent of gross domestic product and the government would be operating with a "primary surplus," which ignores spending on interest on debt, by 2018. Debt would rise to 74.6 percent of GDP in 2015 before gradually declining to 69 percent in 2024.
If it's all just wishful thinking and a rehash of proposals that have been put forward before, what are the White House's actual hopes for the budget? Sylvia Mathews Burwell, director of the Office of Management and Budget, told reporters that the White House is "making sure that, like last year, this budget influences the choices that are going to be made throughout the appropriations process."
Congressional appropriators have until October to pass 12 spending bills through both chambers and send them to Obama's desk.
Gene Sperling, the outgoing director of the National Economic Council, added at the same reporters' briefing that even though the budget rehashes some proposals of yore, he hopes it keeps a spotlight on them. "There are some things that have been in the budget that weren't passed, but they were never rejected," he said. "They may not have gotten the attention, but their issues are getting more attention now."
Attention, yes. But passage? Unlikely.