Doctor May Know Best, But Sometimes Patients Know Better
A community-health center in New Mexico shows how to overcome cultural barriers in providing quality care.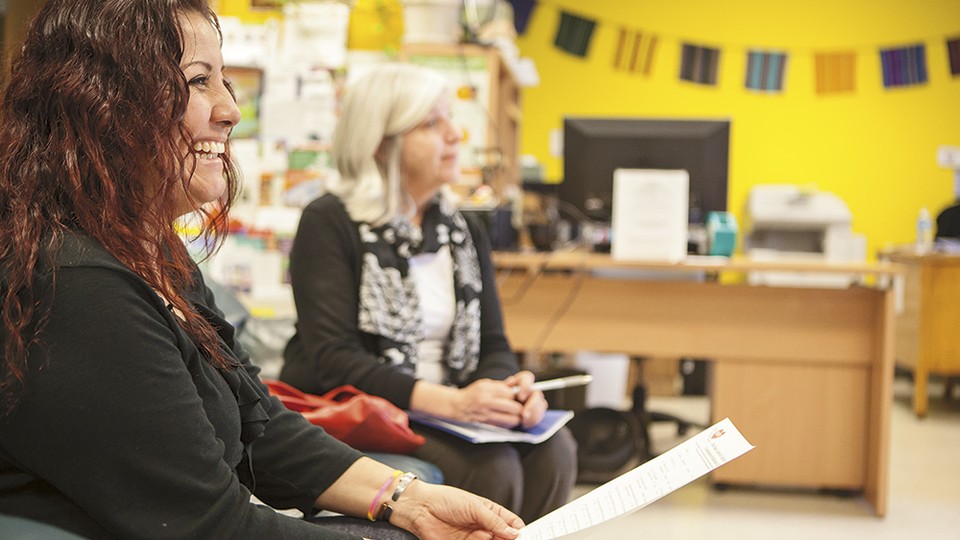 ALBUQUERQUE, N.M. — Dilapidated billboards and empty body shops, barefoot smokers and cliques of transvestites. Not a family in sight. Central Avenue, known locally as the War Zone, shows all the wear of its often hardscrabble life. Poverty rates exceed 50 percent, prostitution and domestic violence abound, and undocumented immigrants flock to and from its weathered streets.
Amid dusty Ford pickups dropping off Latino workers while teenage Navajos linger outside a Vietnamese restaurant, it's hard to envision a hub of a cohesive community. But turn left onto a quieter block of commercial garages and one-bedroom houses, and a salmon-colored storefront guards another world. It's the neighborhood's health center, called One Hope. Spanish colloquialisms fill the air as the door opens to a sombrero-wearing patient accepting coffee from a receptionist juggling clipboards and a baby. In the waiting area, outfitted like a family room with sofas and artwork, a corkboard proclaims the clinic's ethos: "Love is the key to life."
Born directly out of needs that are locally defined, One Hope offers an answer to a puzzle seen around the nation. The United States continues to face stark disparities in health outcomes along lines of income, race, and ethnicity. But these disparities aren't always driven by economics or geography. Sometimes, the obstacle is cultural. A Somali woman in the U.S. can't keep waiting to give birth as her mother did if labor that goes on "too long" compels a Cesarean section. When a Hmong father believes the body contains a finite amount of blood that won't replenish, he interprets a request for a sample of his sick child's blood as a grisly joke and is unlikely to return to the hospital.
As this nation of immigrants grows ever more diverse, these clashes of worldview are bound to become increasingly common. Training sessions in social and cultural idiosyncrasies may help, especially if applied to specific groups. But the lesson of One Hope is that anthropological parsing gets you only so far. Something deeper is required to bridge these gaps, and it's anchored in trust.
"We're basically the medical home for a lot of people," says Lidia Regino, One Hope's director. "And I mean home."
The clinic's concept is simple, sustained by a simple formula: Ask the community what it needs, and work with residents to create it. In 2005, a health worker, tired of getting so little accomplished as the neighborhood declined, tapped into a community-development group called East Central Ministries. Together, they invited a few dozen residents to a community-health fair, and 250 people showed up, along with curious representatives from the city's big hospitals.
As people gathered at the fair, Regino recalls, "all these things started coming up: 'Diabetes is everywhere.' 'My father has high blood pressure.' 'We're afraid and hopeless.' 'Doctors turn us away if our husbands haven't gotten paid.' 'Receptionists don't speak our language.' 'They're mean and ask for Social Security numbers.' 'We don't have transportation.' 'Nurses don't respect us.' "
"Locals," she concludes, "were looking for a place to feel identified with."
East Central Ministries helped find a space for the clinic and hired Regino, now 41, and three other trained community-health workers native to the area. Regino is as commanding as she is compassionate. She's the only staff member with a bachelor's degree, but all of them speak Spanish and need no textbook to "get" the neighborhood's cultural rhythms. Nutritional habits don't faze them — they share their patients' love for plantains and carb-heavy fiestas — and they understand what it's like being strapped for money. Instead of asking new patients scary questions, the receptionist offers an apple.
"I tell patients every day, 'I'm just like you,' " Regino says. " 'I'm struggling not to drink that Coke, too.' "
OVERCOMING MISTRUST
Big hospitals often aren't nimble enough to address the fuzzier dynamics of patient culture, and accredited medical schools require nothing more than a generic "cultural competency" course focused on multicultural sensitivity. That's left much of the most innovative bridge-building to smaller, usually nonprofit, organizations that are agile and culturally attuned.
The barriers are evident coast to coast. In and around Detroit, Arab-American women were diagnosed with advanced breast cancer at far higher rates than other Michigan women because they weren't getting mammograms, researchers found in 2010. Why? The procedure embarrassed them, and many believed that divine will or trapped nerves caused cancer. More and more Native Americans, another study found, ignore their physicians' instructions after taking offense at how they're viewed. "I went to see a doctor for a back problem," a study participant said, "and he stereotyped me as an Indian who was overweight and likely to get diabetes."
These aren't problems that more money or expanded insurance coverage will necessarily resolve. Five miles from One Hope, at the University of New Mexico's Health Sciences Center, Jessica Goodkind is a community psychologist and the coleader of a groundbreaking 2008 research project called Project TRUST. The project began as a response to rising behavioral health problems among Native American youth, but its findings have extended to ethnic and racial minorities of all descriptions.
"We begin from the premise that every provider-patient interaction is a cross-cultural interaction," Goodkind says. "But it's not, 'Here's what you should know about this group.' " Instead, she says, the key is recognizing that trust is at the heart of every successful interaction, and mistrust is at the center of every barrier.
For American Indians, the cultural barriers are often profound. In a country where Western medicine prevails, traditional Native American practices and ceremonies are treated as supplemental — or superfluous.
"For example, in mental health now, the assumption is that self-referential talk is helpful," says Joseph Gone, an associate professor of psychology and American culture at the University of Michigan. "But for many Native Americans, talk is a form of expression that can alter reality. There's a moral domain of who you share what with." Reticence can frustrate the mainstream treatments for mental illness and substance abuse.
"WE SET THE RULES"
A typical approach to surmounting cultural barriers is on display in Albuquerque's South Valley, at a clinic called Casa de Salud. It boasts shiny new facilities and a passel of medical-student interns. The director brags about the clinic's political advocacy work and the "superior workforce development" of its interns. But its services seem geared more toward pushing patients in and out rather than entering their lives and delving into the roots of their health woes.
At One Hope, people are made to feel comfortable as soon as they walk in the door. A boom box plays Latin rhythms, and a coffeepot brews next to bowls of grapes and strawberries. Patients are asked to pay $20 and, if they can't, the fee is waived. Most people have been here before, and the staff addresses them by name. A receptionist asks a young mother if her Uncle Antonio has found that job at Carl's Jr., the fast-food chain. To others: "How is your commitment to eat breakfast going?" "What color is Rosa's quinceañera dress?" At night, the clinic holds classes on diabetes and dental hygiene, where health care providers join the patients in eating wrap sandwiches provided by One Hope. Doctors and nurses come to the clinic in the evening; for daytime emergencies, patients are referred to providers outside.
"It's a power shift," Regino says. "We set the rules in the clinic. We have the authority to direct a provider to do three [lab tests] on a patient, not 20. The providers are our collaborators. If they have a question about a patient, they come and consult with us. If a patient comes in with an issue, we typically already know the health background behind that issue. We also know about a patient's employment situation, about his worries, and his niece's quinceañera" — a Latina's coming-of-age celebration. The clinic staff briefs the doctor or nurse, so that the patient's circumstances are taken into account.
A distinctive aspect of One Hope's care is called Salidas — the exit interview. After seeing a provider and getting treatment, patients will enter the Salidas room with Regino and tell her how they're feeling, assess their provider's care, and maybe confide what's going on in their lives that could hinder follow-up treatments. Regino shapes the interview to fit the patient, and she has gained the credibility to chide them if necessary — to encourage or correct them. This takes trust.
"The Salidas is all about the person, not just their health," she says. "It's a very vulnerable space — a lot of people cry. They may be embarrassed that they don't have the money to pay the $20, not wanting to say so. I just tell them they don't have to be embarrassed with me, that I'm part of this community, that I know what's going on, and I understand. It's like we're two friends talking."
This personal touch is hard to scale up, however. Nor is it easy to replicate Regino, with her education and her willingness to remain near home. The clinic also has the advantage of being funded and born out of a community organization that already maintained local relationships and pursues a mission that transcends medical care.
Still, the clinic's success suggests that, for culturally diverse patients, truly effective health care requires an understanding of their personal lives. It also shows that the sort of community health workers One Hope employs — lacking a bachelor's degree and easily available locally — provides an affordable and workable means to accomplish this. These employees extend the reach of doctors and nurses, and even enhance collaboration between them; nor are they territorial about medical specialties in a way that all too often hinders the flow of care.
In Denver, at an outreach program run by community-health workers for men in need of medical care, a study found a return on investment of more than $2 for each dollar invested. In Minneapolis, community-health workers have performed 18,000 home visits since 2004, reached 135,000 individuals with information and education, and referred more than 2,100 smokers to tobacco-cessation programs.
At the heart of effective community health is the step-by-step process of building a relationship between worker and patient. One recent evening, after a diabetes clinic at One Hope, a man named Eduardo asked to have his sugar levels checked, and a nurse took him to a private room. Thirty minutes later, he returned and high-fived the receptionist who was clearing the remains of the evening's wheat wraps.
"Six A1c's!" he declared in Spanish, grinning at his enviable blood glucose levels.
The receptionist stopped what she was doing and returned his smile. "Felicidades, Eduardo!" she replied.
Which meant that Eduardo would probably come back to One Hope, for it is a place where — as Regino suggests — the patients wind up "feeling embraced, feeling like somebody cares."
---------------------
The author is a freelance writer living in Houston.