Democrats Are Addicted to Koch
The billionaire brothers are becoming a party obsession, and not a smart one, in a midterm election year that will be dominated by jobs and Obamacare.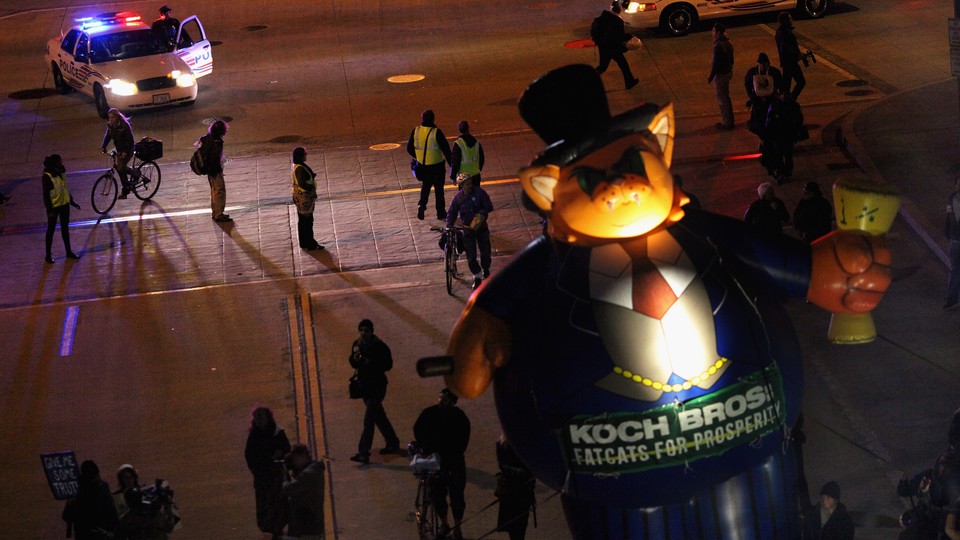 A Quinnipiac University poll in January ranked, in order, the three issues voters cared about the most: the economy, the federal budget deficit, and health care. Not included on the list? Charles and David Koch.
And therein lies the dilemma for Democrats, who of late have turned the full fury and might of their political operation against the billionaire brothers from Kansas. Can they persuade voters to care about two private citizens whom regular people have barely heard of — especially when the country's still underwhelming job market has many of those same people more worried about just getting by?
It's not as if the Koch brothers are peripheral to the 2014 midterm elections. Their most visible political group, Americans for Prosperity, has spent roughly $30 million pummeling Democrats, mostly senators up for reelection, for their support of Obamacare. With good reason, Democrats worry that money has fundamentally shifted the 2014 map in the GOP's favor, especially in Southern battlegrounds such as Louisiana and North Carolina.
But if the Kochs are a story this election, the Democratic political machine is trying to make them the story. The party has tipped its hand in major articles published in The New York Times and the Associated Press. Harry Reid is blistering AFP's ads in stem-winding Senate floor speeches. (The majority leader afterward had to back off his accusation that all of their ads are lies.) Emails from the Democratic Senatorial Campaign Committee now include a marquee that says, "The GOP is 'Addicted to Koch!' " Just last week, in his campaign's first TV ad, Alaska's Mark Begich blasted the two men by name for running what he called misleading advertisements against him.
"I don't go down to tell them what to do, I expect them not to come up to Alaska and tell us what to do," said one person featured in the ad.
Democrats, armed with reams of poll data, argue that voters don't like interference in their elections from well-heeled outside forces. They're not wrong. Broadly speaking, voters are wary about enormous sums of cash in politics, and it's easy to turn people against outsiders.
But that argument might be beside the point. Voters don't like the outside interference, but their distaste doesn't necessarily have the resonance to push voters away from the GOP. And even for all of the influence wielded by Americans for Prosperity and other Koch-affiliated enterprises, they're still just outside groups in an election in which voters are still just choosing between Republicans and Democrats.
"There's a trap in campaigns that's called the Other People's Money trap," said Brad Todd, a Republican strategist. "Voters care about their money, not other people's money. Anytime my candidate is talking about the voters' money and my opponent is talking about other people's money, I feel pretty good about our chances."
It gets trickier for Democrats in individual races. Along with Begich, Sens. Mark Pryor in Arkansas and Mary Landrieu in Louisiana each accepted money from the Koch Industries PAC in recent years. Blasting them now — all three are battleground races this year — risks making the incumbent look like a hypocrite.
And in Georgia, where Democrats have high hopes that Michelle Nunn can pull off an unexpected victory despite the hostile territory, the party must grapple with the presence of the Koch-owned Georgia-Pacific. The company, which makes a variety of products, employs thousands of people in the Peach State. Republicans have already signaled that if Nunn's campaign attacks the Koch brothers, they'll be ready to hit back by suggesting she's threatening the business interest of her home state.
The strategy isn't all downside for Democrats: Although most citizens may not know who the Kochs are, liberal activists certainly do — including the wealthy ones, from whom the Democrats are desperately trying to coax the kind of large donations that will let them push back more forcefully in TV ads. And the Kochs do complicate the GOP's own political efforts, too, as when their company closed down a small plant in Alaska. It wasn't a game-changer for the Alaska race, but it did allow Democrats to blast the GOP field's ties to the brothers.
But those efforts are about mitigating the damage done by the AFP's ads, and not necessarily a way to start scoring points of their own. For that, the party might need to turn elsewhere.
"Right now, Democrats can't figure out how to get away from Obamacare, so they are digging around desperately for something off-topic to discuss," Todd said. "I had the same emotion in 2006 when it was obvious the war was going to beat us but we weren't willing to run against the war that we believed in. There is never any magic trick to get out of this box when your party is on the wrong side of the only issue voters care about."