Decriminalizing Small Quantities of Marijuana
D.C.'s newest law isn't about the freedom to light up. It's about combating racial profiling and protecting civil rights.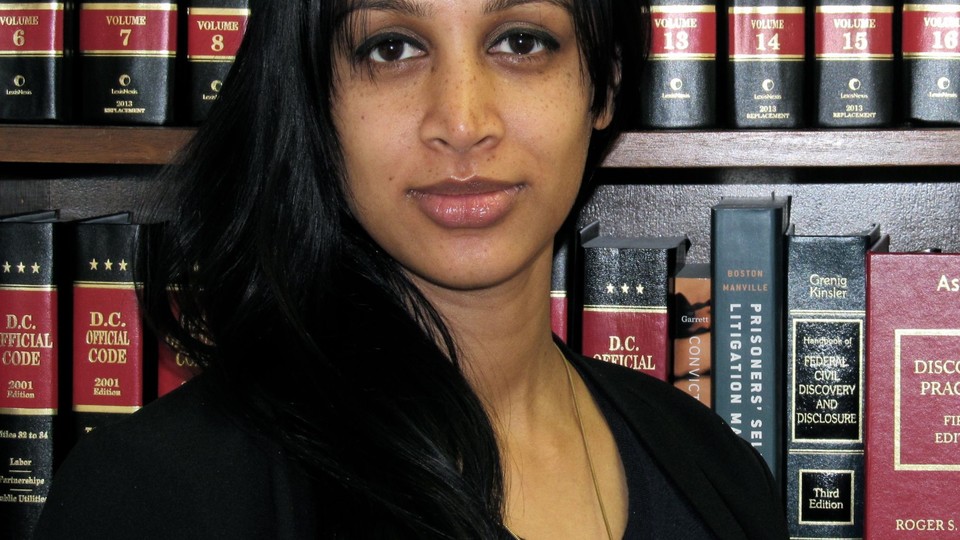 Earlier this month, the City Council of the District of Columbia passed the first marijuana reform in the country aimed explicitly at taking "marijuana odor" out of the arsenal of policing tools that promote racial profiling.
The public and the council were galvanized by a shared vision for racial justice — a new development in the debate over marijuana law reform, which used to center on protecting the personal liberty to smoke marijuana.
In 2013, the American Civil Liberties Union of the Nation's Capital received dozens of reports of racial-profiling incidents by the Metropolitan Police Department. In a large number of these cases, community members reported that officers stopped, questioned, and searched black residents based on the alleged smell of marijuana, yet found no illegal activity during the searches.
To understand what was going on, we studied all marijuana-related incidents in the District that resulted in an arrest, using data from 2010, the most recent available. The results were staggering: 91 percent of all arrests for marijuana-related offenses were of blacks, despite research findings that black and white people use marijuana at nearly equal rates.
Because the police department does not keep records of every stop that does not result in an arrest, we can't measure the racial breakdown of marijuana odor-based stops. However, anecdotal evidence from community members suggests that it is far more likely for a black person to be subjected to a stop in which police use the alleged odor of marijuana as a pretext to conduct a search and general criminal investigation.
Last summer we released a report detailing the selective enforcement of the District's marijuana laws. After months of high-profile public debate about the meaning of such disparities, last week the D.C. Council moved to make small-scale marijuana possession of one ounce or less a civil offense, removing criminal penalties. Elected officials hope to reduce the number of humiliating and corrosive encounters between the District's black residents and the police department.
When you think of the impact of marijuana laws, you may imagine someone smoking marijuana in public space. But in early 2013, I spoke with D.C. high school students as part of a Know Your Rights public-education campaign, and their experiences tell a different story. Across neighborhoods, young black residents echoed the same theme.
A 16-year-old boy was stopped on his way home from school for looking suspicious. Police accused him of smelling like marijuana. He was questioned and searched.
Two high-school girls lingered on a side street with their friends on their way home from school. Officers approached and claimed to smell marijuana. The girls were ordered to empty their purses and pockets.
A 14-year-old boy was waiting at a bus stop on his way home from school. An officer walked up to him and stood close, alleging that he could smell marijuana emanating from the boy's dreadlocks.
None of these teenagers was arrested, because the searches of their person and possessions yielded nothing illegal.
We received many similar reports of police using marijuana odor as the pretext for a search. The encounters rarely end in arrest because, according to the subjects of the stops, there was never any marijuana to begin with.
In other cases, when the stop, search, and questioning does produce evidence of marijuana, the impact of an arrest for even a small amount of marijuana can be devastating.
A 22-year-old black man was charged with a misdemeanor marijuana possession because he had one joint in his pocket. Now he carries a misdemeanor conviction on his record that will inhibit his ability to seek employment, receive financial aid, and live in public housing. He represents one of thousands in the District, a criminalized population of black and brown people living under a constant threat of racially disparate policing and its lifelong consequences.
Meanwhile, in the northwest section of the District that is home to four major universities, where self-reported marijuana usage rates top most other parts of the country, there are virtually no arrests and marijuana searches are a distant reality. How could the disparities be so extreme?
The police chief was called to account, and responded to our data with a public statement that did not challenge the conclusion that in the District marijuana enforcement is wildly racially disparate.
The public and the council continued to press for reform, in local media and at community meetings. Nearly six months after the release of the ACLU report, a January 2014 Washington Post poll showed a dramatic shift in public support for legalizing marijuana. Four years ago, District residents were split evenly on the issue; in January 2014, they favored legal sales of marijuana for personal use by almost 2-to-1.
The Small Possessions Act of 2013 was passed by a supermajority of the D.C. Council. It reduces the penalty for possession of an ounce or less of marijuana to a $25 fine. And it is the first decriminalization bill in the country to prohibit police from stopping, questioning, and searching people based on the alleged smell of marijuana alone, a long-overdue move toward racial justice in the nation's capital.
It is a necessary first step to shift the legal foundations of police interactions with residents so that law enforcement in black neighborhoods can start to resemble trust-based community policing, turning firmly away from the failed policies of the war on drugs.
Ultimately, this shift will require us to address the ways in which federal grants create monetary incentives for police departments to make large numbers of drug arrests. They effectively serve as enticements or incentives to focus on enforcement of marijuana laws with their high-arrest payoffs, with disastrously racially disparate results.
The D.C. bill and the accompanying rise in public support has transformed our marijuana debate into a conversation about justice for our entire community as we move closer to smart, fair, and compassionate drug policy. Let's hope it spreads.
Seema Sadanandan, is the program director with the ACLU of the Nation's Capital.
HAVE AN OPINION ON POLICY AND CHANGING DEMOGRAPHICS? The Next America welcomes op-ed pieces that explore the political, economic, and social impacts of the profound racial and cultural changes facing our nation, particularly relevant to education, economy, the workforce and health. Email Janell Ross at jross@nationaljournal.com. Please follow us on Twitter and Facebook.