Community Health Care: Share the Knowledge and Hold the Plantains
This New York City program tries to eliminate the "white coat effect" by creating trust and ease between health workers and patients in immigrant communities.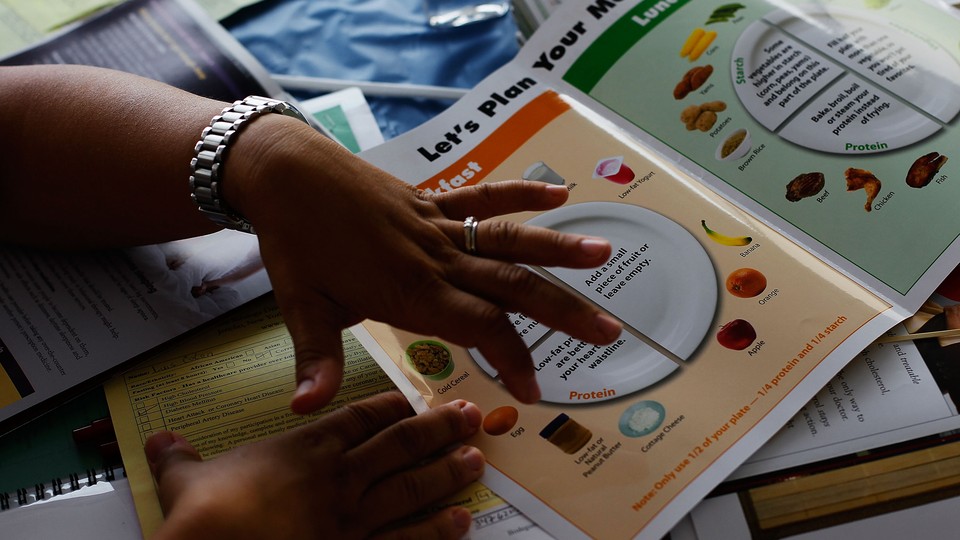 NEW YORK, N.Y — Adriana Matiz, a doctor who practices in the Washington Heights neighborhood in northern Manhattan, looks a lot like the patients she serves. Her heritage is Colombian, and she speaks fluent Spanish. But after years of practicing at a primary-care office here, she still noticed that patients didn't always trust her or take her medical advice. The practice had been retooling itself to try to provide the best care to its community, but it struggled to make an impact on important diseases that were harming its patients. The neighborhood's rate of childhood asthma was triple the national average. And diabetes and depression were also off the charts.
"There was still something that was missing," says Matiz.
Now Matiz's employer, the New York-Presbyterian Healthcare System, has found a way to help plug the missing piece between its medical providers and its immigrant community clients. Teaming up with local organizations, it deploys teams of "community health workers" into doctors' offices, and patients' homes through a program called the Regional Health Collaborative. The community health workers come from the neighborhood and share the cultural heritage of their patients. They don't have medical training or wear white coats, but they do have the tools to help families deal with the household roaches and mold that may be triggering a child's asthma, and they have the credibility to tell them to lay off the plantains and yucca that are causing their diabetic blood-sugar spikes. And along with other changes in practices like Matiz's, they've been able to improve health outcomes and reduce health care spending.
Raquel Garcia-Guzman, a community health worker from the Northern Manhattan Improvement Corporation, one of NYP's partners, has been on the job for about a year. She moved to Washington Heights from the Dominican Republic when she was 3, and she's had diabetes herself for more than 15 years. So when she meets a patient for the first time, she's quick to develop rapport. "You can't imagine the switch when you say it," she says of sharing her own health struggles with patients. On a recent home visit, she stopped by the house of 82-year-old Rosa Jimenez. Jimenez, a Dominican immigrant who has lived in her apartment for 22 years, has multiple health problems, chief among them uncontrolled diabetes. Sitting in a rocking chair beside a walker and an array of prescription pills, she smiled at Garcia-Guzman's arrival and the two walked through a questionnaire in Spanish on her progress over the six months they have worked together, while a home health aide cooked lunch.
As they discussed Jiminez's main form of exercise — walking — her blood-sugar testing regimen, and other health factors, Garcia-Guzman looked over at the bowl of plaintains and a box of candy on the kitchen counter. Jimenez hadn't initially mentioned her sweet tooth when discussing her diet, but with a little prodding, she acknowledged that she often had candy after a meal.
Details like that will help Jimenez's doctors better treat her diabetes. Patients, often eager to please their doctors with their compliance, often whitewash their dietary indiscretions, Garcia-Guzman said, leading to omissions that can skew medication dosages and hurt their health. Carmen Cruz, a former community health worker who now helps run the health-worker program at NYP, said she saw this "white coat effect" firsthand when she accompanied her mother to doctors' appointments as a girl and heard her mother tell the doctors what she thought they wanted to hear. "Every older lady in this community is my mother, so I know," she jokes.
Community health workers are more likely than medical providers to hear about patients' suspicions about medicine — that asthma inhalers will addict their children — or home remedies they're using in place of traditional medicine. Local tradition has it that chamomile tea can take the place of insulin or that a combination of coffee grounds and peanut butter can hold asthma attacks at bay. The health workers also have the time to provide basic education about patients' diseases, explaining which favorite Dominican dishes are good for diabetes and which should be eaten in moderation. Patients are often also more willing to open up about problems they're having outside the medical realm, with housing, domestic violence, or other difficulties that nevertheless have a big impact on health. "They have other issues," says Maria Lizardo, the assistant executive director for programs at Upper Manhattan Improvement, who said that health workers can also help connect patients to the bevvy of other services the organization provides — ESL classes, tax preparation, debt counseling, and others. "It's not just asthma or diabetes going on." And, as she points out, a family struggling to put food on the table will be less likely to fill that insulin prescription.
The community health workers are a piece of a larger transformation in how the medical practices deliver care that's designed to be more responsive to patient needs and more sensitive to these social and economic factors that may be impeding patient's health. In addition to employing the community workers, the practices have adopted new electronic health records to better track their patients; they've reorganized their staff to better include receptionists, dietitians, and social workers into their treatment routines; and they've also trained everyone to be more culturally competent. They describe their new model as a "medical village."
The package of reforms has led to some impressive results. In a recent Health Affairs article, NYP boasted of major reductions in disease and the possible promise of cost savings. In 2011, a year into the program, the hospital was able to document reductions in the number of times patients in the practices were visiting the emergency room or getting sick enough to require admission to the hospital. But even with those promising initial results, so far, health insurers aren't paying for the program. Much of the work is funded through a series of grants — from the state, Columbia University, and foundations. That may change as more results come in and insurers develop more flexible ways of paying doctors who want to be part of a more collaborative system. "These people are going to be key elements of the health care team and going to have huge impacts on guidelines," says Dr. Joseph Betancourt, the director of the Disparities Solutions Center at Massachusetts General Hospital and an associate professor at Harvard Medical School, who points to the NYP program as a model.
The people involved in the NYP program say there's no reason the community health worker approach couldn't be widely adopted around the country in places with strong community organizations. The Washington Heights model is geared toward the Dominican and Puerto Rican communities, but only because that's who lives there. A similar model could work, they say, in a neighborhood of Chinese, or Nigerian, or Russian immigrants, as long as the health workers had the right skills and relationships. The health challenges for various groups differ, as do the cultural norms, traditions, and attitudes toward medicine. "Specificity is one of the key challenges for our city, because we're so diverse," said Ana Garcia, the deputy director of health policy at the New York Academy of Medicine, a public-health research and advocacy organization with relationships around the city. Garcia said that she's seen culturally targeted programs, like the one at NYP, reap benefits in other places it's been tried.
Matiz agrees. In conversations with colleagues, she's been impressed by how quickly they grasp and embrace the community health worker model. "People are constantly saying to me, this looks like something that could work in my community," she says.
Margot Sanger-Katz is currently on leave from National Journal to participate in the Knight-Bagehot Fellowship in Economics and Business Journalism at Columbia University.