Can Boozy, Televised Sexcapades Fuel a Political Comeback?
Thomas Ravenel may use his "Southern Charm" to challenge Lindsey Graham.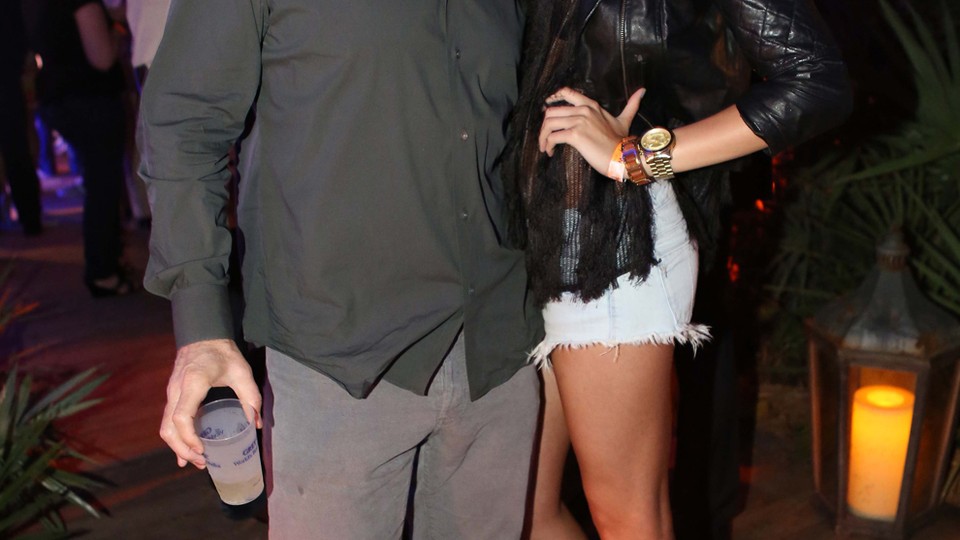 This fall, a disgraced South Carolina politician could find himself on the ballot, hoping to stage a political comeback years in the making.
No, not Mark Sanford.
Former South Carolina Treasurer Thomas Ravenel, who resigned from office in 2007 and spent seven months in prison on a cocaine conviction, is hoping to stage a political comeback as soon as this November. "I did my time. And there will be a political future. I'm not done yet," he recently told a local radio show.
The fallen pol is working with a political consultant and making an effort to alter his image in the Palmetto State, using a new reality TV show to reintroduce himself to voters. But his options are limited. Around the time Ravenel was arrested, South Carolina passed legislation barring felons from running for state office within 15 years of a conviction.
"I'd like to redeem myself in the eyes of the public, but as a convicted felon I can only run for three offices: the U.S. House, the U.S. Senate — or president of the United States," he says, winking, in the first episode of Bravo's new reality series Southern Charm.
"T-Rav," as he's known locally and in a column he writes for the Charleston City Paper, has floated the possibility of a return to politics this fall, telling the Charleston Post and Courier earlier this month that he may mount an independent bid against Republican Sen. Lindsey Graham. Graham is already locked in a four-way primary for a return bid to the Senate, which is he is expected to win.
"We'll cross that bridge when we get there," Graham said, when asked about a possible challenge from Ravenel, noting that he and his team are focused on the primary. "He comes from a fine family," Graham added.
Asked if he'd seen Southern Charm, Graham laughed. "I'll wait to read the book," he said.
Ravenel's behavior on the show thus far hardly meshes with a man planning a political comeback. In the first episode of the series, the 51-year-old drinks heavily with his friends while hitting on a bevy of women half his age, searching for the perfect political wife, before bedding one of them. "I normally don't have a thing for redheads," he reflects the next morning. "My intuition said "'no,' but maybe my little head was saying 'yes' because she was hot."
He follows up later at the dinner table with a joke about his cocaine arrest. "I didn't have a problem with cocaine. What I realized later is I just really liked the smell of it," he says.
After a friend pulls him aside to talk about getting more serious about his political future — insisting, "Bro, no more coke jokes" — Ravenel responds that he has to be true to himself.
"If I want to be out there and swim with some cute girls, I'm going to do it.... I say f--k public perception," he says. "To thine own self be true and as night follows day, thou canst be false to another man. That's Macbeth." (It's actually Hamlet, and while not a perfect quotation, the man had been playing polo and drinking all day, so points for the attempt.)
"Macbeth would never be elected today with that f--king advice," friend and fellow cast member Whitney Sudler-Smith retorts.
"Well, then I won't be elected," Ravenel says.
His friend and political consultant, Will Folks, who also appears on the show, says that's just Ravenel. "There is no obfuscation when it comes to interacting with Thomas Ravenel. There is no confusion over where he's coming from," Folks told National Journal.
That kind of honesty appeals to voters, and particularly conservatives, he argued, calling Ravenel a "Southern Bulworth."
"The guy is ideologically in line very much with the growing fiscal-conservative, social-libertarian movement. His ideology is right. His personal life is a little bit out there, but he always says he's got two out of three and two out of three ain't bad," Folks said.
It should be noted that Folks, a former Sanford press secretary, is the conservative Palmetto State blogger who earned his 15 minutes of fame when he claimed in 2010 that he had had an extramarital affair with now-Gov. Nikki Haley. Haley has always denied the accusation, and the claims were never proven to be true.
Should Ravenel mount a bid for office this year — and that's far from a certainty — Folks said that he won't walk away from his arrest record. Both men are libertarians and believe that what Ravenel did should not have been illegal in the first place. "I think his view is what he did was circumstantially wrong — meaning, it was a lapse of judgment based on his position — but that it is an action that is not inherently wrong and should not be policed by the governmental authorities. And I agree with him a hundred percent on that," Folks said.
Ravenel's crusade against the nation's drug laws could find support among libertarians. But it could backfire on a man who so recently was ejected from state office, said Joel Sawyer, who served as communications director for Sanford's successful return campaign to Congress and worked with both men as the governor's spokesman. "There's no sense of contrition whatsoever," Sawyer said, adding that "he's basically saying "'the only thing I did wrong was get caught.'"
In addition to the cocaine incident, there are other obstacles to Ravenel's political future.
In 2011, he threatened to give up his U.S. citizenship after learning that, as a convicted felon, he could no longer legally purchase a firearm. Folks's blog picked up the story. But Ravenel's initial announcement, made via Facebook, has since been deleted.
Just this past July, he was arrested on a drunk-driving charge in East Hampton. He has disputed the charges, arguing that he had only two drinks that evening before getting behind the wheel. The case was recently pushed back until May 8.
Sawyer put Ravenel's chances of winning federal office at "somewhere between zero and snowball's chance in hell."
"I don't see that there's any way on this Earth that someone who acts like Thomas Ravenel has a political future," Sawyer said. The difference between the two Palmetto State underdogs, he argues, is that Sanford ran his campaign "with a very sincere sense of humility" while, "on the other hand, you have a person who is a living monument to hubris."
If there's one thing that's clear from Southern Charm, however, it's that Ravenel is indeed charming. While playing bocce ball with a young woman, he actually manages to pull off the line, "You know when the first time I played this game was? In prison."
And that, coupled with his wealth and family name (Ravenel comes from a family that's ruled Charleston's high society since the 1680s), could give the former treasurer a shot, however small, at returning to political life. "Ninety-five percent of the electorate, all that they know about you is what they see on TV, your commercials," Sawyer said. "He does have enough personal resources to make people pay attention to him. Hopefully, at the end of the day, he'll get his "'look at me' from the TV show."
Although Ravenel wouldn't be the first reality TV star to make it to Congress — Rep. Sean Duffy of Wisconsin was on The Real World in the 1990s — the proximity of the taping to a political campaign announcement could be a liability. "A lot of people view him as arrogant, a lot of people view him as condescending," Folks said. "I think if you spend a day with the guy, I think you walk away liking him."
Asked if he would have suggested that Ravenel go on Southern Charm before announcing a campaign, Folks demurred. "I mean, the beautiful thing about Thomas is you can tell him whatever you want, but he's going to do what he wants."