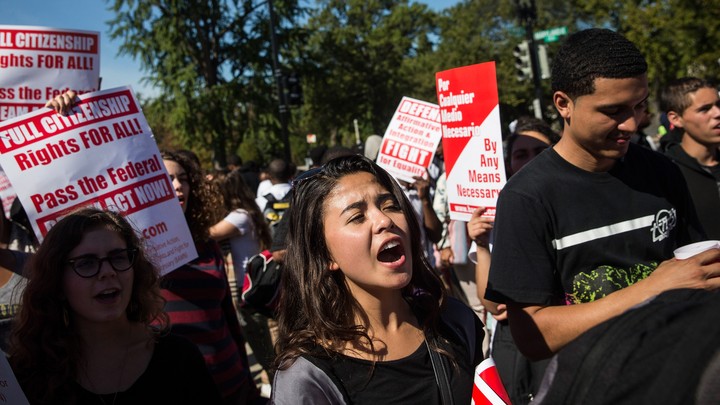 Here's a roundup of the education articles that caught Next America's eye from Mar. 3 to Mar. 10. All address trends that particularly affect minority students.
University of California Still Struggles to Meet Diversity Goals. Eighteen years after California banned affirmative action in college admissions, the state's most selective public university system is still struggling to meet diversity goals, UC officials say in a friend-of-the-court brief submitted to the Supreme Court. The Supreme Court is in the process of reviewing an almost identical ban at Michigan's public universities. The Wall Street Journal
Education and President Obama's 2015 Budget. The president's proposed budget for next year includes a $100 increase to the maximum Pell Grant award, $7 billion over 10 years to reward colleges that do a good job of graduating Pell recipients, and $4 billion over four years to encourage states to maintain higher-education spending. The Chronicle of Higher Education has all the details, including proposed percent increases and decreases in higher-education funding. The Chronicle of Higher Education
States With Fast-Growing Student Populations Spend Least On Education. The number of K-12 public-school students in both Nevada and Arizona is expected to grow 20 percent over the next decade. Utah will grow by 19 percent, Texas by 15 percent, and Florida by 14 percent, according to federal projections. Those states all happen to fall in the bottom 10 states in an Education Week list of state public education expenditures per pupil. Hispanic students will account for almost all the net growth in school population. The Atlantic
Do Transfer Students Earn Less? A working paper released by the National Bureau of Economic Research suggests that they might. In Texas, transfer students from non-flagship four-year and community colleges who graduate from the University of Texas at Austin go on to earn between 11 percent and 14 percent less than students who enroll in the state flagship as freshmen. Students who transfer to non-flagship four-year universities go on to earn 2-4 percent less than students who enroll as freshmen. The Chronicle of Higher Education
Cost Increasingly Drives Student Enrollment Decisions. Students are turning down offers from their first-choice colleges in order to head to a less expensive university, according to the annual freshman survey conducted by the Higher Education Research Institute at the University of California (Los Angeles). Students still say that academic reputation and job prospects are the most important factors in picking a college or university, but since 1973 increasing numbers of freshmen surveyed have also cited availability of financial aid. The Chronicle of Higher Education
This article is part of our Next America: Higher Education project, which is supported by grants from the Bill & Melinda Gates Foundation and Lumina Foundation.
We want to hear what you think about this article. Submit a letter to the editor or write to letters@theatlantic.com.