Bobby Jindal Thinks Obama Is Stupid
The president has been called many things, but dumb is a new one.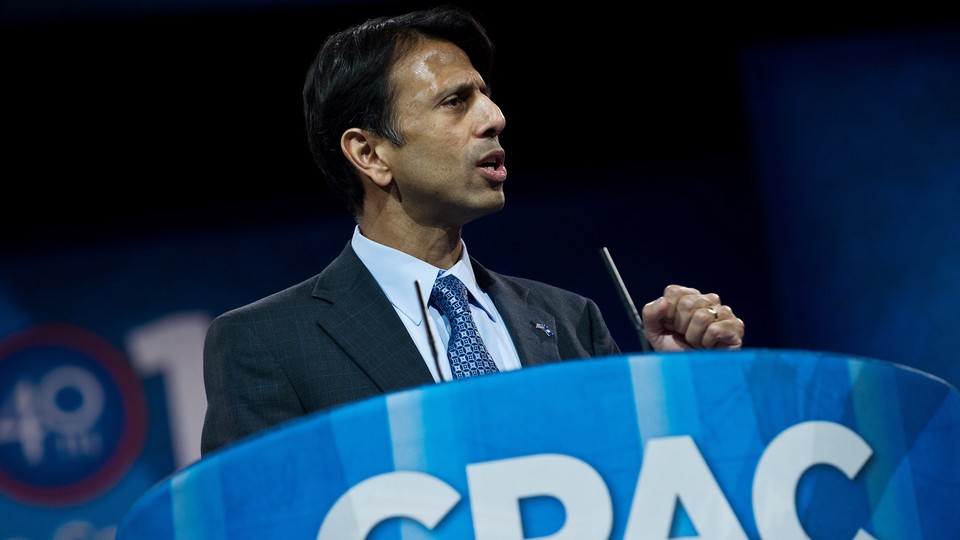 We don't hear this talking point from Republicans very often: President Obama is just not a smart man.
Speaking at the Conservative Political Action Conference on Thursday, Louisiana Gov. Bobby Jindal used his fair share of often-used jabs at the president: Benghazi, IRS, Obamacare, food stamps, and taxes. He even made the old Jimmy Carter comparison, calling Obama the worst president in modern history.
"To President Carter, I want to issue a sincere apology," Jindal said to a mostly tame audience. "President Obama has proven me wrong."
But he added a new jab to the mix.
"We have long thought and said that this president is a smart man," Jindal continued, citing Obama's desire to decrease military spending. "It may be time to revisit that assertion."
It's quite the hit on a well-educated, former law professor and author of two books. But the failure of Obama's presidency, Jindal contends, might not be because of policies. Obama just might not be the sharpest tool in the shed.
"Again, we got a constitutional scholar as a president," Jindal said. "It might benefit if he actually reads the Constitution now and then."
He continued, "If I were him, I'd consider suing Harvard Law School"¦. I'm not sure what he learned in three years."
Jindal is used to calling people stupid. In an interview with Politico following Mitt Romney's loss for the presidency, Jindal said the GOP needs to "stop being the stupid party."
Jindal, who has fallen by the wayside in recent years in national popularity, is trying to boost his party clout. While this might not be the classiest way of doing it, this is almost certain to get the attention he's seeking.
{{ BIZOBJ (video: 4788) }}