Black Pathology and the Closing of the Progressive Mind
How Jonathan Chait and other Obama-era liberals misunderstand the role of white supremacy in America's history and present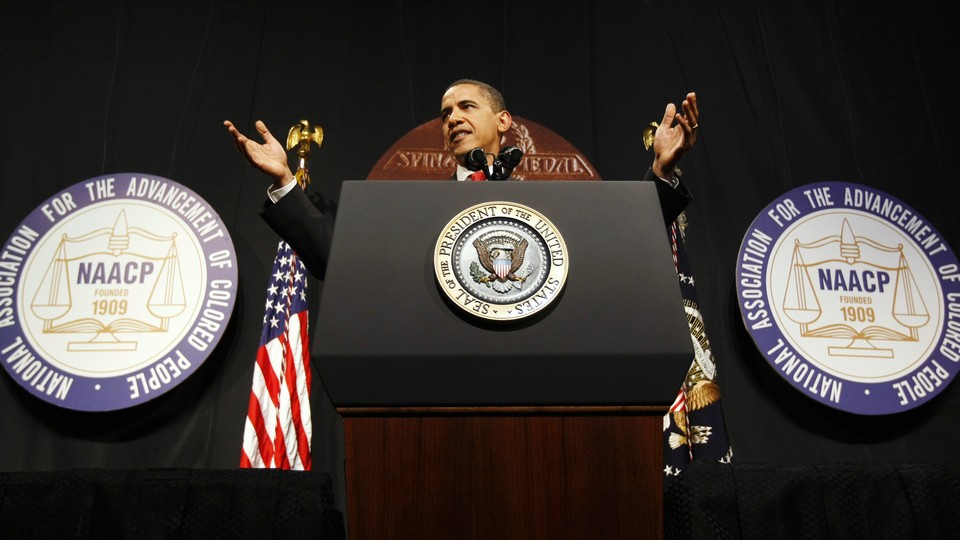 Among opinion writers, Jonathan Chait is outranked in my esteem only by Hendrik Hertzberg. This lovely takedown of Robert Johnson is a classic of the genre, one I studied incessantly when I was sharpening my own sword. The sharpening never ends. With that in mind, it is a pleasure to engage Chait in the discussion over President Obama, racism, culture, and personal responsibility. It's good to debate a writer of such clarity—even when that clarity has failed him.
On y va.
Chait argues that I've conflated Paul Ryan's view of black poverty with Barack Obama's. He is correct. I should have spent more time disentangling these two notions, and illuminating their common roots—the notion that black culture is part of the problem. I have tried to do this disentangling in the past. I am sorry I did not do it in this instance and will attempt to do so now.
​Arguing that poor black people are not "holding up their end of the bargain," or that they are in need of moral instruction is an old and dubious tradition in America. There is a conservative and a liberal rendition of this tradition. The conservative version eliminates white supremacy as a factor and leaves the question of the culture's origin ominously unanswered. This version can never be regarded seriously. Life is short. Black life is shorter.
On y va.
The liberal version of the cultural argument points to "a tangle of pathologies" haunting black America born of oppression. This argument—which Barack Obama embraces—is more sincere, honest, and seductive. Chait helpfully summarizes:
The argument is that structural conditions shape culture, and culture, in turn, can take on a life of its own independent of the forces that created it. It would be bizarre to imagine that centuries of slavery, followed by systematic terrorism, segregation, discrimination, a legacy wealth gap, and so on did not leave a cultural residue that itself became an impediment to success.
The "structural conditions" Chait outlines above can be summed up under the phrase "white supremacy." I have spent the past two days searching for an era when black culture could be said to be "independent" of white supremacy. I have not found one. Certainly the antebellum period, when one third of all enslaved black people found themselves on the auction block, is not such an era. And surely we would not consider postbellum America, when freedpeople were regularly subjected to terrorism, to be such an era. 
We certainly do not find such a period during the Roosevelt-Truman era, when this country erected a racist social safety net, leaving the NAACP to quip that the New Deal was "like a sieve with holes just big enough for the majority of Negroes to fall through." Nor do we find it during the 1940s, '50s and '60s, when African-Americans—as a matter of federal policy—were largely excluded from the legitimate housing market. Nor during the 1980s when we began the erection of a prison-industrial complex so vast that black males now comprise 8 percent of the world's entire incarcerated population.
And we do not find an era free of white supremacy in our times either, when the rising number of arrests for marijuana are mostly borne by African-Americans; when segregation drives a foreclosure crisis that helped expand the wealth gap; when big banks busy themselves baiting black people with "wealth-building seminars" and instead offering "ghetto loans" for "mud people"; when studies find that black low-wage applicants with no criminal record "fared no better than a white applicant just released from prison"; when, even after controlling for neighborhoods and crime rates, my son finds himself more likely to be stopped and frisked. Chait's theory of independent black cultural pathologies sounds reasonable. But it can't actually be demonstrated in the American record, and thus has no applicability.
What about the idea that white supremacy necessarily "bred a cultural residue that itself became an impediment to success"? Chait believes that it's "bizarre" to think otherwise. I think it's bizarre that he doesn't bother to see if his argument is actually true. Oppression might well produce a culture of failure. It might also produce a warrior spirit and a deep commitment to attaining the very things which had been so often withheld from you. There is no need for theorizing. The answers are knowable.
There certainly is no era more oppressive for black people than their 250 years of enslavement in this country. Slavery encompassed not just forced labor, but a ban on black literacy, the vending of black children, the regular rape of black women, and the lack of legal standing for black marriage. Like Chait, 19th-century Northern white reformers coming South after the Civil War expected to find "a cultural residue that itself became an impediment to success."
In his masterful history, Reconstruction, the historian Eric Foner recounts the experience of the progressives who came to the South as teachers in black schools. The reformers "had little previous contact with blacks" and their views were largely cribbed from Uncle Tom's Cabin. They thus believed blacks to be culturally degraded and lacking in family instincts, prone to lie and steal, and generally opposed to self-reliance: 
Few Northerners involved in black education could rise above the conviction that slavery had produced a "degraded" people, in dire need of instruction in frugality, temperance, honesty, and the dignity of labor ... In classrooms, alphabet drills and multiplication tables alternated with exhortations to piety, cleanliness, and punctuality.
In short, white progressives coming South expected to find a black community suffering the effects of not just oppression but its "cultural residue." 
Here is what they actually found:
During the Civil War, John Eaton, who, like many whites, believed that slavery had destroyed the sense of family obligation, was astonished by the eagerness with which former slaves in contraband camps legalized their marriage bonds. The same pattern was repeated when the Freedmen's Bureau and state governments made it possible to register and solemnize slave unions. Many families, in addition, adopted the children of deceased relatives and friends, rather than see them apprenticed to white masters or placed in Freedmen's Bureau orphanages. 

By 1870, a large majority of blacks lived in two-parent family households, a fact that can be gleaned from the manuscript census returns but also "quite incidentally" from the Congressional Ku Klux Klan hearings, which recorded countless instances of victims assaulted in their homes, "the husband and wife in bed, and … their little children beside them."
The point here is rich and repeated in American history—it was not "cultural residue" that threatened black marriages. It was white terrorism, white rapacity, and white violence. And the commitment among freedpeople to marriage mirrored a larger commitment to the reconstitution of family, itself necessary because of systemic white violence.
"In their eyes," wrote an official from the Freedmen's Bureau, in 1865. "The work of emancipation was incomplete until the families which had been dispersed by slavery were reunited."
White people at the time noted a sudden need in black people to travel far and wide. "The Negroes," reports one observer, "are literally crazy about traveling." Why were the Negroes "literally crazy about traveling?" Part of it was the sheer joy of mobility granted by emancipation. But there was something more: "Of all the motivations for black mobility," writes Foner, "none was more poignant than the effort to reunite families separated during slavery."
This effort continued as late the onset of the 20th century, when you could still find newspapers running ads like this:
During the year 1849, Thomas Sample carried away from this city, as his slaves, our daughter, Polly, and son …. We will give $100 each for them to any person who will assist them … to get to Nashville, or get word to us of their whereabouts.
Nor had the centuries-long effort to destroy black curiosity and thirst for education yielded much effect:
Perhaps the most striking illustration of the freedmen's quest for self-improvement was their seemingly unquenchable thirst for education .... The desire for learning led parents to migrate to towns and cities in search of education for their children, and plantation workers to make the establishment of a school-house "an absolute condition" of signing labor contracts ...

Contemporaries could not but note the contrast between white families seemingly indifferent to education and blacks who "toil and strive, labour and endure in order that their children 'may have a schooling'." As one Northern educator remarked: "Is it not significant that after the lapse of one hundred and forty-four years since the settlement [of Beaufort, North Carolina], the Freedmen are building the first public school-house ever erected here."
"All in all," Foner concludes, "the months following the end of the Civil War were a period of remarkable accomplishment for Southern blacks." This is not especially remarkable, if you consider the time. Education, for instance, was not merely a status marker. Literacy was protection against having your land stolen or being otherwise cheated. Perhaps more importantly, it gave access to the Bible. The cultural fruits of oppression are rarely predictable merely through theorycraft. Who would predicted that oppression would make black people hungrier for education than their white peers? Who could predict the blues?
And culture is not exclusive. African-American are Americans, and have been Americans longer than virtually any other group of white Americans. There is no reason to suppose that enslavement cut African-Americans off from a broader cultural values. More likely African-Americans contributed to the creation and maintenance of those values.
The African-Americans who endured enslavement were subject to two and half centuries of degradation and humiliation. Slavery lasted twice as long as Jim Crow and was more repressive. If you were going to see evidence of a "cultural residue" which impeded success you would see it there. Instead you find black people desperate to reconstitute their families, desperate to marry, and desperate to be educated. Progressives who advocate the 19th-century line must specifically name the "cultural residue" that afflicts black people, and then offer evidence of it. Favoring abstract thought experiments over research will not cut it.
Nor will pretending that old debates are somehow new. For some reason there is an entrenched belief among many liberals and conservatives that discussions of American racism should begin somewhere between the Moynihan Report and the Detroit riots. Thus Chait dates our dispute to the fights in the '70s between liberals. In fact, we are carrying on an argument that is at least a century older.
The passage of time is important because it allows us to assess how those arguments have faired. I contend that my arguments have been borne out, and the arguments of progressives like Chait and the president of the United States have not. Either Booker T. Washington was correct when he urged black people to forgo politics in favor eliminating "the criminal and loafing element of our people" or he wasn't. Either W.E.B. Du Bois was correct when he claimed that correcting "the immorality, crime and laziness among the Negroes" should be the "first and primary" goal or he was not. The track record of progressive moral reform in the black community is knowable.
And it's not just knowable from Eric Foner. It can be gleaned from reading the entire Moynihan Report—not just the "tangle of pathologies" section—and then comparing it with Herb Gutman's The Black Family in Slavery and Freedom. It can be gleaned from Isabel Wilkerson's history of the Great Migration, The Warmth of Other Suns. One of the most important threads in this book is Wilkerson dismantling of the liberal theory of cultural degradation.
I want to conclude by examining one important element of Chait's argument—the role of the president of the United States who also happens to be a black man:
If I'm watching a basketball game in which the officials are systematically favoring one team over another (let's call them Team A and Team Duke) as an analyst, the officiating bias may be my central concern. But if I'm coaching Team A, I'd tell my players to ignore the biased officiating. Indeed, I'd be concerned the bias would either discourage them or make them lash out, and would urge them to overcome it. That's not the same as denying bias. It's a sensible practice of encouraging people to concentrate on the things they can control.

Obama's habit of speaking about this issue primarily to black audiences is Obama seizing upon his role as the most famous and admired African-American in the world to urge positive habits and behavior.
Chait's metaphor is incorrect. Barack Obama isn't the coach of "Team Negro," he is the commissioner of the league. Team Negro is very proud that someone who served on our staff has risen (for the first time in history!) to be commissioner. And Team Negro, which since the dawn of the league has endured biased officiating and whose every game is away, hopes that the commissioner's tenure among them has given him insight into the league's problems. But Team Negro is not—and should not be—confused about the commissioner's primary role.
"I'm not the president of black America," Barack Obama has said. "I'm the president of the United States of America."
Precisely.
And the president of the United States is not just an enactor of policy for today, he is the titular representative of his country's heritage and legacy. In regards to black people, America's heritage is kleptocracy—the stealing and selling of other people's children, the robbery of the fruits of black labor, the pillaging of black property, the taxing of black citizens for schools they can not attend, for pools in which they can not swim, for libraries that bar them, for universities that exclude them, for police who do not protect them, for the marking of whole communities as beyond the protection of the state and thus subject to the purview of outlaws and predators. 
The bearer of this unfortunate heritage feebly urging "positive habits and behavior" while his country imprisons some ungodly number of black men may well be greeted with applause in some quarters. It must never be so among those of us whose love of James Baldwin is true, whose love of Ida B. Wells is true, whose love of Harriet Tubman and our ancestors who fought for the right of family is true. In that fight America has rarely been our ally. Very often it has been our nemesis.
Obama-era progressives view white supremacy as something awful that happened in the past and the historical vestiges of which still afflict black people today. They believe we need policies—though not race-specific policies—that address the affliction. I view white supremacy as one of the central organizing forces in American life, whose vestiges and practices afflicted black people in the past, continue to afflict black people today, and will likely afflict black people until this country passes into the dust. 
There is no evidence that black people are less responsible, less moral, or less upstanding in their dealings with America nor with themselves. But there is overwhelming evidence that America is irresponsible, immoral, and unconscionable in its dealings with black people and with itself. Urging African-Americans to become superhuman is great advice if you are concerned with creating extraordinary individuals. It is terrible advice if you are concerned with creating an equitable society. The black freedom struggle is not about raising a race of hyper-moral super-humans. It is about all people garnering the right to live like the normal humans they are.