Arizona Governor Jan Brewer Won't Seek Re-Election
Arizona Governor Jan Brewer won't seek re-election, Brewer announced Wednesday afternoon.
This article is from the archive of our partner
.
Our work continues and our comeback story is still being written. I look forward to seeing that story continue to unfold for years to come.

— Jan Brewer (@GovBrewer) March 12, 2014
Arizona Gov. Jan Brewer won't seek re-election, Brewer announced Wednesday afternoon. Brewer, a Republican, had previously indicated that she might consider challenging the term limits imposed on the governor's office by the state constitution and run for re-election once more. With her announcement, the field is officially open for the state's governorship for the first time since 2002 — Brewer finished the last year of Janet Napolitano's second term as governor after the Democrat was picked to head the Department of Homeland Security in 2009. She was elected to a full four-year term as governor in 2010.
Brewer spoke at Park Meadows Elementary School in Glendale, the school her children attended. She said: "there does come a time to pass the torch of leadership. After completing this term in office, I will be doing just that."
Although the Arizona state constitution limits individuals from serving more than two consecutive terms as governor, Brewer had previously indicated that her legal team thought she might be exempt from that requirement, because her time in office began when Napolitano left the office. "I haven't ruled it out, and I've been encouraged by people — legal scholars and other people — that it's probably something that I ought to pursue," Brewer told the Arizona Republic in 2012.
Brewer has been one of the country's more controversial governors: weeks ago, she vetoed a controversial anti-gay bill passed by the state legislature. And in 2012, the governor took a defense of her state's strict anti-immigration law, SB 1070, all the way to the Supreme Court (in a somewhat politically ambiguous decision, a large portion of the law was struck down). In her statement, Brewer promised to keep up the pace for her remaining few months in office, saying that "both my pen and my veto stamp have plenty of ink."
Brewer became something of an early Tea Party hero in 2010 after she was photographed pointing her finger at President Obama's face: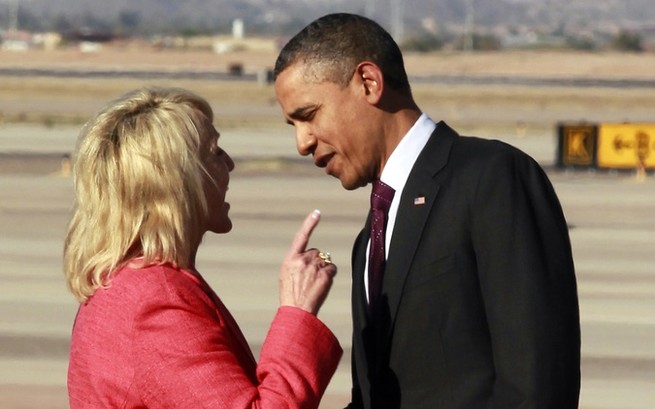 Although her subsequent tarmac greetings to Obama were much more cordial, the two have had a less than chummy relationship over the years.
This article is from the archive of our partner The Wire.