An Early Childhood Intervention That Has Been A Long Time Coming
New York is close to a breakthrough in funding and providing universal pre-K.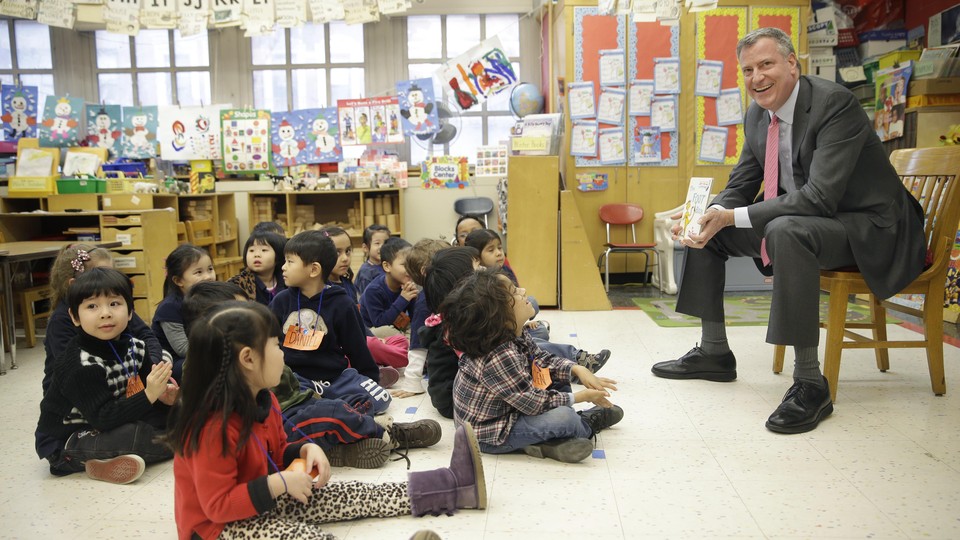 For the first time in years, policymakers in New York City and Albany are working in earnest to deliver what should be a basic right for every child: access to a high-quality pre-kindergarten (pre-K) program. As New York City's former Deputy Commissioner for Early Childhood Services, and now Executive Director of Children's Defense Fund-New York, I know that one of the most effective strategies to address poverty and inequality is to invest in early childhood development and education.
New York's legislature voted in 1997 — 17 years ago — to fund universal pre-K, but state lawmakers have never been able to identify a reliable funding source to deliver on the promise. Now that's changed. Mayor Bill de Blasio has laid out a concrete and common-sense proposal to modestly raise taxes on the wealthiest residents in New York City to fund pre-K programs there. Governor Andrew Cuomo agrees pre-K is a priority and proposed a modest investment toward achieving universality. And in the most recent sign that the years-old impasse is nearing a solution, the State Assembly and Senate are both proposing strategies to finance pre-K, with the Assembly in full support of Mayor de Blasio's plan. This is a tremendously encouraging first step.
The case for making sure 4-year-olds can access high-quality pre-K is simple and powerful. We know if we properly support children in their early years of rapid brain development, not only will they benefit, but so will our state. Investing in early education is not only the just but also the smart and cost-effective thing to do. Nobel laureate economist James Heckman estimates a lifelong economic rate of return of 7 to 10 percent each year for every dollar invested in quality early childhood programs. Students with access to good pre-K programs are much more likely than their peers to graduate from high school and achieve economic stability.
According to New York City figures, there are currently more than 53,000 children in the five boroughs who don't have the opportunity to attend pre-K programs, or whose pre-K programs are inadequate. The Mayor's plan proposes reaching all those children. It must happen now. We believe every child in New York State should also have that opportunity to go to a quality preschool, and we applaud our legislators for zeroing in on a mechanism to deliver pre-K statewide at long last.
The uniting principle here is that when we know we can do more to give children a foundation for future success — and when the political will exists and the funding is within reach--it is urgent that we seize the moment. We know high-quality pre-K and full-day kindergarten are vital programs that help children thrive, and the momentum in New York is heartening. Now it's time to follow through and make this longstanding promise a reality.
--Melanie Hartzog is the executive director of the Children's Defense Fund-New York office. The Children's Defense Fund-New York (CDF-NY) is the New York office of the Children's Defense Fund whose Leave No Child Behind® mission is to ensure every child a Healthy Start, a Head Start, a Fair Start, a Safe Start and a Moral Start in life and successful passage to adulthood with the help of caring families and communities. For more information about CDF-NY, visit www.cdfny.org.
HAVE AN OPINION ON POLICY AND CHANGING DEMOGRAPHICS?
The Next America welcomes op-ed pieces that explore the political, economic and social impacts of the profound racial and cultural changes facing our nation, particularly relevant to education, economy, the workforce and health. Email Janell Ross at jross@nationaljournal.com. Please follow us on Twitter and Facebook.