A Radical Rethinking of Primary Care That Could Make Everyone Healthier
Iora Health practices replace the general practitioner model with a hands-on health team.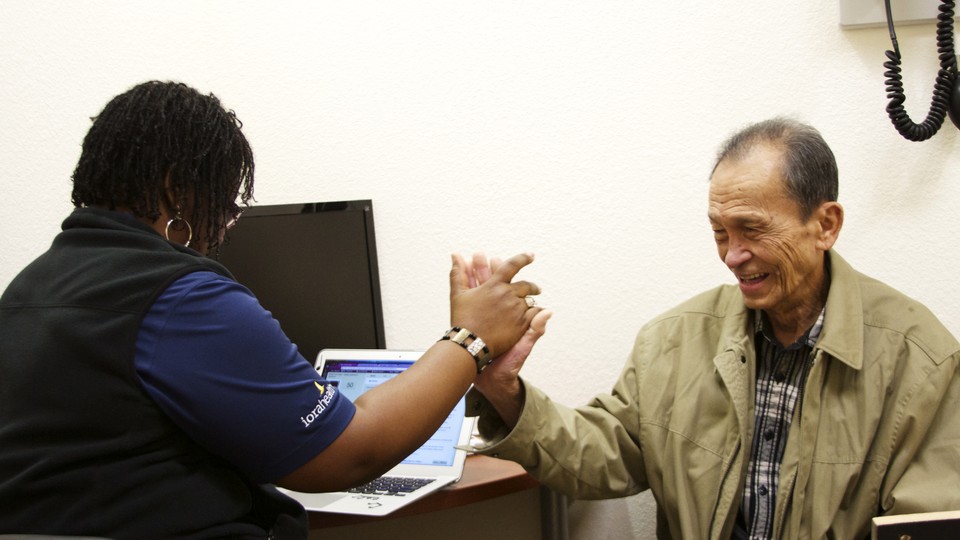 At 8:15 every weekday morning, the Culinary Extra Clinic team meets to talk about patients its members are most worried about. There are more than one thousand regular clinic patients in the Las Vegas area, most of whom work in hospitality jobs at the city's hotels and casinos. All of the patients are chronically ill, and the team members discuss those who are currently in the hospital or have just been discharged. But they also focus on other, less obvious, concerns.
The team — which includes doctors, health coaches, a social worker and a behavioral health specialist — might brainstorm a way to pay for an expensive test, like an MRI, that a patient can't afford. They might decide to take a patient to the grocery store. Last week, they chose to soothe a hospitalized patient's overwhelmed wife by getting her a massage. Carolina Pavese, the head nurse, says of the team's approach: "If that's going to make it better, let's do that."
The clinic practice is run by Iora Health, a Cambridge-based start-up that believes it can make patients healthier at a lower cost by increasing access to basic health care services and by thinking more broadly about what basic services should be. "We often say, our job is not to improve people's health," says founder and CEO Dr. Rushika Fernandopulle. "Our job is to improve people's life. And that will improve people's health."
Nationally, seven of 10 Americans die from chronic diseases — primarily heart disease, cancer, and stroke. Low-income and minority groups tend to have higher risk factors for those diseases, like high blood pressure, according to a 2012 statistical update from the American Heart Association. The update also found that African-Americans and Hispanics were less likely than whites to receive all the suggested care for addressing those risk factors.
"Iora health was never meant as a health-disparities reduction effort, but it turns out that actually by doing primary care right — which we do — you are actually able to reduce disparities considerably," Fernandopulle says. A practicing primary care doctor and former health-care consultant, he founded Iora Health in 2011 because he wanted to reinvent the way basic health care is delivered.
Typically, says Fernandopulle, primary care accounts for about 5 percent of total health-care spending. Iora Health asks insurance companies sponsoring a practice to double that amount. The company also pays doctors fixed salaries, a change Fernandopulle says leads doctors to recognize that "my job is to take care of this whole population, and to help them no matter what it takes."
Iora health-care teams are also organized very differently than the average medical office. A typical Iora Health practice includes two doctors, a nurse, a social worker, and more than a half-dozen health coaches. Each patient is considered the responsibility of the entire team. Depending on the services patients want and need, additional health-care professionals might round out the team — a nutritionist, say, or a personal trainer.
Iora Health patients can drop by without an appointment, and they are encouraged to stay in touch with health coaches and doctors by email, text messages, phone calls, and video conferencing. The company hires staff who speak the languages and reflect the cultural backgrounds of the patients they serve. At the Culinary Extra Clinic, where 73 percent of patients are Hispanic and the average age is 56, patients tend to favor face-to-face meetings and phone calls.
This new approach to health care requires partnering with insurance providers willing to pay more for primary care. The Culinary Extra Clinic is sponsored by the Culinary Health Fund, a plan that covers members of the local culinary workers union and their dependents. "It was expensive for us in the beginning," says Kim Voss, senior director of health care networks and advocacy at the Culinary Health Fund. "But it was a long-term commitment to improve participant health and to be fiscally responsible."
Other practices — such as a clinic for Dartmouth College employees in Hanover, N.H., and clinics for members of the Freelancers Union in New York City — serve all adults covered by the sponsoring insurance company. Because they tend to serve healthier populations, those practices can reach many more patients.
Culinary Extra Clinic patients are generally happy customers. Arrangements with insurers guarantee that patients don't have to pay out of pocket for any care they receive at an Iora practice. "They take care of everything you need there," says Alfred Flores, 73, a recent retiree who worked as a cook at the Stratosphere, a hotel and casino on the Strip, for almost two decades. The only downside, he says, is that wait times for appointments can sometimes be long. Doctors and health coaches take time with their patients, and the large number of walk-ins makes each day's schedule unpredictable.
Flores also likes the fact that Culinary Extra Clinic staff greet him with hugs and they know everyone by name. Clinic staff are also aided by a software system that alerts the team to signs of trouble, like when a patient fails to pick up his medication, so they can reach out with assistance. Perhaps more important, each patient has a health coach who serves as a listener and a guide. Health coaches perform some basic clinical tasks, such as taking vital signs, but many have no formal clinical training. They're selected for their empathy. Sometimes, patients will stop by just because they want to talk, says Yanell Nava, a nurse and health coach at the Culinary Extra Clinic. Often, it turns out that seemingly unrelated circumstances in a patient's life are affecting his or her health.
It's too early to tell whether the Culinary Extra Clinic is improving health and lowering costs, Voss says. But evidence from an Atlantic City, N.J. clinic that Fernandopulle established along the same model before he founded Iora suggests that it might. In 2009, patients enrolled in the Atlantic City chronic-care clinic experienced 48 percent fewer emergency room visits and 41 percent fewer hospital admissions than a comparable population, according to an evaluation by Dr. Niteesh Choudhry, an associate professor at Harvard Medical School. Health care costs for the Atlantic City group were 12.3 percent lower overall than for the control group.
And all Atlantic City patients experienced reductions in blood pressure, cholesterol, and blood sugar levels. African-American and Hispanic patients tended to enter the practice with higher levels of all three than their white and Asian-American counterparts. "Six months after being in the practice, those disparities pretty much vanished. You couldn't tell the difference," Fernandopulle says.
Iora Health is privately funded by venture capital funds and several private investors, including Tony Hsieh, CEO of the Las Vegas-based Zappos. The company isn't yet profitable but it's already succeeded in proving that a culture shift in health care provision is possible. "In health care, we're here to do the right thing for people," says head nurse Pavese. "If you start with that and stick to it, then good things happen for them and everyone around them." That approach, she says, has renewed her faith in her profession.