A Milestone, and Miles to Go, for Obamacare
As the health care law's first enrollment period comes to an end, advocates prepare to dive back in.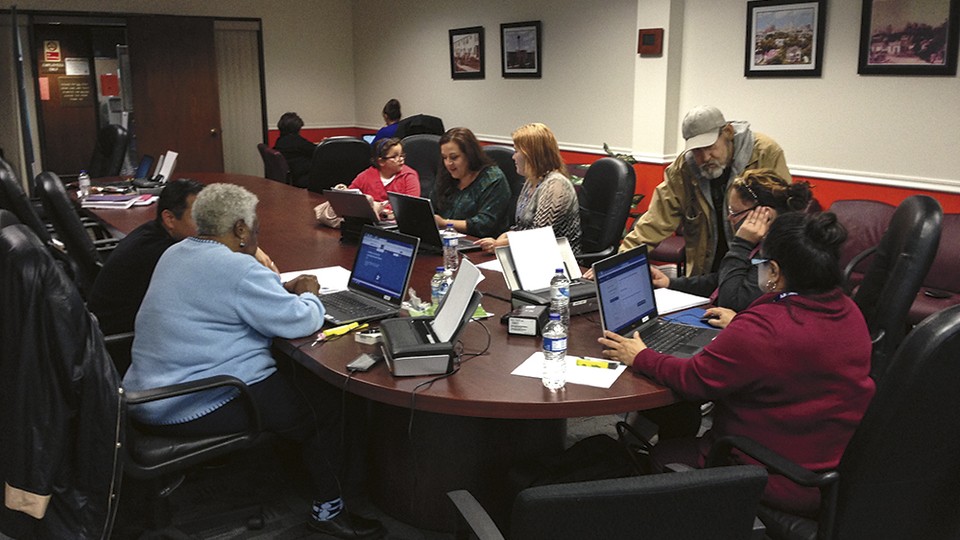 SAN ANTONIO — The local coalition working to enroll this city's legion of uninsured in coverage provided by President Obama's health care law has operated with crusading fervor.
For Monday's quasi-deadline for the Affordable Care Act's open-enrollment period, the groups have scheduled a marathon at the cavernous Alamodome that will likely keep counselors at their keyboards signing up applicants until midnight. "I just knew I could not wake up on April 1 knowing that I went home at 5 p.m. on the day before," says Andrea Guajardo, the high-octane community health director for the nonprofit CHRISTUS Santa Rosa health system. "The ACA has the ability to change the health trajectory [of this community] for generations."
Few places match San Antonio in capturing the need that inspired health reform — or the many challenges the law faces as enrollment largely concludes. (The Obama administration this week allowed extensions beyond March 31 for those whose applications remain uncompleted because of technical problems.)
Lack of insurance has long burdened this working-class, heavily Hispanic community. In Bexar County, where San Antonio sits, one-fifth of all residents lack health insurance, some 340,000 people. Guajardo, who didn't see a dentist until she was 17 because she grew up uninsured, says coverage has seemed so distant that many people simply expect they won't receive the care they need to avoid chronic conditions, like diabetes, common in their families. "A lot of folks have accepted the idea that coverage has been out of reach for them," agrees Rep. Joaquin Castro, D-Texas, who represents the city. "But that's what the law is designed to change."
Locally, as nationally, fulfilling that promise has proven frustrating, messy, and rewarding. The corps of counselors logging long hours registering the uninsured points to exhilarating moments of relief in the eyes of people who learn they can afford coverage for the first time. Watching families enroll is "life changing," says Doris McNary, a Texas organizer for Enroll America, the leading national group supporting registration. "You are sucking dirt at the end of the day, but when you lay your head down you know those kids are going to keep their daddy longer."
Yet the work of the Enroll SA coalition also reveals the continuing headwinds. One is resistance from Republican-led states. Texas, with 5.7 million uninsured, has provided no support for outreach and, like about half the states, has refused to expand Medicaid for working poor adults who make too little to qualify for the ACA's subsidies to buy private insurance. In San Antonio, that decision has disqualified about half of those seeking coverage, the coalition calculates.
Other hurdles loom. Particularly among Hispanics, many of the uncovered have no experience with insurance and little understanding of how it could help them. While counselors here universally say the federal website is now working well, the controversy over its launch, the procession of delayed deadlines, and the persistent political conflict have left many who might benefit from the law skeptical. In particular, counselors must overcome widespread fear that coverage will cost too much, although for this low-income population, premiums are often minimal after federal subsidies. As enrollment concludes, it is also clear the administration overestimated the ability of the uninsured to enroll themselves online and underestimated the difficulty of convincing healthy young people to participate. Both suggest a need for greater investment in outreach and counselors before enrollment resumes next fall.
In all these ways, the law is emerging from this first open-enrollment period in an equivocal political position. Registration hasn't gone so badly as to guarantee its doom — nor so well as to ensure its survival. The direction of premiums remains uncertain. The law faces relentless resistance from Republicans in the courts, the states, and Congress, and an intensity gap in public opinion. Groups that most dislike Obamacare (such as older and blue-collar whites) look implacably opposed; meanwhile, supporters are still struggling to get young people and minorities to sign up — much less to turn out to vote in November. Overall "attitudes about the law seem stable and negative," says GOP pollster Bill McInturff.
Given those dynamics, Democrats might justifiably ask whether their pursuit of universal health care has produced more benefits or costs. Bill Clinton's unsuccessful reform push helped trigger the 1994 GOP landslide that gave Republicans almost unbroken control of both congressional chambers for the next 12 years; the backlash against Obama's plan helped Republicans win the House in 2010 and could help deliver them the Senate in November. Absent those losses, Democrats might have passed many of their other priorities, from immigration reform to universal preschool.
Health reform won't justify those costs unless Obama can politically entrench it before he leaves office, mostly by covering more of the uninsured. In San Antonio, advocates hope to ultimately enroll about one-fourth of those eligible this year. But they also view that as just the first stage of a long march. "After March 31, we will take one minute to break," Guajardo says, "and then we will start planning for next year."