2016 Conventions Face Massive Shortfall Thanks to Congress
There goes the balloon budget.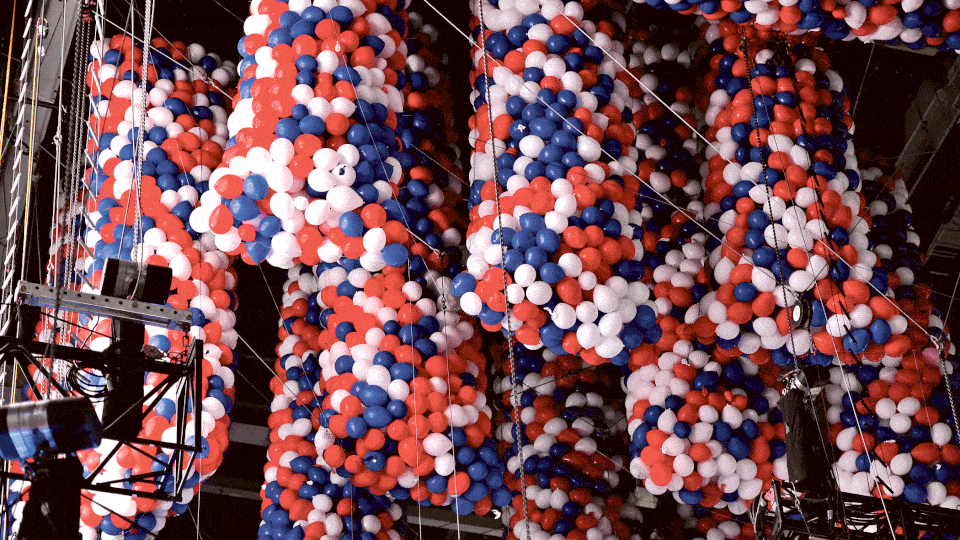 Congress managed to do its job last week, passing legislation to boost research funding for pediatric disorders and presenting a bill to President Obama that the White House says he'll sign. The nation should be dancing in the streets (Congress actually accomplished something and for sick children, no less!) but the national party committees are less-than-pleased about the cost.
The Gabriella Miller Kids First Research Act, which was championed by House Majority Leader Eric Cantor, provides $126 million over 10 years to fund research into pediatric autism, cancer, and other diseases. But it's paid for by taking away taxpayer funding for national political conventions.
That presents a big problem for the national party committees. A quarter of the spending on the 2012 Republican National Convention in Tampa, Fla., and 28 percent of the funds for the 2012 Democratic National Convention in Charlotte, N.C., came from taxpayer money. Historically, the other 75 percent is covered by loans and donations, largely from corporate sponsors and a few wealthy donors.
The conventions are typically astronomically expensive affairs. The Republican National Committee, and the 2012 Tampa Bay Host Committee spent about $74 million combined on their convention, while Democrats put about $66 million down to officially nominate President Obama for the second time. The RNC and the Democratic National Committee each received $18.2 million from Uncle Sam — i.e. the tax-paying public — to help offset those costs.
Even so, Democrats closed their convention in 2012 millions in debt, eventually relying on Duke Energy — whose CEO sat on the convention's host committee — to forgive a $10 million loan.
Without public funding, both committees are in a bind and could become even more reliant on corporate sponsorship and wealthy donors. Republicans are planning to hold their convention earlier in 2016, sometime in June or mid-July rather than September, putting even more pressure on the party to raise funding quickly. Democrats are also looking at an earlier summer convention.
The DNC wouldn't comment on how they'll close the funding gap, though chairwoman Debbie Wasserman Schultz told reporters Tuesday that the committee is examining its options. "There are a number of different approaches and we're evaluating what's the best direction to try to do that," Wasserman Schultz said, according to the Dallas Morning News.
But absent public funding, there aren't many alternative funding mechanisms available to party operatives. The host cities can't bear the burden of additional funding either; just look at the Charlotte host committee's failed attempt to raise its stated goal of $36.7 million (a little more than half the cost of the actual convention) in 2012. At that point, Democrats had said that they wouldn't use any corporate dollars to put on their Charlotte event, but as the event neared, they had to renege on that vow, pulling in millions from Duke Energy, Bank of America, and AT&T, among others, to meet their fundraising goals.
Another option would be to solicit even more of those kinds of corporate sponsorships, which already account for a big chunk of the funding for both conventions.
But the committees hope Congress will come to their rescue. "I'm confident Congress will now enact viable alternatives to allow party committees to fund future conventions. Conventions serve a valuable role in the process of nominating candidates for president and vice president of the United States," RNC spokeswoman Kirsten Kukowski said.
RNC Chairman Reince Priebus has called on Congress to pass legislation allowing the committees to raise their own funding for the conventions. The RNC and DNC, not to mention the presidential campaigns, are hardly going to warm to the idea of spending precious funding that could be put toward television ads and last-minute get-out-the-vote efforts to, well, secure a bunch of hotel rooms and a massive convention space.
But under Priebus's idea, which was codified in the RNC's Growth and Opportunity Project report released a year ago this week, the committees would be able to raise additional funding above the maximum contribution limits that would be specifically earmarked for convention activities.
"Our point is, why is there a restriction on the party raising money to host its own convention?" Priebus said at a breakfast Tuesday hosted by the Christian Science Monitor. "We are prohibited from saying to our donors, 'Will you help us with the convention?' "
But that legislation doesn't seem to be headed anywhere in a Congress that has struggled to accomplish much of anything, particularly when so many of its members are calling the vote to remove taxpayer funding for conventions a victory.
The bill eliminating said funding faced very minor opposition in Congress. The Senate actually passed it with unanimous consent.
Senate Minority Leader Mitch McConnell, who has long argued against taxpayer funding for conventions, touted the vote as a major victory. "[I]t's good news to the taxpayers of America that after something like three decades, we will not be using tax money to pay for the political conventions — for balloons and all the rest that are part of a political convention that ought to be paid for by willing donors, not by the taxpayers of the United States," McConnell told reporters last week.
Increasingly, the conventions are getting a reputation for canned speeches, crowning an inevitable nominee, balloons — and not much else. As the parties have worked to plan out every second of the three-to-four-day events, tamping down the potential for surprise and, well, news, the American public — or at least, the television executives who broadcast the events — have largely lost interest. Television networks went from airing more than 118 hours of "gavel-to-gavel" convention coverage in 1952 to broadcasting just six hours of speeches in 2012. Ratings have also suffered over the years.
Still, the parties argue that the conventions are rare opportunities for the faithful to gather and redefine what it means to be members of their parties, not to mention sell their message to a television audience without paying for the airtime, however abbreviated it may be. The conventions also represent an important chance for party operatives to reward their top donors and form relationships with new ones.
Neither committee has admitted that they will need to make cutbacks for the 2016 festivities, however. But with such a deep hole cut in their pockets by Congress, they may need to reconsider some of the pomp and circumstance — and, yes, the balloons. Hey, it worked just fine for Democrats in Charlotte.