Why the San Diego Mayor's Race Should Worry Democrats
Liberal groups out-organized and outspent Republicans in a city that's trending Democratic. Their candidate still lost badly.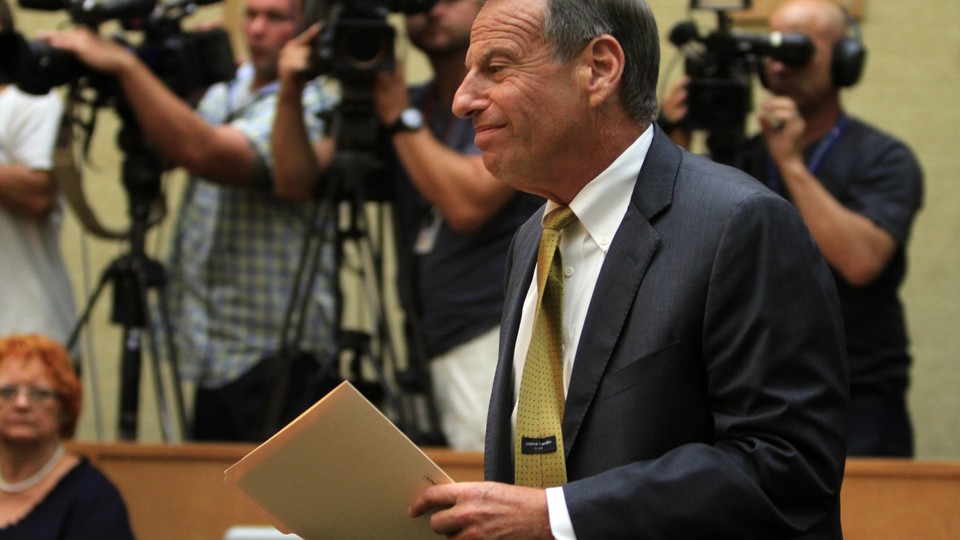 Republican Kevin Faulconer's big win in San Diego's mayoral race Tuesday highlighted the first case of what could be a persistent Democratic problem in 2014: low turnout.
Faulconer has a middle-of-the-road reputation built for a city that has typically elected GOP mayors over the past two-plus decades, which helped make him the favorite in the special election to succeed disgraced ex-Mayor Bob Filner. But Democrats also have a 14-point registration advantage over Republicans in San Diego, which gave President Obama more than 60 percent of its votes in 2012 as it lifted the liberal Filner into the mayor's office.
And despite help from an enormous field operation looking to make those numbers work for Democratic special-election candidate David Alvarez, Faulconer still garnered almost 55 percent of the vote as many fewer people cast ballots than in 2012.
It's a problem Democrats will be trying to solve across the country in 2014, when key groups of supporters, such as minorities and unmarried women, are less likely to turn out than in presidential years. It is one of the reasons Republicans are within striking distance to retake the Senate and are heavily favored to keep the House of Representatives. It's why Democratic senators such as Mary Landrieu of Louisiana, where the African-American share of the electorate dropped by a sixth in the last midterm election, are endangered.
Majority-minority San Diego starts out as more friendly turf for Democrats, but the locals face the challenge of turning the demographic advantage into a political one.
"I would say San Diego's politics are behind its demographics, and it's about whether we can catch up," San Diego and Imperial Counties Labor Council secretary-treasurer Richard Barrera said in a pre-election interview. His group ran an independent expenditure committee that raised and spent more than $3.7 million on Alvarez's behalf. "We can never just assume that because we've got an increasingly large Latino population, Asian population, younger population, that that will translate into people voting on Election Day."
Turnout levels for this fall's midterm elections will not drop as sharply as they did for San Diego's irregular February vote. Any drop tends to work against Democrats, although the party hopes get-out-the-vote operations and pavement-pounding labor allies can help make up some slack later in 2014.
Nearly 470,000 people voted in the previous San Diego mayoral race, a massive turnout that coincided with the presidential race, a hotly contested congressional election, and several consequential statewide ballot initiatives. On Tuesday, fewer than 290,000 voters cast ballots. That works out to about 43 percent of registered voters, at the very bottom edge of turnout levels Democrats were hoping for to capitalize on Alvarez's apparent surge late in the campaign.
Filner's election in 2012 was the first win by a Democrat since 1988, "and his victory was attributed in large part to get-out-the-vote efforts by labor," said Tom Shepard, a former Filner strategist who also helped elect three previous Republican mayors. "But it's difficult to assess their impact since it was a presidential election and, obviously, that benefited labor. They have clearly applied their efforts here."¦ The question is whether they can win without a presidential election?"
Democrats had big, late hopes of shaping the San Diego electorate just enough to make good on Alvarez's late surge in momentum and automated polling in the district. A large chunk of the $5 million-plus that went into Alvarez's campaign and outside efforts was focused on turnout. Barrera said his group alone had more than 800 people walking precincts the weekend before the election, focusing on the Democratic-leaning but lower-turnout neighborhoods south of Interstate 8. Adding in other outside groups and the Alvarez campaign itself, well over 1,000 Democratic field workers were combing the city for votes before Election Day, according to Barrera.
Already, Democrats are gearing up to make similar large-scale efforts for 2014's regularly scheduled elections. The Democratic Senatorial Campaign Committee recently laid out plans for a massive $60 million field operation spread over 10 key states, according to The New York Times. Not sharing the ballot with President Obama may help some moderate Democratic senators flaunt their independence, but they will still need help from some voters who don't typically vote unless White House control is up for grabs. Last year, Terry McAuliffe's successful campaign for governor in Virginia touted its use of data and analytics to boost both persuasion and turnout efforts among key groups.
In San Diego, labor will get more cracks at winning the turnout battle in 2014. There are several local ballot measures, including an effort to boost the minimum wage, that will draw heavy attention over the next few months, and Democrats' mayoral bogeyman of 2012, Republican Carl DeMaio, is running for Congress against freshman Democratic Rep. Scott Peters.
But for now, the mayor's race is a reminder of how turnout can work against Democrats when a president isn't on the ballot.