Why Seth Rogen Needn't Cry
The actor was very upset after a bunch of senators walked out on his testimony. Come on, Seth, don't you know how Washington works?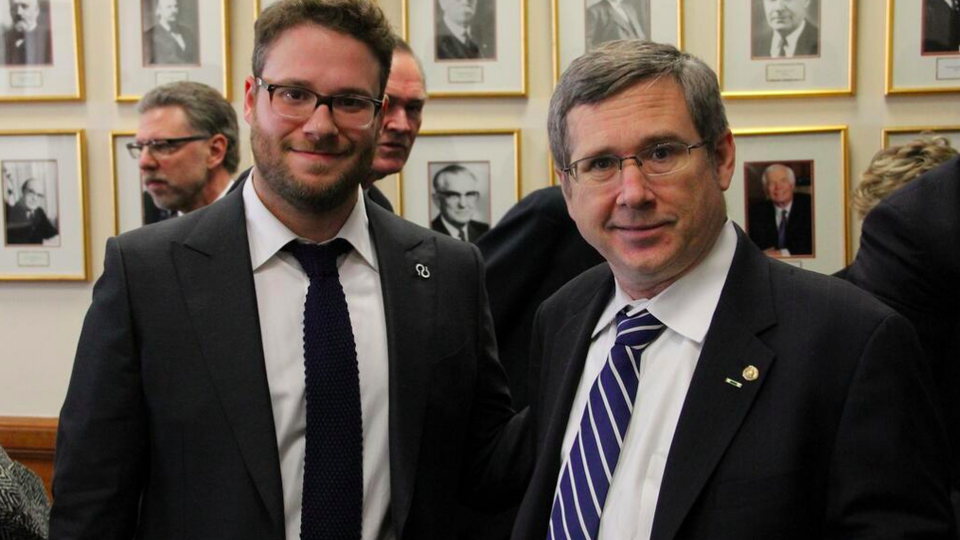 Seth Rogen purports to be a big House of Cards fan, but apparently he doesn't know much about Washington's politics as usual.
On Wednesday the comedian and actor of Knocked Up fame gave a moving speech at a Senate Appropriations subcommittee hearing on the rising costs of Alzheimer's, describing the "real, ugly truth" of the disease and how by the age of 60, his mother-in-law needed around-the-clock care.
Not everyone seemed to care too much. A reportedly ruffled Rogen took to Twitter to ask why, after 16 senators came to greet him in person and take photos, only two stayed for his actual testimony.
Not sure why only two senators were at the hearing. Very symbolic of how the Government views Alzheimer's. Seems to be a low priority.

— Seth Rogen (@Sethrogen) February 26, 2014
Rogen was outraged by the empty seats, but of course it's completely commonplace for lawmakers not to show up for important hearings, or, if they do, to leave as soon as they've said their bit.
In April, for instance, a hearing on long-term unemployment began with a single lawmaker in attendance. (Sen. Amy Klobuchar, who was holding the hearing in her capacity as vice chair of the Joint Economic Committee, was eventually joined by three of her Democratic colleagues.)
In wake of the global financial meltdown, a hearing on government watchdogs featured nobody but ... Joe Lieberman. Per The Hill's Mike Soraghan:
The Senate hearing was titled, "Where Were the Watchdogs?" But anyone in the room might have wondered: "Where are the senators?" For at least half an hour at Wednesday's hearing of the Homeland Security and Governmental Affairs Committee, Chairman Joe Lieberman (I-Conn.) sat alone, flanked by 16 empty black chairs as he listened to three experts wax eloquent on ways to create something called a systemic risk regulator. Put another way, they were there to tell the Senate how to avoid another financial disaster like the one we're in.
And a recent hearing on ending overlap across federal programs was poorly attended not just by Congress but by members of the media as well. "I confess to blowing off the meeting to cover another assignment and I'm just now catching up to the hearing online," The Washington Post's Joe Davidson wrote at the time. "It was well worth the look back."
Media apathy, however, is something Rogen hasn't suffered from. Though his testimony may have attracted paltry attention from Congress, his fretful tweets have traveled much further than a few minutes of any senator's attention could. Or would, anyway.
His excellent speech is here:
{{ BIZOBJ (video: 4766) }}