Why Is Turkey Harboring Terrorists?
Turkey's connections to Hamas and al-Qaida have been a strain on U.S.-Turkish relations.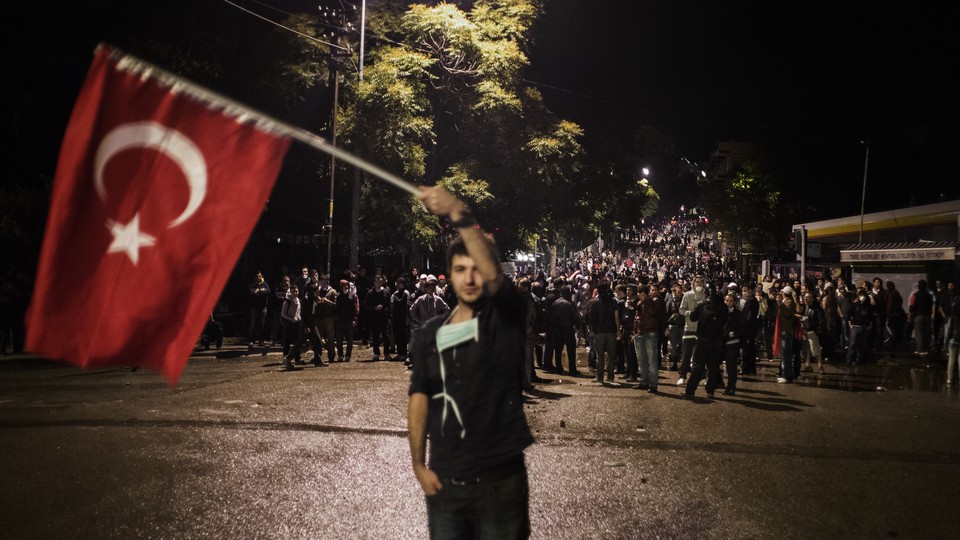 Turkey is arguably America's most important ally on issues in the Middle East — it's a strong NATO member, it represents the interests of the United States in several area conflicts, and it's a major partner in global counterterrorism efforts. But for a country that so publicly attacks violent extremism, it has also in several instances harbored and assisted terrorists within its own borders.
Suspected connections to leaders of the terrorist organization Hamas and relationships with financiers of al-Qaida have put strains on the relationship between the U.S. and Turkey, and threaten future cooperation on security issues.
There are two major examples of extremist actors given protection and access to leaders in Turkey. The first is Saleh al-Arouri, the founder of Hamas's armed wing in the West Bank, known as the Qassam Brigades. He lives in Turkey and has, according to reports, been involved in the finance and logistics for militant operations in the region.
The second is Saudi businessman Yasin al-Qadi, who according to the U.S. government, is an al-Qaida financier. Turkish Prime Minister Recep Tayyip Erdogan's protective detail escorted him after he entered the country recently without a passport or visa. (Erdogan previously said, "I believe in him as I believe in myself.") He also supposedly met with Erdogan's son in January. The Treasury Department has listed him as a "specially designated global terrorist" since 2001.
These connections with Turkey and its leaders, including Erdogan, have some foreign policy analysts concerned.
"It looks like you've got a guy that's off the rails there," said Jonathan Schanzer, the vice president of research at the Foundation for Defense of Democracies. "It's an important ally for the United States. They have been managing our Syria policy. They were managing our Arab Spring policy. We've got a problem that's becoming increasingly difficult to ignore."
What makes this situation worse is that Turkey cochairs a global counterterrorism effort with the United States to go after extremism at its root. To have a country so publicly invested in counterterrorism but also harboring extremist actors goes against the core of the effort, especially given the partnership with the U.S.
"We've got a problem that's becoming increasingly difficult to ignore."
This effort, called the Global Counterterrorism Forum, was announced by the State Department in September and consists of 29 countries and the European Union. The group goes after radicalization by promoting local organizations and projects that target at-risk people in countries where extremism is common. It uses funds raised by both government and nongovernmental organizations around the world, with a goal of raising more than $200 million over the next 10 years. Officials hope for the effort to be fully operational by the middle of this year.
The State Department did not respond to specific Turkish terror connections, but reaffirmed its longstanding partnership with Turkey, citing its counterterrorism assistance to the Turkish national police.
Turkey has undoubtedly become one of the most strategic allies of the U.S. in that part of the world in recent years, serving as a cushion and intermediary with the volatile Middle East. The country can be seen, though, as playing two sides. It has, indeed, been a model for combating radicalism in the region and an example of how modern Islam, capitalism, and democracy can work together. And Turkey has embraced these roles.
President Obama praised the partnership between the U.S. and Turkey in May when the Turkish prime minister visited the White House. The two men have spoken frequently about the unstable situations in Egypt, Syria, and other nations. In the aftermath of the Sept. 11, 2001, attacks, Turkey and the U.S. cooperated effectively against terrorism.
But the relationships with people connected to Hamas and al-Qaida is such a problem, argues Schanzer, that it might even qualify Turkey as a state sponsor of terrorism. Now, there are only four countries currently on that list: Cuba, Iran, Sudan, and Syria. All four nations provide support for acts of terrorism, both domestically and internationally. For example, Iran has previously sent people to Argentina to blow up synagogues in Jewish community centers, among other instances.
Such a designation from the U.S. government would be quite drastic and is highly unlikely to happen, considering that it threatens an alliance that has, according to U.S. officials, helped many American efforts in the region. Turkey is critical in overthrowing the Assad regime in Syria and containing Iran. A terror designation, which hasn't been given since 1993, would mean sanctions and political isolation.
However, that is not saying American officials have not directly gone to Turkish officials and expressed their concern in this area. They have done so to "the highest levels," according to former U.S. Ambassador to Turkey James Jeffrey, who served from 2008 to 2010.
During his tenure, the U.S. asked Turkey on several instances to detain people associated with al-Qaida who were traveling through Turkey. And on many of those occasions, the Turks did not act diligently enough and failed to deliver.
"This does cause problems with the United States," said Jeffrey, who is currently serving as a distinguished visiting fellow at the Washington Institute for Near East Policy. "We deal with this all the time all over the Middle East"¦. You just keep on going back and asking them."
These incidents have either been deliberate on the part of the Turkish government, giving extremist actors a pass, or have often been just because of the porous legal system in the country. When terrorists slip through, the U.S. will contact Turkey, and express its disappointment to the chagrin of the Turks.
Previously, the Treasury Department has also called out Turkey for letting al-Qaida funding travel through the country into Syria, which supports militants fighting against the Assad regime. But Turkey has also gone after al-Qaida in its country. Just in January, Turkish law enforcement raided the offices of a humanitarian NGO, claiming they had ties to al-Qaida and were funneling weapons into Syria.
"Generally, Turkey will close a blind eye to groups that use terror if Turkey sees their political goals as commendable."
Hamas has also been a delicate subject between the two countries. During the Rose Garden press conference, Erdogan defiantly maintained that he would travel to the Gaza Strip and the West Bank, despite objections from the Obama administration. At the time of Erdogan's visit to the U.S., the State Department repeated its claim that Hamas is a "foreign terrorist organization."
Turkey, though, supports Hamas politically as a legitimate, democratically elected organization, which in their eyes will help liberate Palestine. Turkey does recognize Israel and maintains diplomatic relations, despite major policy tensions. They'd point out that Hamas leaders travel to countries around the world. Turkey just so happens to be one of them.
So, while the U.S., like Israel, might view Hamas as a terrorist group, "Generally, Turkey will close a blind eye to groups that use terror if Turkey sees their political goals as commendable," Jeffrey said.
But it is not like Turkey doesn't deal with terrorism inside its own borders. To the contrary, just before Erdogan's visit to Washington, two car bombs killed dozens of people in his country. And for decades until last year, PKK militants carried out attacks against Turks on behalf of minority Kurds in the country.
However, for a partnership as critical as the one between the U.S. and Turkey, the troublesome Hamas and al-Qaida connections continue to serve as a point of tension. Terrorism is a part of the mosaic of the Middle East, and sometimes it's used as a political tool by some countries. In this instance, that country is Turkey.