Why Debo Adegbile Should Be America's Top Civil-Rights Attorney
Opinion: In supporting Adegbile, nominated to be a key Justice Department lawyer, Wade Henderson says Adegbile can "ensure that all Americans can work and live free from discrimination."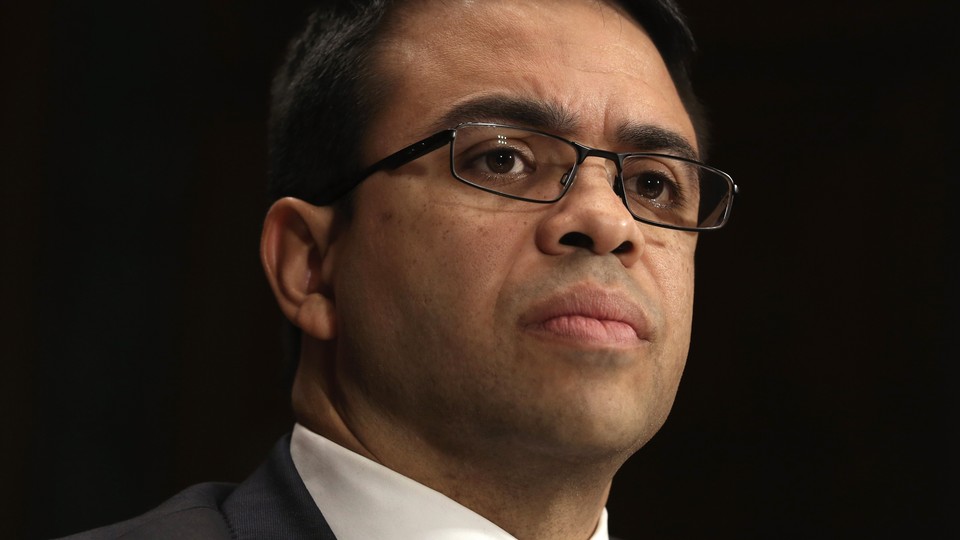 Qualifications should matter when confirming nominees to high-level government vacancies. Debo Adegbile, the nominee to be our nation's top civil-rights attorney at the Justice Department, has a lengthy and remarkable career that should be reviewed in its entirety when the Senate Judiciary Committee considers his nomination Thursday.
Wade Henderson is the president and CEO of the Leadership Conference on Civil and Human Rights, a coalition of more than 200 national civil- and human-rights organizations. (Alex Wong/Getty Images)Adegbile is one of the preeminent civil-rights attorneys of his generation. He twice defended the Voting Rights Act before the Supreme Court and has worked in corporate law, the Senate, and as the leader of the storied NAACP Legal Defense and Educational Fund.
He has represented battered women, police officers, firefighters, voters, families struggling with foreclosure, and victims of Hurricane Katrina. He has been endorsed by a bipartisan group of high-level officials, civil-rights groups representing the full diversity of this nation, state attorneys general, police officers, and many others.
A review of just a few of Adegbile's clients demonstrates his deep understanding of how civil-rights laws can and should be used to ensure that all Americans can work and live free from discrimination.
When toxins poisoned drinking water in Dickson County, Tenn., the Holts, an African-American family, were told for years that their water was safe while their white neighbors were warned and given access to an alternative source. All of the Holt family eventually came down with life-threatening or fatal health problems like cancer. After learning that they were left to drink contaminated water, it was Adegbile who represented them, sought justice on their behalf, and helped to ensure that states and companies could no longer subject families to this type of agony without consequences.
When young African-American, Latino, and Asian-American job applicants were being systematically denied employment at a popular chain of clothing stores because their looks weren't "classic" enough, Debo Adegbile represented them, too. As part of its settlement with these applicants, the company agreed to change its hiring policies to ensure that this type of discrimination wouldn't repeat itself.
When struggling homeowners in Indiana were faced with foreclosure, political opportunists saw it as a chance to deny them their right to vote — using their pending foreclosures as a justification for throwing out their voter registration. Debo Adegbile represented them and helped to ensure that people in Indiana could vote in their communities regardless of their financial circumstances.
Cases like these — about voting rights, employment discrimination, and environmental safety, in addition to those involving fair housing, the Violence Against Women Act, and the Americans with Disabilities Act — make up much of the portfolio for which the head of the Civil Rights Division at the Justice Department is responsible.
But there have been attempts to shout down Adegbile's qualifications and to distort his record on death-penalty cases. These distortions are a misguided attempt to tie Adegbile to the actions of one of his clients, a convicted murderer of a police officer. The American Bar Association has praised his representation, saying that it is "consistent with the finest tradition of this country's legal profession and should be commended, not condemned."
The truth is that the head of the Civil Rights Division is far too important a position to allow substance to be hijacked by unhinged rhetoric. A man of these qualifications is perfectly suited to head the Civil Rights Division and, after a sober review of his talents and qualifications, should be confirmed.
Debo Adegbile has shown time and again that he can represent clients who most need protection. And once confirmed he will represent every person under the U.S. Constitution with that same zeal and integrity.
The Next America welcomes op-ed pieces that explore the political, economic, and social impacts of the profound racial and cultural changes facing our nation. Email us.